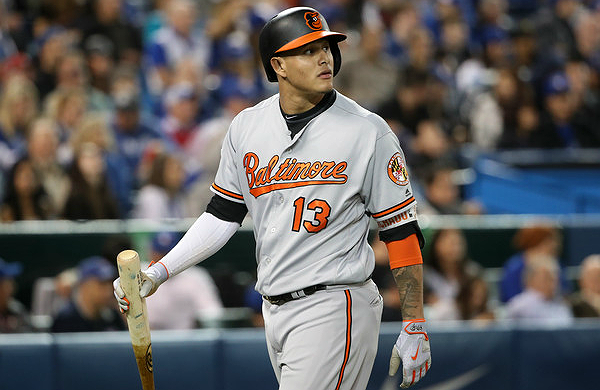 After taking two of three at Citi Field, the Yankees return across town to face the Baltimore Orioles for the last time this season. The Yankees have won 9 of 15 from the O's this season and need just one win in this four-game set to clinch the season series.
The Last Time They Met
The Yankees and O's haven't played since … last week. On Sept. 4-7, the Bombers won their first series at Camden Yards in four years as they broke out the bats.
Chad Green got seven outs (4 Ks) in relief in the opener as the Yankees overcame a 3-0 deficit with seven straight runs. Aaron Judge walked four times while Starlin Castro had three hits, including a home run.
After a long rain delay, the Yankees slowly surrendered a 6-1 lead on a series of home runs. They came within one out of victory but Manny Machado slugged a two-run walk-off shot off a Dellin Betances curveball to seal the crushing defeat.
Sonny Gray held Baltimore to one unearned run in the finale while Judge, Castro, Chase Headley and Todd Frazier each homered in a 9-1 blowout victory over Kevin Gausman and co.
Since They Last Met
Once they were done with the Yankees, the Orioles traveled to Cleveland. Not great timing. They were promptly swept by the Indians, who picked up wins No. 16-18 during their current 21-game streak.
North of the border, the O's took two more L's in the first two games of the series with the Blue Jays, both by one run. They held a 2-1 lead into the ninth on Tuesday, but usually reliable Zach Britton blew the save and took the loss.
They finally picked up a much-needed win in the sixth game of their 10 game set. Gausman threw seven one-run innings before the bullpen hung on. Trey Mancini did some damage with an RBI triple.
Their Story Right Now
After ending their six-game losing streak, the Orioles are now 72-74, a good 4.5 back of the second wild card. They were just one game back eight days ago and now they'd have to pass five teams in 2.5 weeks to reach the postseason. Anything short of a sweep this weekend is likely not enough for them and even said sweep would only pull them to within 3.5 of the Yankees.
They still have plenty of power in the middle of their order (Machado, Adam Jones, Mark Trumbo, Chris Davis, Trey Mancini) but their starting rotation most closely resembles Swiss cheese. Furthermore, Tim Beckham boarded the regression train this month, hitting just .184 since the calendar flipped from August.
Lineup We Might See
On Monday, Wellington Castillo had his second groin injury of the year, taking a foul ball to his nether regions. He was taken to the hospital and Caleb Joseph has started the last two games behind the plate. It's unclear whether Castillo will be back this weekend.
1. Tim Beckham, SS – (.285/.332/.466)
2. Manny Machado, 3B – (.269/.323/.496)
3. Jonathan Schoop, 2B – (.302/.346/.527)
4. Adam Jones, CF – (.283/.319/.471)
5. Trey Mancini, LF – (.291/.338/.500)
6. Chris Davis, 1B – (.217/.311/.429)
7. Mark Trumbo, DH – (.241/.295/.412)
8. Seth Smith, RF – (.259/.340/.439)
9. Caleb Joseph, C – (.263/.295/.425)
The lineup has remained relatively steady in recent games with Davis and Trumbo flipping spots while Seth Smith and Joey Rickard have each played the outfield. We could see Pedro Alvarez, who made his season debut vs. the Yankees last week.
The Starting Pitchers We Will See
Thursday (7:05 PM EST): RHP Masahiro Tanaka vs. LHP Wade Miley
Miley is on pace to add some unwanted black ink to his Baseball Reference page this year as he leads all of baseball with 84 walks issued. Derek Holland is the closest pitcher to him with 75, but he was cut by the White Sox.
Seven of those walks came in his first start of the year against the Yankees. While he lasted just 10 innings over two starts vs. NYY, he held them to two runs with some timely outs. He comes into play Thursday with a 4.96 ERA over 29 starts.
Last Outing (at CLE on Sept. 8) – 5.2 IP, 6 H, 4 R, 3 BB, 4 K
Friday (7:05 PM EST): RHP Luis Severino vs. RHP Gabriel Ynoa
Just 24 years old, Ynoa made his first start for the Orioles on Saturday in Cleveland. The Orioles acquired him from the Mets in February and he's been up and down this season. He threw two shutout innings in relief against the Yankees on Labor Day. He utilizes a mid-90s fastball/sinker and a mid-80s slider as his primary offerings.
Last Outing (at CLE on Sept. 9) – 4.2 IP, 7 H, 3 R, 0 BB, 2 K
Saturday (4:05 PM EST): LHP Jordan Montgomery vs. RHP Jeremy Hellickson
Hellickson was a puzzling deadline acquisition for the Orioles and he's done little to add value since joining the O's. Likely he was just a fresh arm to throw into the mix for a dreadful rotation. The right-hander has a career-low strikeout rate and is allowing nearly two home runs per nine innings. He's allowed 10 in the 42 2/3 innings he's thrown for the O's.
While he didn't give up a homer to the Yankees on Sept. 5, he did walk four and give up five runs en route to an early hook after seven outs.
Last Outing (at CLE on Sept. 5) – 6.0 IP, 4 H, 3 R, 0 BB, 1 K
Sunday (1:05 PM EST): LHP CC Sabathia vs. TBA
Both Dylan Bundy and Ubaldo Jimenez will be able to make this start, so it's unclear to which right-hander Buck Showalter will turn. Jimenez pitched one inning of relief last week against the Yankees, but he's been exclusively a starter otherwise since mid-June. Emblematic of his 6.75 ERA, he's allowed five or more runs 12 times this season.
Bundy has been much better (4.03 ERA in his first full season as a starter in the majors) but the Yankees got to him early for the first time on Labor Day. They tagged him for five runs and put nine men on base in his four innings of work.
The Bullpen
Britton recovered from his blown save Tuesday to shut down the Blue Jays Wednesday. That means he's likely unavailable Thursday. The All-Star closer sports a 3.09 ERA in his injury-shortened season after his 0.54 mark in 2016.
Darren O'Day, Brad Brach and Mychal Givens are the primary setup men right now with O'Day fulfilling that duty yesterday. Righty Miguel Castro has seen plenty of work, but he's allowed runs in each of his last three outings. Rookie RHP Jimmy Yacabonis and former Yankee Richard Bleier have each had four appearances this month and are middle relief options From there, it's a free-for-all. Expect plenty of pitching changes with Showalter and his lower tier rotation.
Who (Or What) to Watch?
The Orioles season has spiraled out of control since the Yankees went to Camden Yards on Labor Day, so it'd only be fitting if the Bombers put the finishing touches on the O's. If the Yanks are going to make up ground on Boston, they need to take advantage of a team they've consistently beaten at Yankee Stadium this season.
In terms of the play itself, Aaron Judge hits Baltimore especially well. He's hit an absurd .449/.603/1.082 in 68 PAs against the O's, launching nine home runs and walking 19 times to just 14 strikeouts. Baltimore had zero interest in giving him pitches to hit last week, so we'll see if they avoid him once again over the four-game set.