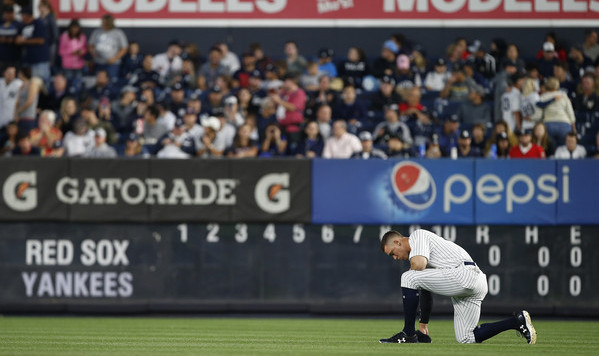 According to Michael Schmidt, the Red Sox were caught using video personnel and Apple Watches to steal signs from the Yankees (and other teams) over the last few weeks. Brian Cashman filed a detailed complaint with MLB and league investigators corroborated the Yankees' claims. The sign stealing reportedly took place at Fenway Park a few weeks back.
Here are some more details on the story, from Schmidt:
The Yankees, who had long been suspicious of the Red Sox stealing catchers' signs in Fenway Park, contended the video showed a member of the Red Sox training staff looking at his Apple Watch in the dugout and then relaying a message to players, who may have then been able to use the information to know the type of pitch that was going to be thrown when they were hitting, according to the people familiar with the case.

Baseball investigators corroborated the Yankees' claims based on video the commissioner's office uses for instant replay and broadcasts, the people said. The commissioner's office then confronted the Red Sox, who admitted that their trainers had received signals from video replay personnel and then relayed that information to some players — an operation that had been in place for at least several weeks.
Schmidt said the Red Sox filed a counter-complaint with the league claiming the Yankees use YES Network cameras to steal signs. Boston has not been disciplined yet and it's unclear how the league will proceed with the counter-complaint, though I'm sure it'll be investigated.
Last season MLB allowed teams to begin using iPads loaded with scouting and Statcast data in the dugout, though only if the devices and the apps and everything are approved. Other technology, like the Apple Watch the Red Sox used to steal signs, are forbidden. I wouldn't expect MLB to force the Red Sox to forfeit wins or anything like that, but they could be hit with a hefty fine and maybe lose a draft pick as a result of all this. We'll see.
As far as I'm concerned, stealing signs is cool as long as it happens between the lines. If there's a runner on second base and the catcher doesn't hide his signs well enough, too bad. If the third base coach gets lazy and doesn't change his signs, and someone in the dugout picks up on it, that's his problem. When sign-stealing goes high tech and non-uniformed personnel get involved, that's beyond gamesmanship, and the Red Sox were caught red-handed.