Four straight series wins and eight wins in the last eleven games for the New York Baseball Yankees. Wednesday's series finale with the Rays was quite the nail-biter, but, in the end, the Yankees managed a 3-2 victory in the rubber game. The magic number to clinch a postseason spot is now 13.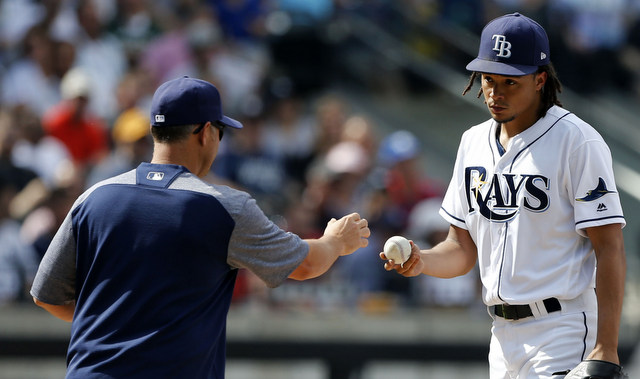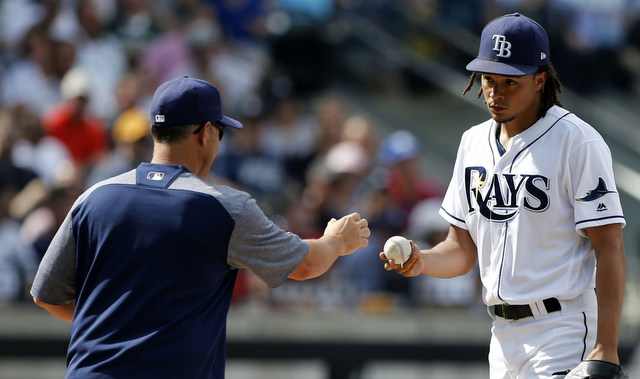 Three Early Runs Against Archer
Two starts ago Chris Archer threw eight pitches and exited the game with forearm tightness, which is never ever good news. An MRI came back clean and Archer hasn't missed a start, but boy, he sure doesn't look healthy. He allowed eight runs in three innings against the Red Sox last time out, and on Wednesday the Yankees tagged him for three runs on six hits and three walks. He threw 92 pitches in four innings plus one batter.
The Yankees scored all of their runs against Archer in the third inning, and the rally came together quick. Starlin Castro first pitch single to center, Jacoby Ellsbury fourth pitch single to right, Todd Frazier second pitch single to left. Three batters, three hits, seven pitches. The Frazier single was a grounder through the left side of the infield and Castro was able to score from second, giving New York a 1-0 lead.
The prolonged at-bats came after the Frazier single. Clint Frazier struck out for the first out of the inning, though it took Archer eight pitches. Austin Romine worked a six-pitch walk to load the bases. After the two long at-bats, Brett Gardner jumped on a second pitch changeup Archer left up in the zone, and he slapped it the other way for a two-run single. A well-placed ground ball, it was. That gave the Yankees a 3-0 lead.
Gardner's single put runners on first and second with one out, and Archer had already thrown 23 pitches in the inning. Unfortunately Chase Headley hit into a bad luck inning-ending double play. Well, no, it wasn't really bad luck. It was more about the Rays being well-prepared than the Yankees hitting into bad luck. Headley ripped a hard-hit ball back up the middle, right where shortstop Adeiny Hechavarria was stationed. So it goes.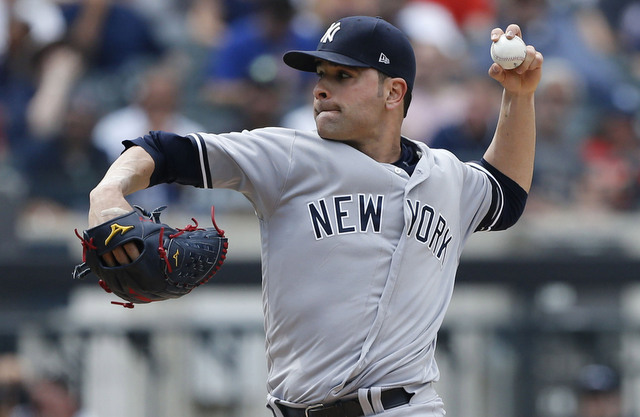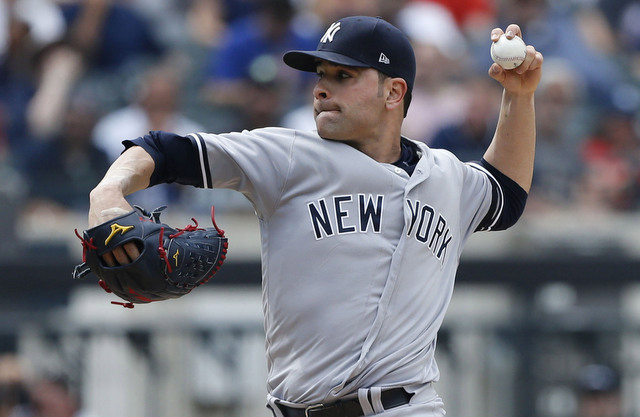 Jaime's Short Leash
For the fifth time in the last nine games, the starter did not complete five innings. And only once in those five games was the starter removed because he was getting hit around. That was Masahiro Tanaka against the Rangers over the weekend. In the other four starts Joe Girardi went to the bullpen early to protect a lead rather than let the starter go through the lineup a third time. That's exactly what happened Wednesday afternoon.
Jaime Garcia danced in and out of danger in the first and second innings — he allowed three hits in those two innings, two of which did not leave the infield — but got the ground balls to escape trouble. Kevin Kiermaier jumped on a 2-0 fastball leading off the third for a solo home run, getting the Rays to within 3-1, for the only run Garcia allowed. He retired eight of the next nine batters he faced, with only a Hechavarria walk mixed in.
Garcia's afternoon came to an end with two outs in the fifth, when Lucas Duda dunked a little half-swing single along the third base line. He wasn't trying to beat the shift. It just happened. Garcia didn't throw a bad pitch. Duda just reached out with a defensive half-swing in a two-strike count, and the ball landed maybe a foot fair. Pretty stupid, but baseball is known to be stupid from time to time. With the Yankees up 3-1 and Evan Longoria coming to the plate for the third time, Girardi went to the bullpen.
Clearly, Garcia was not happy about getting pulled. He didn't look at Girardi when he handed him the ball and the two had a conversation in the dugout afterwards. Joe didn't chew him out or anything. It was one of those "here's my thinking here, this is why I took you out" talks. Similar to the talk Girardi had with CC Sabathia the other night, when he was yanked early. Garcia's final line: 4.2 IP, 5 H, 1 R, 1 ER, 1 BB, 4 K, 78 pitches. Not too shabby for a sixth (fifth?) starter.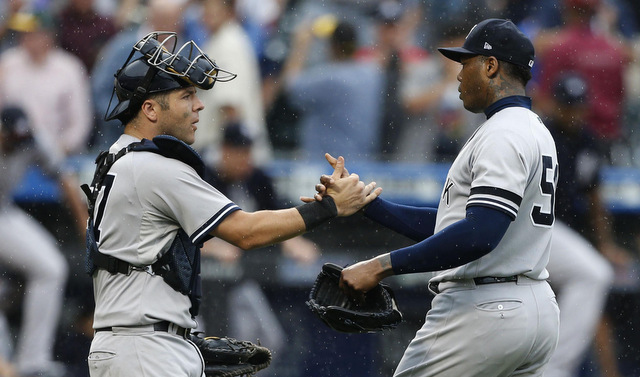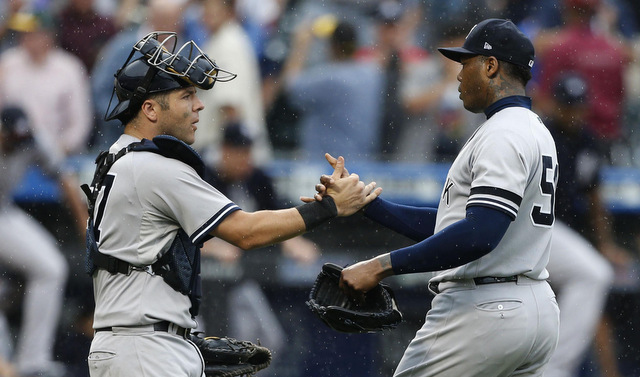 To The Bullpen
By his standards, Chad Green had a rough outing Sunday in Texas. He allowed a run on four hits and a walk in 2.1 innings, throwing 47 pitches. The Green Monster returned Wednesday with a dominant, yet relatively short, outing. Four up, four down, three strikeouts. Only 21 pitches. Green got Longoria to fly out after taking over for Garcia, then struck out the side in the sixth. He's up to 99 strikeouts in 64.1 innings (1.96 ERA and 1.67 FIP).
Tommy Kahnle took over in the seventh — Green has worked a lot over the last week and I'm guessing Girardi didn't want to push him any further — and tossed up a zero thanks to a snazzy double play by Headley. He scooped a hard-hit grounder, stepped on first base, and fired to second to get the speedy Mallex Smith. Things got interesting in the eighth inning. Dellin Betances struck out Duda, allowed a single to Longoria, and struck out Logan Morrison. And that was it. Girardi came to get him and went to Aroldis Chapman for the four-out save.
Why go the Chapman? I assume because Girardi saw Steven Souza is 3-for-9 with a homer against Betances and 0-for-3 against Chapman, though that kinda ignores Souza's ability to murder fastballs and Chapman being a fastball pitcher. (And all three of Souza's hits against Betances came in 2015.) I suppose the good news is Chapman walked him on five pitches rather than give up a game-tying home run. Hechavarria, who tormented the Yankees all series despite being terrible, then came through with a two-strike single to score Longoria to get the Rays to within 3-2.
Chapman was able to strike out pinch-hitter Wilson Ramos to end the eighth inning, stranding runners at the corners, but he needed 16 pitches to do it, and there was still another inning to go. I dunno. Taking out Betances seemed completely unnecessary, but whatever. Chapman, naturally, walked the leadoff man in the ninth. It was Casali's third at-bat of the year after hitting .263/.351/.347 (99 wRC+) in fourth year at Triple-A. Good stuff.
Following that leadoff walk, it sure looked like Chapman got mad. Either at himself or life in general. He came roaring back to punch out Brad Miller, Kiermaier, and Duda on 12 total pitches. The lineup played right into his hands there. He got to face back-to-back-to-back left-handed hitters. It all worked out. The bullpen — and inning after inning of RISPFAIL — made it interesting, but a win is a win is a win.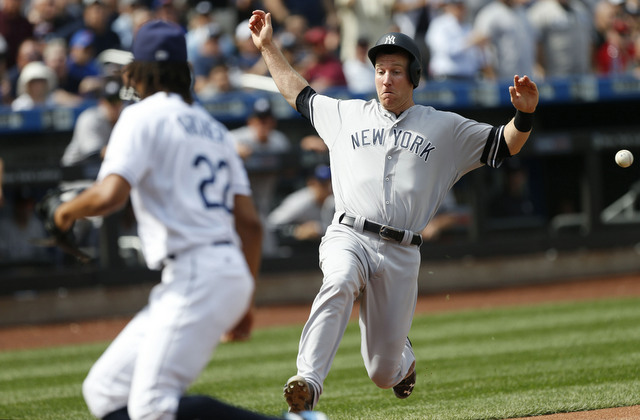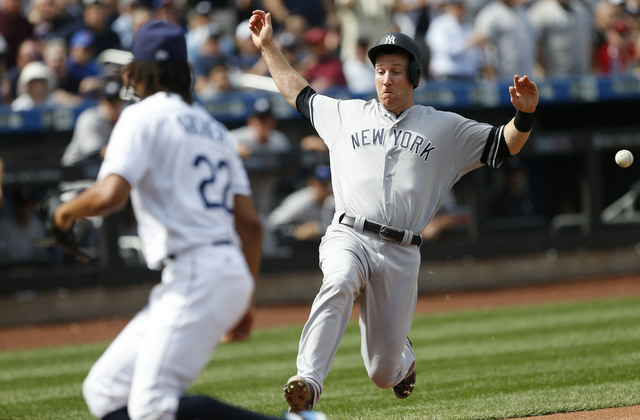 Leftovers
The Yankees had three opportunities to blow this game open. They loaded the bases with two outs in the third, but Young Frazier struck out. They loaded the bases again with one out in the eighth, but Young Frazier and Romine both struck out. No idea why Romine was allowed to hit there. The Yankees also had runners on the corners with no outs in the ninth, then went strikeout (Gary Sanchez), pop-up (Didi Gregorius), pop-up (Castro). Cool cool.
Small but impactful thing that doesn't show up in the box score: Gardner made three — three! — excellent plays getting the ball back to the infield quickly after a base hit to left, holding the runner to a single instead of a double. That Headley double play in the seventh? Set up by Gardner holding Smith to a single. Three times Gardner prevented a runner from getting into scoring position in a close game. Huge.
The Yankees had ten hits total, including two each by Gardner, Sanchez, Castro, and Ellsbury. Headley and Old Frazier had the others. Old Frazier drew two walks while Ellsbury and Romine drew one each. The Yankees went 2-for-14 (.143) with runners in scoring position and all nine batters in the lineup had at least one at-bat in those spots. Only Gardner and Old Frazier got hits. Whatever. Do better tomorrow.
Box Score, WPA Graph & Standings
ESPN has the box score and updated standings, MLB.com has the video highlights, and FanGraphs has the postseason odds. Here's our Bullpen Workload page and here's the win probability graph:

Source: FanGraphs
Up Next
The neutral site road series in Queens is over and the Yankees now return to the Bronx for a seven-game homestand. Masahiro Tanaka and Wade Miley are the scheduled starters for Thursday night's series opener with the Orioles. That's a four-game series and, for all intents and purposes, it's the last chance for the O's to get back in the wildcard race. Another series loss and they're basically done.