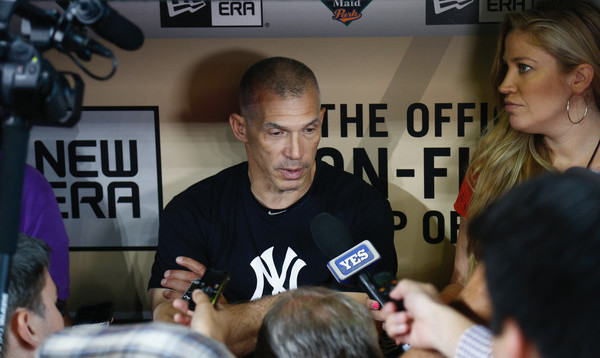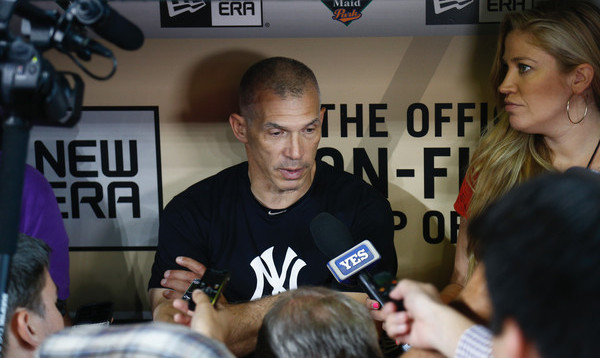 The Yankees have parted ways with manager Joe Girardi. The team and Girardi confirmed the split this morning, with Buster Olney reporting Brian Cashman recommended a managerial change to ownership. Girardi's contact expired following the season, so he technically wasn't fired. The Yankees just aren't bringing him back.
"I want to thank Joe for his ten years of hard work and service to this organization," said Cashman in a statement. "Everything this organization does is done with careful and thorough consideration, and we've decided to pursue alternatives for the managerial position.
"As Hal Steinbrenner and I mentioned to Joe directly this week, he has been a tremendous Yankee on the field and away from it, as a player, coach and manager," Cashman added. "He has a tireless work ethic, and put his heart into every game he managed over the last decade. He should take great pride in our accomplishments during his tenure, and I wish Joe and his family nothing but success and happiness in the future."
Here is Girardi's statement:
"With a heavy heart, I come to you because the Yankees have decided not to bring me back. I'd like to thank the Steinbrenner family for believing in me and giving me this wonderful opportunity. I would like to thank Brian Cashman and his staff for hiring me and always trying to improve the team. I would like to thank my coaches and support staff for their dedication to always trying to make the players better and get the most out of them. I would like to thank the training staff and the strength coaches for their tireless efforts of trying to keep the players on the field and healthy. I would like to thank the clubhouse personnel for making the clubhouse our home away form home. I would like to thank the players for the relationships that we have fostered over the last ten years but most important, how hard they played every day. I would like to thank Damon Oppenheimer and his staff for their hard work in trying to find us the best players available in the draft. I would like to thank the minor league staff for developing these young players. I would like to thanks Ben Tuliebitz for making our travel easy and always taking care of our families. I want to thank the media for always being fair with me and helping grow this wonderful game. Finally, I'd like to thanks the fans for their great support as a player, coach and manager and the lasting memories of their passion and excitement during the playoff games, especially the final six games which will remain in my heart forever."
There have been rumors circulating the last few weeks that Girardi was feeling burnt out and was ready to step away to spend time with his family, though this wasn't his decision. The Yankees decided to move on based on Cashman's recommendation. The Yankees have only had two managers over the last 22 seasons, unbelievably.
Over the last few days and weeks there have been some rumblings that Girardi's relationship with the players wasn't great, and it stands to reason Cashman was concerned that relationship could deteriorate further. With an excellent young core ready to win now, the Yankees don't want any trouble in the clubhouse. That goes without saying.
Girardi, 53, just completed his tenth season as Yankees manager. The team went 910-710 (.562) under his watch and never won fewer than 84 games in a season, which is pretty remarkable considering how messy some of those rosters were from 2013-16. Girardi managed the Yankees to the 2009 World Series title and three AL East championships.
Girardi leaves the Yankees in fifth place on the franchise's all-time wins list behind Joe McCarthy (1,460), Joe Torre (1.173), Casey Stengel (1,149), and Miller Huggins (1,067). He is also fifth in winning percentage among those with at least 500 games managed for the franchise.
I have had more than my fair share of complaints about Girardi over the years, mostly based on his rigid bullpen use and managerial style, though he is a good man and was a good manager. The Yankees have an exciting roster with lots of good young talent and more on the way. Now it's time to find the right man to lead them.