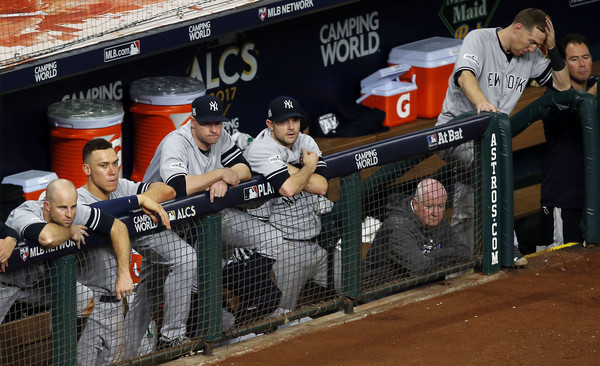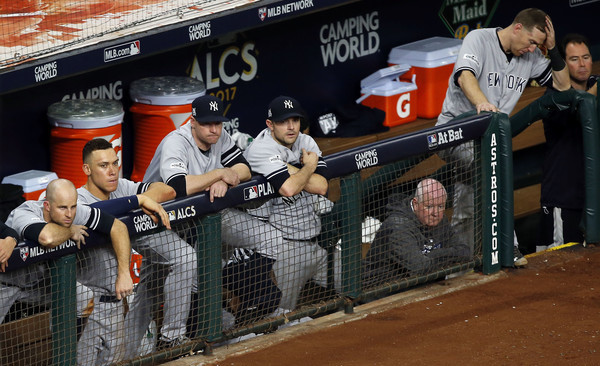 The ALCS is over and the Yankees are back home in New York, or wherever home is for the guys. The ALCS ended three days ago now, but I needed some time to catch my breath and unwind a bit. This is a busy time of year. Fun, but busy. Anyway, I have a bunch of thoughts, so let's get to 'em.
1. Clearly, the first order of business this offseason is re-signing Brian Cashman. It would be insane to let him go given the job he's done the last few years, and I don't expect him to go anywhere. I've seen some speculation Derek Jeter could try to lure Cashman to the Marlins, but nah. Jeter and Cashman were never all that close as far as I know. Remember, when Jeter was up for a new contract years ago, Cashman played the bad cop and ownership played the good cop during negotiations. Cashman told Derek to go find a better offer if he thought there was one out there. Not sure Cashman to Miami is a realistic possibility. Before the Yankees can move forward with their offseason business, they have to bring back the guy calling the shots, and that's Cashman. I don't think he wants to leave and I don't think the Yankees want to move on either. I expect Cashman to sign a new contract pretty soon, and he'll probably end up with a salary in the $7M to $10M per year range. That's the going rate for a top baseball operations executive as set by Theo Epstein and Andrew Friedman. At this point I trust Cashman implicitly. That doesn't mean every move will work out, but he's earned the benefit of the doubt every time in my book.
2. Following the Game Seven loss, CC Sabathia was very emotional in the clubhouse and he made it crystal clear he wants to remain with the Yankees. "This is my home. I want to see this thing through. I want to come back here and finish things off," he said. As far as I'm concerned, bringing Sabathia back is an easy call. He's not going to cost much — the going rate for a veteran innings dude is one year and $12M or so, though I could see Sabathia pushing for two years — and there's always a need for pitching depth. Sabathia is still effective, he's a leader in the clubhouse, and there's no concern about how he'll adjust to New York. Don't get me wrong, there are some very good reasons to let Sabathia walk. His age (37) is a good one. So is his troublesome knee, and the fact he doesn't pitch deep into games anymore. It just seems to me that, when you're filling out the back of your rotation, you're going to end up with a flawed pitcher anyway. At least Sabathia has shown he can be effective in New York and Yankee Stadium, and you know he's a major presence in the clubhouse. Bringing him back is a no-brainer. It's such a perfect fit for both the Yankees and Sabathia — they get a reliable complementary starter and Sabathia gets to stay home with a team that gives him a chance to win another ring — that I think there's a chance this gets done rather quickly, perhaps even before the start of free agency. Assuming Cashman gets signed soon, that is.
3. The Yankees lost the ALCS because they scored three runs in four road games at hitter friendly Minute Maid Park. That's the single biggest reason right there. The Yankees went 6-0 at home and 1-5 on the road this postseason — the one road win was Game Five of the ALDS — and what does that mean? Does it mean anything? The Yankees were much better at home (51-30) than on the road (40-41) during the regular season, though keep in mind they had a +62 run differential on the road. How do you outscore your opponents by 62 runs in 81 road games and finish one game below .500? Good grief. That's what all those one-run losses and blowout wins will do to you. The Yankees were third in runs (407) and fourth in wRC+ (101) on the road this season, so it's not like scoring away from Yankee Stadium was a problem all year. It just happened to be a problem in the ALCS, and facing Dallas Keuchel and Justin Verlander three times in those four ALCS road games surely contributed to the offensive woes to some degree. I dunno. I don't think there's some sort of fatal flaw that prevented the Yankees from scoring on the road in the ALCS. It was just one of those random baseball things. The Astros are 6-0 at home and 1-4 on the road this postseason. Should they be worried?
4. Something tells me the 2017 ALCS will not be the last time the Yankees and Astros meet in the postseason. Both teams have very strong young cores with more prospects on the way, and a good mix of win-now veterans. They're both set up to contend for a while and that will inevitably mean more postseason meetings. Like when the Yankees played the Rangers and Indians all the time in the late-1990s, and then the Athletics and Twins in the early-2000s. These two clubs aren't going away anytime soon. Get used to seeing the Astros folks.
5. Now, that said, do not take this year's success for granted. Success can be fleeting in baseball, even for teams with a great young core and money to spend. The Yankees were one win away from the World Series this season and they might not get that close again anytime soon. Baseball is hard, man. Plus weird things happen in the postseason. No one wanted to face the Indians in the ALDS going into the postseason. Remember that? Then the Yankees came back from down 0-2 in the series. Cleveland went from unbeatable to playing golf in a heartbeat. A few bounces here and there can change a short postseason series dramatically. The best team doesn't always win. Yes, the Yankees appear to have a very good young core and a strong foundation to remain in contention going forward. So did the Mets in 2015. You just never know what'll happen though. The Yankees exceeded expectations and had a fun season in 2017. It definitely stings that they fell one win short of the World Series though. You just never know when they'll get this close again.
6. As fans, we tend to compare things to the past. Melky Cabrera was the next Bernie Williams. Jordan Montgomery is the next Andy Pettitte. So on and so forth. And in the last few weeks, I've seen a lot of "the 2017 Yankees remind me of the 1996 Yankees" talk going around our comments and on social media, and I get it. The 1996 Yankees had some great young players in their first full MLB seasons as well as several lovable veterans who helped the team to surprising success. Then the Yankees lost the ALCS and all that talk became "the 2017 Yankees remind me of the 1995 Yankees" because of the postseason exit. For me though, the 2017 Yankees remind me most of the 2015 Cubs. The Cubs had been rebuilding for a while and were starting to get their best young players to the big leagues, then bam, they reached the postseason and made it to the NLCS. Epstein even admitted afterward the Cubs were a year ahead of schedule. The Yankees feel like a team ahead of schedule. That doesn't mean they'll in the World Series the very next season like the 2015 Cubbies, though the roster construction (many great young players) and quick ascent reminds me of that 2015 Cubs team. You could see the talent coming and the potential for a juggernaut, then it arrived much earlier than anyone expected. That's the 2017 Yankees.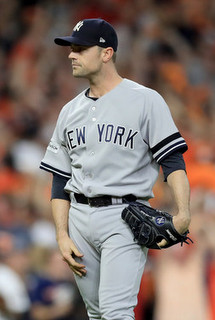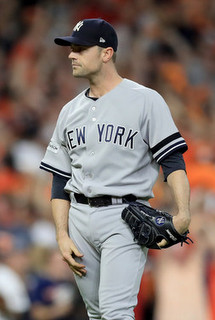 7. So can we put the idea of a bullpen game being a smart plan to bed yet? The Yankees did the bullpen thing out of necessity in the Wild Card Game — Luis Severino recorded one (1) out before being removed — and their bullpen was a mess basically the entire rest of the postseason. David Robertson could only give the Yankees nine ineffective pitches in Game Three of the ALDS, five days after the Wild Card Game, because he was so worn down. You gotta do what you gotta do to win in the postseason, and in the Wild Card Game that meant pushing the bullpen to its limit. Imagine doing that on purpose though? No way. Run through your bullpen in the Wild Card Game and you put yourself at an even bigger disadvantage in the LDS. The Yankees had one of the deepest bullpens in baseball this season and we still went into a few too many postseason games wondering how they'd get outs.
8. When the Red Sox fired manager John Farrell a few weeks ago, I couldn't help but wonder whether he'll wind up with the Yankees in some capacity. Not as a coach or manager, necessarily. In the front office. The Yankees have yet to replace Gary Denbo as their farm system head and Farrell was the Indians' director of player development from 2002-06, before getting into the coaching ranks. Cleveland had one of the most productive farm systems in baseball from 2002-06 and they were consistently ranked near the top of the various organizational rankings. Farrell has experience running a player development operation and the Yankees have an opening, so maybe he's a fit. Probably not though. The Yankees tend to promote from within and grow their own executives, not hire someone from outside the organization and stick them in a prominent position. Another name to watch as the Yankees look for a Denbo replacement: Trey Hillman, who is currently managing the SK Wyverns in Korea. He and Cashman are close, and Hillman spent several years working in the Yankees farm system during the 1990s and early 2000s. He also ran the Rangers' player development system for a while, so he has experience in that role.
9. I'm curious to see what happens with the DH spot next season. Even if the Yankees were to unload Brett Gardner or Jacoby Ellsbury, they'd still have four outfielders (Gardner/Ellsbury, Aaron Hicks, Aaron Judge, Clint Frazier) for three spots, plus other young players who will soon need MLB at-bats. Miguel Andujar, Tyler Wade, Gleyber Torres, Billy McKinney, and so on. And what happens if the Yankees sign Shohei Otani? He might need DH at-bats too. I get the sense letting him hit will be one of his demands when picking a team, should he come over to MLB. Because of all this, I don't see the Yankees signing a set DH like Matt Holliday again. If they sign a veteran bat, it'll be someone who can play a position(s) in addition to getting DH at-bats. Maybe that means re-signing Todd Frazier? That's something we can discuss at another time. I'm not too keen on the idea, personally, but it's worth discussing. Anyway, yeah, I get the feeling we're heading for a revolving DH next season, mostly as a way to get young players (and maybe Otani!) in the lineup regularly and rest the veterans.
10. This has been said before and it's worth repeating: Cashman has made some phenomenal buy-low moves the last few years. Didi Gregorius is the most notable, obviously. Getting Hicks has turned out very well too. Even if you aren't a Hicks believer, what he did in the first half makes that trade a big win considering how poorly John Ryan Murphy worked out for the Twins. And Starlin Castro too. He's frustrating as hell, believe me I know, but the Yankees got him cheap and he has been the club's best second baseman since Robinson Cano by a mile. Even Sonny Gray would qualify as a buy-low situation in my book. Without those injuries last year and early this year, no way do the Yankees get him for two prospects rehabbing from major surgeries and a third whose stock has been slipping for two seasons now. The prospects and seller trades get all the attention and understandably so. Those buy-low trades contributed big time to the Yankees success this season though, and they're a not insignificant part of the youth movement.
11. It will be pretty easy for me to pull for the Dodgers in the World Series. I want Clayton Kershaw and my main man Curtis Granderson to get World Series rings. Part of me wants Carlos Beltran to finally get a ring too, but I'm pulling for Kershaw and Granderson more. Also, the Astros represent basically everything I hate about the way baseball teams are run these days. I hate seeing hard tanking rewarded. Screw losing on purpose forever and forever. Carlos Correa, the franchise cornerstone shortstop, is making the league minimum this season because the team renewed him after he had the audacity to ask for a modest raise over the winter. Second straight season that happened. To hell with that. Dodgers in six. Corey Seager wins World Series MVP.