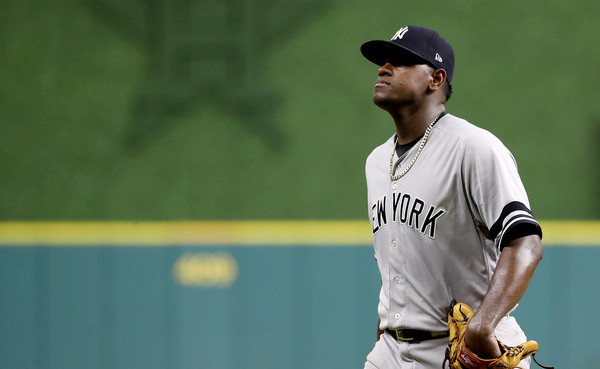 At some point in the coming days, we'll find out whether the Yankees need to add one starting pitcher this offseason, or two. The deadline for Masahiro Tanaka to opt-out of his contract is Saturday, and if he opts out, the Yankees will need to replace Tanaka and CC Sabathia. If he doesn't opt out, the Yankees will only have to replace Sabathia. And they very well could replace Sabathia with Sabathia. Re-signing him seems like a definite possibility.
As things stand right now, the only thing we know for sure about the 2018 rotation is that it will include Luis Severino, Sonny Gray, and Jordan Montgomery. My guess is both Chad Green and Adam Warren will come to Spring Training stretched out as starters, though the smart money is on both going back to the bullpen. Luis Cessa and Domingo German will be around as depth, plus Chance Adams and maybe Justus Sheffield will debut at some point in 2018 as well.
This year the Yankees had to monitor the workloads of all their starting pitchers for different reasons. Severino and Montgomery are young pitchers gradually increasing their workloads. The Yankees have handled Tanaka with kid gloves since his 2014 elbow injury. Sabathia's knee is an ongoing concern. Gray has had some injury problems in recent years as well, so giving him extra rest from time to time was a priority.
And, as things stand now, the Yankees are again going to have to monitor the workloads of their starters next season thanks to their deep postseason run. Severino and Montgomery threw more innings this season than ever before. By a lot too.
Severino: 209.1 total innings (previous career high: 161.2 innings in 2015)
Montgomery: 163.1 total innings (previous career high: 139.1 innings in 2016)
The Yankees were so concerned about Montgomery's workload — big league innings are not the same as minor league innings because there's more stress and intensity involved — that they went out and added Jaime Garcia so they could send Montgomery to Triple-A to control his innings there. Severino seemed to tire out a bit in the postseason. I thought he was noticeably fatigued in the fourth inning of ALCS Game Six.
This isn't just about raw innings totals though. Montgomery and especially Severino pitched deeper into the year than ever before. The Yankees were one game away from the World Series! That means a shorter offseason recover. And this applies to the veterans too. Tanaka and Sabathia, should they come back, as well as Gray will miss out on a few extra weeks to rest this winter because of the postseason run.
The whole World Series hangover phenomenon is not new. Pitchers who pitch deep into the postseason and have shorter offseasons than usual have been coming back the next year and struggling for a long time now. That's part of what made Andy Pettitte and Mariano Rivera so great. Those guys played seven-month seasons, not six-month seasons, because the Yankees were always in the playoffs. Yet they never broke down physically.
As much as we'd like them to turn out that way, the Yankees can't proceed under the assumption Severino and Montgomery are essentially unbreakable like Pettitte and Rivera. This year they had to be careful with their workloads eclipsing their previous career highs. Next year they'll have to worry about any lingering effects from those big workloads this year, and well as the shorter offseason that comes with going to Game Seven of the ALCS.
The Yankees know this, of course. Remember the Javy Vazquez trade? The second one? The Yankees made that trade because Sabathia, Pettitte, and A.J. Burnett worked hard in 2009 and pitched into November en route to the World Series championship. The Yankees wanted an innings eater to help lighten the load on the other guys. So they went out and got Vazquez, who at the time had just thrown 190+ innings for the tenth straight season to bolster the back of the rotation.
Now, the Vazquez trade didn't work out in 2010. He stunk. But the idea was sound. Get another innings eater for the back of the rotation so it's easier to pull Sabathia, Pettitte, and Burnett a little earlier than usual without overtaxing the bullpen following their long 2009 seasons. That's where the Yankees are now. Their starters just threw a ton of innings and pitched deep into October, and there might be a carryover effect in 2018.
Perhaps the need to add rotation depth this winter isn't as great as it was following 2009. The farm system is much richer now. Cessa, German, Adams, and Caleb Smith are basically MLB ready. Back in 2009, their best MLB ready pitching prospects were, uh, Ivan Nova? Zach McAllister? Good big leaguers! But the farm system was much thinner, and the Yankees didn't have an Adams waiting, that top pitching prospect, or a Sheffield not far behind.
I've always been a pitching depth guy. Bring in as many viable starters as possible and don't worry about where they all fit, because odds are you'll need all of them at some point anyway. If the Yankees re-sign Sabathia, retain Tanaka, and bring in a veterans innings dude who pushes Montgomery to Triple-A to start 2018, I wouldn't lose any sleep. Montgomery would be back in MLB before you know it. The long season and big workloads are something the Yankees have to be cognizant of next year, and that could mean making another Vazquez-esque trade.