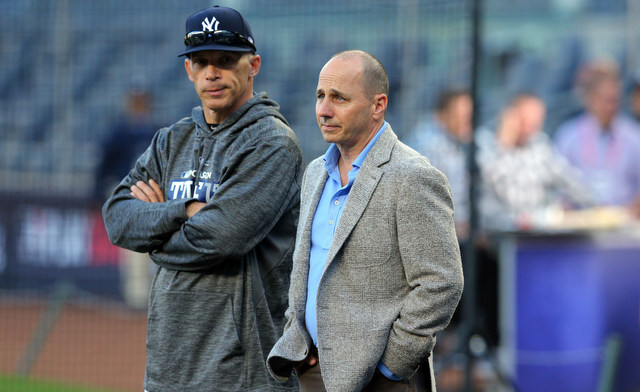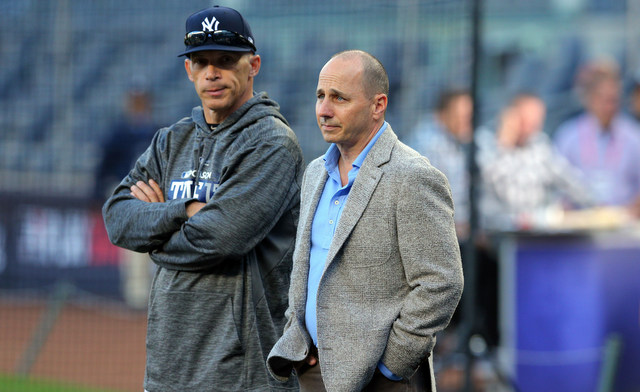 Earlier today Brian Cashman spoke to reporters for the first time since the Yankees parted ways with manager Joe Girardi nearly two weeks ago. Cashman confirmed his own new contract is not done yet, though the fact he's holding conference calls and discussing the search for a new manager pretty much confirms he's sticking around.
Anyway, Cashman discussed both the decision to move on from Girardi — "We didn't fire anybody, but we did choose not to re-hire," is how Cashman described it — as well as the team's ongoing search for a new skipper. Here are the conference call highlights, pieced together from all the wonderful beat writers on Twitter.
On decision to part ways with Girardi: "We do not make changes at that level lightly, so it was a very difficult and challenging decision … Easiest call would be plug and play and continue in safe harbor arena. I have never been safe harbor kind of person … Our issues and concerns were the ability to engage, fully communicate, and connect with the playing personnel."
Would Girardi have stayed had the postseason gone differently? "It's tough to put a hypothetical in there. We went where we went … The challenge issue (in Game Two of the ALDS) had nothing to do with the decision making here."
On what he's looking for in next manager: "There's no perfect person that checks every box … (Communication is) one attribute of many. Some have more weight that others … (We want someone) who's willing to push back and have open discourse … I'm looking for the right person regardless of age."
On the managerial search: "We'd love to have a new manager ASAP, but we have a healthy process involved with every decision we make, and the most important aspect is steps we take rather than time frame … I think it helps if you have (a pre-existing relationship), but it's not necessary … There will be a lot of input from a lot of personnel that will be exposed to the candidates."
Cashman also discussed the offseason — "Is there a lot of heavy lifting necessary? No. But we're always trying to be better," he said — and said there are no surgeries coming up. That's good. There always seem to be a few surprise injuries at the end of the season. The Girardi decision and managerial search dominated the conference call, so here are some thoughts on that.
1. "Communication" is the key word. In the two weeks since the Yankees parted ways with Girardi, several reports suggested the decision was the result of two things. One, the relationship between Cashman and Girardi had deteriorated. Cashman shot that down today. "It was extremely good," was how he described their relationship.
The communication issue was, however, very real. Cashman referred to the "connectivity and communication level in clubhouse" several times today — "(I) pooled a lot of resources to get a healthy feel (of the clubhouse)," he added — and said he felt it was time for a "new voice and a fresh voice." The Yankees have a very young and exciting team, and the last thing they want is those players to have a lousy relationship with the manager. If things weren't great with Girardi now, chances are they'd only get worse.
2. No, this wasn't a smear campaign. We've seen a lot of smear campaigns over the years. The Red Sox and Boston sports teams in general are the biggest offenders, but they happen in all sports and all around the league. Someone gets let go and suddenly stories are leaked about why the person was fired and things like that. It can be ugly. Remember when it was reported Terry Francona abused pain pills while with the Red Sox? Yeah, ugly.
Cashman's conference call today was hardly a smear campaign. It was a standard chat after a manager gets let go. Every general manager is asked why the decision was made whenever a managerial change happens. That's the way it is. Cashman answered truthfully and in a way that didn't besmirch Girardi. The stuff about poor communication in the clubhouse is a pretty common post-managerial change talking point. I don't think Cashman said anything inappropriate, and the same goes for Girardi. This has been a fairly painless parting of ways. There is no war of words in the media or anything like that.
3. The managerial search is wide open. When the Yankees moved on from Joe Torre a decade ago, it was an open secret they wanted Girardi to take over. The interviews with Don Mattingly and Tony Pena were held basically to satisfy MLB's rules about managerial searches. This time around, things are very wide open. "I don't have a list. I am open-minded to this candidate list," said Cashman.
Three things stood out to me when Cashman discussed about the managerial search. One, he said he's willing to hire someone with no experience. It's good to have an open mind, though I suspect the Yankees would prefer someone with some level of experience. Two, there doesn't seem to be a great deal of urgency. Yes, the Yankees want to name a new manager as quickly as possible, but they're going to be thorough.
And three, this won't be a straight Cashman decision. Cashman said "a lot of personnel (will) be exposed to the candidates," which I assume means front office and clubhouse personnel. Those folks will have input. Also, each managerial candidate will hold a conference call with reporters after their interviews so the Yankees can see how they handle the media, which is not at all uncommon during a manager search. Surely the PR staff will monitor the calls and have some input, because working the media is a big part of the job.
Cashman is the general manager. He manages lots of people, and lots of people will be involved in the managerial search in one way or another. Cashman then absorbs their input and all the information and makes the final decision. Well, no, ownership makes the decision. He makes the recommendation. Point in, the Yankees are going into the managerial search with an open mind and will prioritize thoroughness over time frame. (But the sooner they pick a new skipper, the better.)