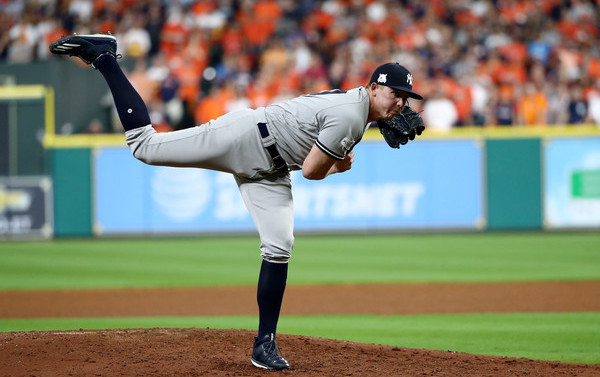 For the umpteenth straight season, the Yankees will have a relief pitcher report to Spring Training as a starting pitcher. Adam Warren has been that guy the last few years, and before him it was David Phelps. Next year it'll be Chad Green (and Warren?). Brian Cashman confirmed earlier this week Green will indeed get a look as a rotation option in camp next year.
"The reliever situation (will be a) fallback, but nothing certain yet," said Cashman to Erik Boland. "You can't disregard how exceptional he was in the role he had, but at the same time, he didn't find himself in that role because he was a failed starter."
Green, 26, was outstanding for the Yankees this season, throwing 69 innings with a 1.83 ERA (1.75 FIP) and a 40.7% strikeout rate. Almost all of that came in relief. Green made one spot start in June and allowed two runs in two innings while on a limited pitch count. In the postseason he allowed five runs (four earned) in 8.2 innings.
I've said this a few times in recent weeks and I guess I have to say it again: I do not like the idea of Green as a starting pitcher. I don't think he has the tools to be successful in that role long-term. There are two reasons:
He doesn't have a changeup. Green has a great fastball, but he lacks a third pitch — heck, even his second pitch (slider) isn't all that great — and trying to go through a lineup multiple times by throwing fastballs by everyone doesn't seem like it'll work. I feel like someone would've done it already if it were a viable approach.
He's an extreme fly ball pitcher. A total of 355 pitchers threw at least 50 innings in 2017. Green ranked 353rd with a 26.4% ground ball rate. Yikes! He allowed 12 homers in 36.1 innings as a starter in 2016, remember. Asking him to go through a lineup multiple times in Yankee Stadium might get ugly.
Keep in mind Green finished the 2016 season on the disabled list after working as a starter pretty much all year. His season ended September 2nd because of a sprained ligament and a strained tendon in his elbow. That's a scary combination of words. It worries me a bit. Can Green hold up physically under a starter's workload? Is it worth the risk to find out?
Personally, I don't like the idea of Green as a starter. Now, that said, the Yankees should absolutely try it in Spring Training. Why not? That's exactly when you should tinker with things. Let Green get stretched out to four of five innings during Grapefruit League play, see how he looks, then make a decision about his role. It's much easier to go from starter to reliever than reliever to starter. So let him start in camp, then adjust.
For years we heard an average starting pitcher is worth more than an elite reliever, but given the way pitching staffs are run these days, I think the pendulum has swung in the other direction. An elite reliever is very valuable, and Green was definitely elite in 2017. I think it would be much easier for the Yankees to find another fourth or fifth starter than another dominant multi-inning setup man. That should factor into the decision about Green's role, right?
Like I said, I don't like the idea of Green as a starter but I am totally cool with letting him try it in Spring Training. Maybe he develops a changeup or finds a ground ball pitch. Who knows? Stranger things have happened. One way or another, Green will again be an important part of the pitching staff next season. If he's not starting, he's going to be soaking up a lot of high-leverage innings out of the bullpen.