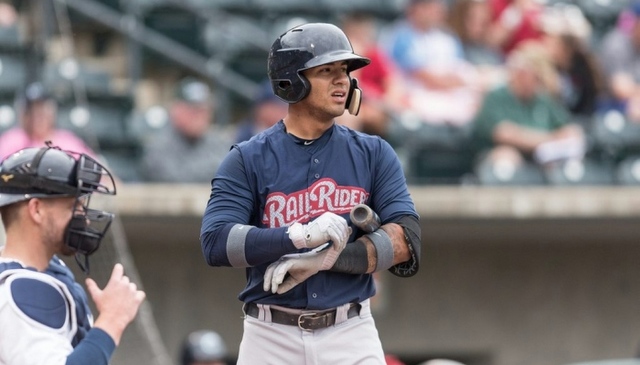 You know what's pretty awesome? The Yankees have a great young core at the big league level in Aaron Judge, Gary Sanchez, and Luis Severino. That's the unanimous 2017 AL Rookie of the Year and 2017 AL MVP runner-up, the third place finisher in the 2017 AL Cy Young voting, and the 2016 AL Rookie of the Year runner-up. All were All-Stars this season and none are older than 25. Pretty great.
Know what else is pretty awesome? The Yankees also have arguably the best prospect in the minors in their farm system. At some point next year Gleyber Torres, who MLB.com ranks as baseball's No. 1 prospect, figures to join Judge, Sanchez, and Severino (and Greg Bird?) in that big league core. Heck, he might've joined them in the second half this season had he not hurt his non-throwing elbow in June. Healthy Torres maybe means no Todd Frazier trade. Hmmm.
Gleyber's rehab from Tommy John surgery is going well — "(He's) pretty close to 100%. He'd love to play some winter ball. We're not going to let him," said Brian Cashman to Mike Mazzeo last week — and he's expected to be a full go for Spring Training. And, when Spring Training rolls around, Cashman said Torres will get an opportunity to compete for a big league job. Here's what Cashman told Brendan Kuty last week:
"I'd say let's see what we see in the spring," Cashman said. "I know last year, coaching staff included, was saying 'This guy is ready to go,' and we said, 'No, no, no.' He hadn't played above A-ball yet. Obviously that has changed so he is in a better position now than he was I think a year ago, but he was coming off of an injury and won't have played competitive baseball until the exhibition games start since whenever the injury happened. We'll see what it looks like."
Torres, who turns 21 next month, had a monster Spring Training this year, hitting .448/.469/.931 with six doubles and two home runs in 32 Grapefruit League plate appearances. A super small sample size, of course, but it's always great to see the top prospect mash. And when Didi Gregorius got hurt at the World Baseball Classic, more than a few folks wanted to see Gleyber start at short. Including the coaching staff, it seems.
That was never all that realistic, however. Torres had just turned 20 and he'd never played above Single-A. The Yankees smartly sent him to the minors and Gleyber put up a .287/.383/.480 (141 wRC+) line with 14 doubles and seven homers in 235 plate appearances at Double-A and Triple-A before the elbow injury. Playing everyday in the minors was the best thing for him at that point of his career. Ronald Torreyes held down shortstop while Didi was out and things worked out well for everyone.
Now that Torres has some Double-A and Triple-A experience, coming to camp with a chance to win a job next year is much more realistic. Making the jump from High-A to MLB is asking for trouble, and the Yankees don't want to do anything that could jeopardize Gleyber's long-term future. Will Torres actually make the team next spring? Almost certainly not. For two reasons.
He just missed half-a-season with a major elbow injury! There is some rust to shake off.
Sending him to the minors for a few weeks would delay his free agency one year.
Making the jump from Triple-A to MLB is tough enough. Making the jump from Triple-A to MLB when you missed the last half-season with a major elbow injury is even tougher. The Yankees will surely want to make sure Gleyber is back to normal after his surgery before turning him loose at the big league level. If there's rust, they want him to work through it in the minors, where the games don't count.
The second point is a secondary concern. The Yankees usually don't obsess over service time. If they feel a player gives them the best chance to win, they tend to carry that player on the MLB roster. In Gleyber's case, pushing back his free agency — two weeks in the minors in 2018 equals control of his age 27 season in 2024 — would be a byproduct of shaking off the post-Tommy John surgery rust. It could be enough of an incentive that the Yankees send Torres down on Opening Day juuust to make sure he's all the way back, you know?
Now, that said, even if the odds are against Torres making the team out of Spring Training next year, there are reasons to let him compete for a job. One big reason, actually. Motivation. Motivation for Gleyber and motivation for the veterans. "It's nice to have the young guys pushing up. It's nice to have the older guys hear the footsteps," said Cashman to Bryan Hoch last week. A little healthy Spring Training competition never hurt anyone.
It would seem Chase Headley, right now the starting third baseman, is the veteran most at risk of losing his job to Torres, but I suppose we can't rule out Starlin Castro getting displaced. Third base is the more likely destination though. Headley will be entering the last season of his contract, and if he knows a talented kid is coming for job, it figures to make him push even harder. That's a good thing!
I am skeptical Torres will truly have a chance to win a roster spot in Spring Training. The Yankees hold fake spring competitions all the time. Had he stayed healthy last season, oh sure, I'd 100% believe it. Clint Frazier having a chance to win a spot? I totally buy that. But Torres, after missing the last half of the season with a major injury? Eh. The Yankees always play it safe with injuries, especially injuries to important players, and Torres is important.
Giving Gleyber some motivation is a plus though, ditto letting Headley (and Castro?) know his job is not safe. Torres may not have a good chance to make the roster, but it is a chance, and that's enough to let everyone know this won't be a run of the mill Spring Training.
"Obviously," Cashman said to Kuty, "whether it's Gleyber Torres, whether it's (Miguel) Andujar, whether it's Clint Frazier, those guys are all serving notice on the more established players of, 'Don't sleep on us, because we're trying to take what you got.'"