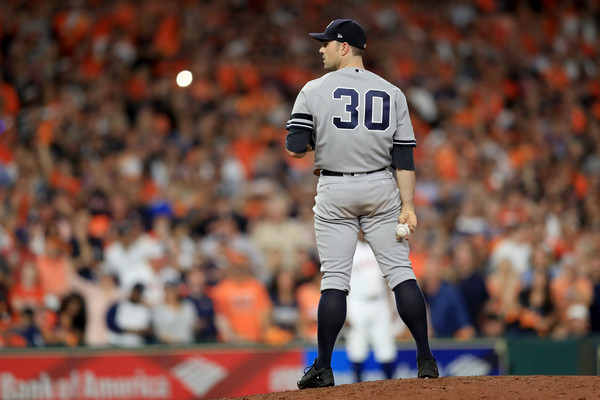 Nearly three years ago to the day, the Yankees signed Andrew Miller to a four-year, $36 MM deal, effectively (or so we thought) ending David Robertson's career in pinstripes. It was a sensible move, as the team stood to save $2.5 MM per year against what Robertson would end up signing for in Chicago, while also picking up a draft pick (which turned into Kyle Holder). It was an odd feeling nevertheless to see the heir to Mariano Rivera pack up and go – and it was an equally great feeling to see him back in the Bronx.
A New Fireman In Town
When Robertson was brought back into the fold, it was made abundantly clear that he would be utilized in whatever capacity the Yankees needed. The always-endearing Robertson said that he didn't need a defined role out of the bullpen, and Joe Girardi utilized him as such. He entered his first game back in the 7th inning (striking out the side), and then pitched the eighth in back-to-back games. Robertson's next two appearances came in the 9th in non-save situations, and then it was back to the 8th for a game. And then his next eight appearances started like this: 9th, 6th, 8th, 7th, 6th, 8th, 9th, 7th. Here's the breakdown of Robertson's regular season appearances with the Yankees, by the inning in which he entered:
5th inning: 1
6th inning: 3
7th inning: 6
8th inning: 14
9th inning: 5
Extra innings: 1
Were it not for Dellin Betances' struggles, which necessitated Robertson becoming the steadying presence in the 8th, we may well have seen the numbers around that inning increase even further. And, more importantly, he thrived in the absence of a designated inning.
Pure Dominance
Take a moment to marvel at Robertson's regular season line with the Yankees:
35 IP, 14 H, 12 BB, 51 K, 1.03 ERA, 442 ERA+, 2.10 FIP, 38.6 K%, 9.1 BB%, 54.4 GB%
Dominant doesn't really begin to cover it, does it? This was Robertson at his absolute best, as he racked up whiffs, kept his walks at a more than manageable level, and kept the ball on the ground when hitters did manage to make contact. He didn't allow a run over his final fifteen appearances (18 IP), either. This was a better version of the pitcher that earned an All-Star nod and down ballot Cy Young and MVP votes in 2011, and it was glorious.
It was also a slightly different version of Robertson. Consider his pitch selection over his ten-year career: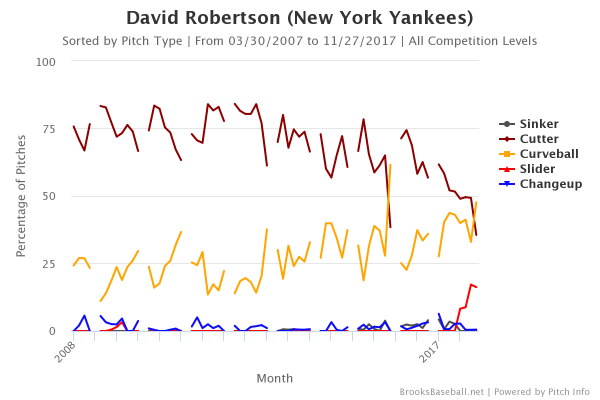 Over the first nine-plus years of his career, between 65 and 80% of Robertson's offerings were cutters. Upon returning to the Yankees, however, he settled into a 50/50 split (or thereabouts) between his cutter and his curveball – and it obviously paid huge dividends. The contrast grew even more stark in the playoffs, when his curveball became his go-to pitch: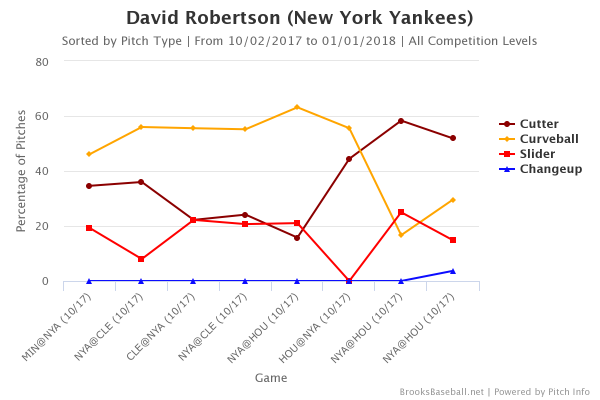 It will be interesting to see how his approach changes when the 2018 season rolls around.
The Playoffs
Robertson was one of the team's many heroes in the Wild Card game, holding down the fort for 3.1 IP. He entered with the bases loaded in the third, and allowed one of the runners to score, but he was fantastic the rest of the way. He also gave us this immortal image, as we all felt Gary Sanchez's pain: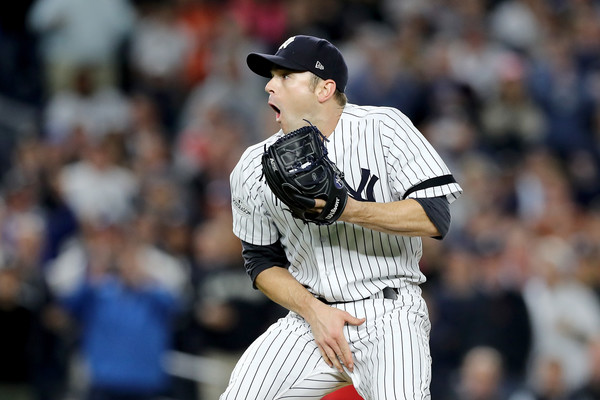 The rest of the postseason didn't work out as well for Robertson, unfortunately. He blew a save in game two of the ALDS against the Indians, and was absolutely shelled by the Astros in game six of the ALCS. He did fine work in between, including a tremendous effort in the decisive game of the ALDS, and was far from the blame for the series loss as a whole (he didn't take a loss or surrender a lead), but it was a disappointing end to an otherwise stellar reunion.
That being said, my lasting memories of season one back in pinstripes will be the dominance.
2018 Outlook
Robertson is under contract for $13 MM in 2018, the last year of his deal. The Yankees always have a lot of moving parts in the bullpen, so it remains to be seen how he will be deployed, but I don't see him being traded. With Chad Green potentially earning a look in the rotation and Dellin Betances figuring things out, however, I wouldn't be surprised if he opened the season as the set-up man.