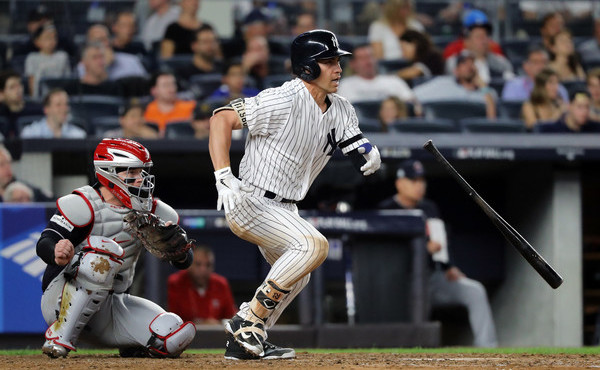 At this point, the best thing the Yankees can say about the Jacoby Ellsbury contract is that they're finally closer to the end than the beginning. Year 4 of the Ellsbury era played out very much like Years 1-3. There were months of poor production, an injury, and a hot streak that had everyone wondering whether Ellsbury would finally provide some bang for the buck.
In the end, Ellsbury hit .264/.348/.402 (101 wRC+) with seven home runs and 22 steals in 25 attempts in 112 games in 2017, which isn't bad by any means. It is a bit deceiving though, because Ellsbury bunched all the good into a four-week hot streak from August 26th through September 20th, in which he hit .397/.494/.616 (194 wRC+) in 89 plate appearances. In his other 320 plate appearances, he hit .230/.303/.346 (~77 wRC+).
Now, don't get me wrong, those 89 great plate appearances from August 26th to September 20th count. Ellsbury was phenomenal those weeks! He helped the Yankees win a lot of games. The season is not four weeks long, however. There was a lot of bad sandwiched around those four weeks, bad enough that Ellsbury was relegated to fourth outfielder duty for long stretches of time, including in the postseason.
A Lineup Demotion, In Theory
Following the end of the 2016 season, both Joe Girardi and Brian Cashman hinted at a lineup change for the 2017 season. The Brett Gardner/Ellsbury tandem would be broken up atop the lineup. The Yankees signed Ellsbury hoping he and Gardner would form a dynamic one-two lineup punch with speed and sneaky power. It never really materialized.
The question was who would be demoted, the more productive Gardner or the more highly compensated Ellsbury? Money talks. In a perfect world teams wouldn't consider salary in making roster decisions, but they do. They all do. The Yankees are no different. In this case, Ellsbury salary didn't matter. Girardi dropped him from second in the lineup all the way down to … fifth. He even batted fourth for a few games.
On one hand, dropping Ellsbury from the second spot in the lineup was the right move. On another hand, dropping him to fourth and fifth meant he was still hitting in the premium lineup spot, and would still be a significant part of the offense. And for the first few weeks of the season, it was fine. Not great, not terrible. Fine. Ellsbury hit .277/.333/.410 (99 wRC+) in April and even swatted his first career grand slam.
Ellsbury played well enough in April — and the season was still young enough, of course — that he stayed in the lineup even with Aaron Judge and Aaron Hicks hitting the snot out of the ball and forcing their way into the lineup. Judge played every single game because he had to. Hicks, Ellsbury, and Gardner spent most of the month rotating in and out of the lineup, with Hicks getting the least playing time.
The Concussion
On May 24th, with his batting line sitting at .281/.349/.422 (108 wRC+) through 153 plate appearances, Ellsbury crashed shoulder-first into the center field wall making a catch against the Royals. He initially stayed in the game, but was removed one inning later with a concussion.
Ouch. Concussions are no joke. They're a brain injury and if they're not treated properly and quickly, they can lead to very bad things down the road. The concussion sidelined Ellsbury for almost exactly one month — he returned on June 26th. Ellsbury's injury gave Hicks a chance to play everyday, and it was a Hicks injury that brought Ellsbury back from the disabled list a little sooner than expected. Hicks hurt his oblique on June 25th and the Yankees brought Ellsbury back from his rehab assignment a few days early to fill the roster spot.
The first few weeks back from the concussion did not go well, and while that is understandable — again, concussions are a serious matter — it also fit a career-long pattern for Ellsbury. He has a history of getting hurt and not hitting once he returns. We've seen it in pinstripes a few times, most notably after he tweaked his knee in 2015. In his first 41 games back from the concussion, Ellsbury hit .186/.289/.297 (60 wRC+) in 136 plate appearances. Yeesh. At one point he went 3-for-29 (.103) during a 13-game span. That dragged his season batting line down to .237/.320/.364 (85 wRC+).
Ellsbury's Best Four Weeks As A Yankee
That ugly 41-game slide ended August 25th, a cherry-picked date. The very next day, Ellsbury started his monster four-week hot streak, a 38-game stretch in which he was not only New York's most dangerous hitter, but also one of the best hitters in the game not named Giancarlo Stanton. Those four weeks were incredible.
Those four weeks were so great they represent Ellsbury's best four-week stretch as a Yankee, bar none. He hit .397/.494/.616 (194 wRC+) those four weeks. His next best four-week stretch in pinstripes is a .324/.366/.539 (150 wRC+) batting line back in August 2014. Here is Ellsbury's tenure with the Yankees: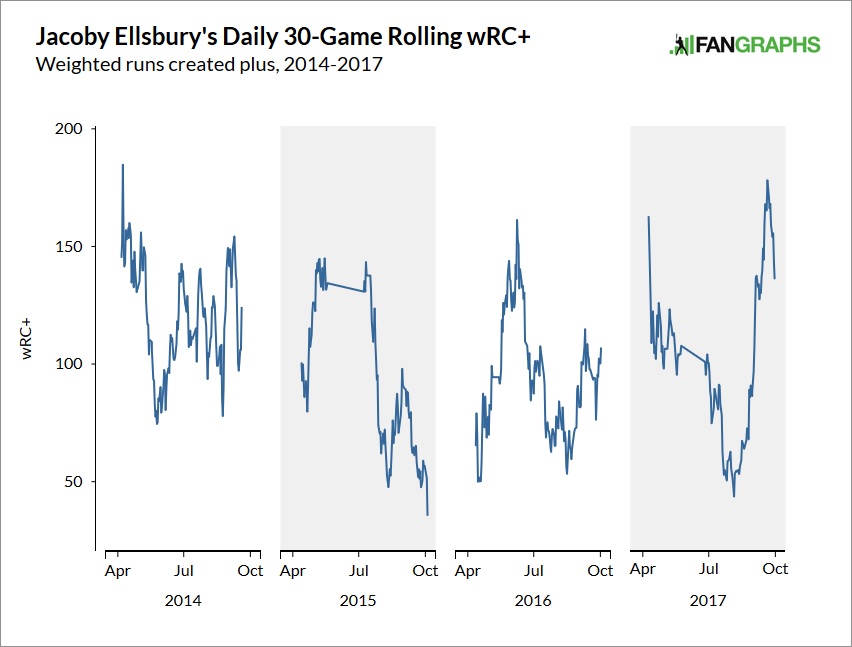 More valleys than peaks, though some of the peaks are quite high. None are as high as his second half this season. Ellsbury was the Yankees' best player during those four weeks late this season and the Yankees needed him to step up, because Hicks was hurt again and Judge was still working his way out of his second half slump. The Yankees were noticeably short a bat down the stretch. Ellsbury helped pick up the slack.
The hot streak was the very best of Ellsbury. He was a contact machine — he drew 13 walks and struck out only nine times in those 38 games — who sprayed the ball all around and used his speed. There is always going to be some element of luck involved when a player hits .397 across 38 games — Ellsbury did have a .444 BABIP during the hot streak — but Ellsbury created his own luck by putting the ball in play so often. He saw 375 pitches during the hot streak. He swung and missed only 28 times.
The biggest moment of Ellsbury's torrid hot streak came during Players Weekend, when he swatted a go-ahead three-run home run against the Mariners. The Yankees suffered a tough extra-innings loss the night before and basically half the AL was trying to catch them in the wildcard race. Ellsbury's homer contributed to an important win.
By the end of the hot streak Ellsbury had raised his season batting line to .273/.361/.420 (110 wRC+). It was an uneven distribution — he started well enough, stunk in the middle, then got crazy hot — but it was the first time since his first season with the Yankees that Ellsbury was an above-average hitter that late into the season.
The Beginning Of The End
The hot streak didn't last, of course. They never do. Ellsbury went 5-for-30 (.167) in his final eight games of the regular season, and with Hicks back from his second oblique injury, Ellsbury again found himself on the bench. It was Hicks, not Ellsbury, who played center field in the postseason. The Yankees played 13 postseason games this year and Ellsbury appeared in six of them. He started four, all at DH. In those six games he went 0-for-9.
There were stretches throughout the season in which Ellsbury was dropped down into fourth outfielder duty, though the Hicks injury and the general day in, day out nature of the regular season meant he still played a few times a week. In the postseason though, with every game meaning so much, Girardi and the Yankees determined Ellsbury did not give the Yankees the best chance to win. Not at the plate and not in the field. He was a pinch-runner, basically.
As things stand, the Yankees are deep in outfielders going into the 2017-18 offseason. Ellsbury, Gardner, Hicks, and Judge are all under control for at least two more years, and Clint Frazier is very close to ready for full-time MLB action, if he isn't already. Ellsbury is the one outfielder who clearly deserves less playing time going forward, not more. That the Yankees already scaled back on his playing time this summer leads me to believe Ellsbury's days as a starter are close to over, at least when he's not in the middle of a hot streak.
2018 Outlook
For the first time since Ellsbury joined the Yankees, I feel like the team will make a very serious effort to unload him this offseason, to clear room for Hicks and Frazier and the other outfielders. It's going to hurt to trade Ellsbury, and it should hurt. The signing seemed completely crazy at the time, and when you make a decision that bad, you deserve to deal with the consequences. The Yankees will have to eat a lot of money to move Ellsbury. There are four questions now:
Will Ellsbury waive his no-trade clause?
Does any other team even want Ellsbury?
How much money will the Yankees have to eat to facilitate a trade?
How badly do the Yankees want to open the roster spot?
That's what this is about, right? Opening a roster spot for a younger player (Frazier) and saving as much money as possible. The contract is a sunk cost. Right now the Yankees have to pay all of it no matter what. Saving some of it, even a few million a year, to open the roster spot and create a more flexible roster makes sense given where the Yankees are. It's hard to see Ellsbury as a meaningful piece of the next great Yankees team.
Trading Ellsbury won't be easy nor will it yield any sort of meaningful return. It'll be a reverse Vernon Wells trade, basically. The Yankees get non-prospects in return for saving some cash. Ellsbury is better than Wells, sure, but his contract is more onerous. If the Yankees can unload Ellsbury, I think they'd jump at the chance this winter. And if not, they'll have no choice but to go into next season with him penciled into a bench spot.