We've got a dozen questions in the mailbag this week, the last mailbag before the Winter Meetings, which kick off Monday. RABmailbag (at) gmail (dot) com is the mailbag email address.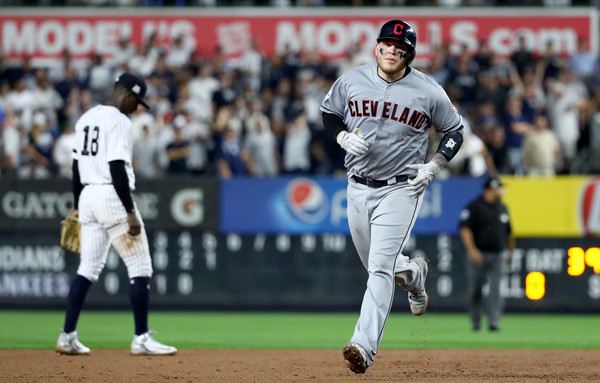 Michael asks: Why would a free agent catcher want to sign with the Yankees? With the limited playing time opportunities. Wouldn't a trade for a catcher with a fair amount of team control remaining make sense? The Indians have some depth, Perez Gomes, and Mejia, what would it take to get either one of the vets?
Yeah, I don't get why a free agent catcher would sign with the Yankees to back up Gary Sanchez, unless they blew him away with an offer or the guy had nowhere else to go. The Indians definitely have some catching depth — Francisco Mejia is pretty close to MLB ready and I think he's a top ten prospect in baseball, maybe top five — so maybe it is something they would dip into to make a trade. I prefer Roberto Perez to Yan Gomes, personally. The 2017 stats comparison:
| | AVG/OBP/SLG | wRC+ | HR | CS% | FRAA | Remaining Contract |
| --- | --- | --- | --- | --- | --- | --- |
| Gomes | .232/.309/.399 | 87 | 14 | 42% | +3.2 | $12.95M from 2018-19 plus two options |
| Perez | .207/.291/.373 | 75 | 8 | 43% | +14.4 | $7.875M from 2018-20 plus two options |
Neither guy can hit much, but Perez is the better defender, he's a year and a half younger, and he's considerably cheaper. I think it's pretty interesting Terry Francona went with Perez as his starter the last two postseasons even though Gomes was the starter during the regular season. He must trust Perez more behind the plate, and hey, when they're both below average hitters, why not go with the superior gloveman?
I have no idea what it would take to acquire Perez. Trades involving no-hit/all-glove backup catchers signed long-term are pretty darn rare. Does the Francisco Cervelli for Justin Wilson trade work as a benchmark here? Cervelli was a better hitter than either Gomes or Perez, but he wasn't signed long-term either. I don't have much interest in Gomes. Or any interest, really. Perez would be fine though, depending on the price.
Brian asks: Building upon your CBA thoughts in the article posted today, do you think the Union will ever get 6 years of team control and/or 3 years of league minimum reduced? It seems much more prohibitive/management friendly than other leagues.
The rule stating players need six years of service time to qualify for free agency has been around since free agency became a thing in 1976, so this has been the status quo for a while. Getting it down to five years of control would be a huge win for the MLBPA, and because of that, the owners will fight it tooth and nail. The union might have more luck pushing for two pre-arbitration years and four arbitration years instead, essentially making everyone a Super Two and putting more money in their pocket early in their careers. Generally speaking, MLB players do have to wait longer to qualify for free agency than players in other sports, and this seems like one of those things the owners will never budge on. They might lock the players out before agreeing to five years of control before free agency.
AJ asks: Do you think the Players should hire Scott Boras to lead the MLBPA?
I think Boras would be better at the job than Tony Clark because he's proven himself to be a master negotiator, though there's no way this happens. Boras won't take the pay cut. Eric Fisher and Liz Mullen reported that Clark earned roughly $2M in 2014, his first year on the job. Boras undoubtedly clears that given the players he represents. This offseason he has J.D. Martinez, Eric Hosmer, and Mike Moustakas in free agency. Even if his commission is a mere 2% (I'm sure it's quite a bit higher), he'd make what, $6M off those guys alone this winter? The MLBPA needs someone in charge who can get them some real benefits and not concede concede concede. Maybe Boras is that guy, but it's hard to think he leaves his own agency for the job.
Nicholas asks: If the Giants trade Panik for Stanton-they'll be in the market for 2b and 3b…maybe the Yankees trade Castro and Headley and sign Frazier?
There are conflicting reports about the Giancarlo Stanton trade package. Some say it includes Joe Panik, some say it doesn't. I don't really know. The larger point here is the Giants need more than just Stanton to contend — this a team that went 64-98 this season, after all — so if they're going to trade for him, it doesn't make sense to stop there. Stanton doesn't put them over the top himself.
Even after a potential Giancarlo pickup, the Giants would still need a third baseman (and possibly a second baseman if Panik is traded), a bench, and pitching help. Chase Headley and/or Starlin Castro could make sense for them, sure. San Francisco doesn't have much to trade these days, so maybe that means Headley as a salary dump is the best fit. I don't love the idea of trading Headley (or Castro) then signing Frazier though. I feel like we'd end up right back in the same place next winter, talking about ways the Yankees could unload Frazier.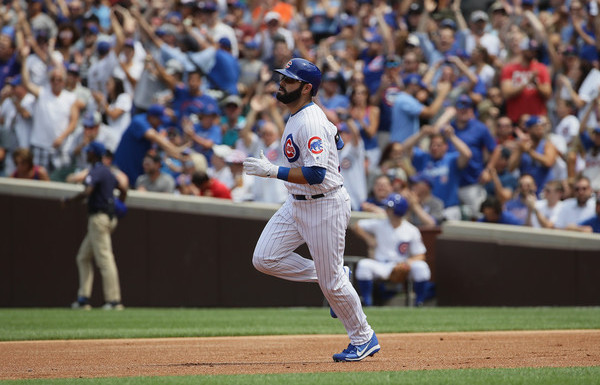 Michael asks: Did you see Avila said his main concern is not playing time, but playing for a team that is going to contend? Do you think this makes the Yankees a reasonable landing spot. He would be a pretty huge upgrade over Romine, he can play some first, he compliments Sanchez as a lefty bat, etc.
Yeah, I saw it. Alex Avila made those comments on the radio. No offense to him, but I'm going to have to see this to believe it. Would he really pass up more money elsewhere to back up Sanchez because he thinks the Yankees have a chance to win? The big problem for the Yankees' is the salary given the luxury tax situation. If Avila is willing to back up Sanchez but wants a starter's salary, it won't work. If the Yankees could get him to back up Sanchez at something like $3M a year, great. I would be shocked if a guy who hasn't really broken the bank in his career (Baseball Reference puts Avila's career earnings at $18.3M) is truly willing to take less to be a backup behind a great starter, especially since Avila is only 30 and his earning potential will never be higher than it is right now given the year he just had. I heard his comments and immediately thought it was just one of those things a player says in an interview because it makes him sound good, not because he means it.
Jackson asks: Can you explain the minor league phase of the rule 5, the portion where once the player gets chosen there's no chance of him returning? I understand that Alex Palma will likely get selected and if so he won't get offered back.
The minor league phase of the Rule 5 Draft works differently than the Major League phase. If a player gets picked in the minor league phase, that's it. He's gone. No getting him back. The Yankees lost Ty Hensley to the Rays in the minor league Rule 5 Draft last year. (Hensley didn't pitch this year as he rehabbed from his second career Tommy John surgery. He hasn't pitched at all since 2014.)
Anyway, the minor league Rule 5 Draft eligibility rules are the same as the Major League phase. You're either eligible for the entire Rule 5 Draft phase or you're not. There are two levels of protection:
Players on the 40-man roster are protected from both the Major League and minor phase phases.
Players on the 38-man minor league reserve list are protected from the minor league phase only.
There used to be Triple-A and Double-A phases, but the talent was so sparse in the Double-A phase that MLB and the MLBPA did away with it in the current Collective Bargaining Agreement, so now it's just the Major League phase and minor league phase. There used to be a Major League phase, Triple-A phase, and Double-A phase.
Rule 5 Draft eligible players the Yankees did not add to the 40-man roster this winter, like J.P. Feyereisen and Nestor Cortes and Mike Ford and a bunch of others, will be included on that 38-man reserve list for sure. That 38-man reserve list is usually plenty big enough to protect anyone worthwhile. Most minor league Rule 5 Draft picks are guys like Hensley, who are hurt and have been hurt for a long time, or complete non-prospects teams bring in to fill roster spots. I'm sure the Yankees will find room for Palma on the 38-man reserve list. There are not 38 Rule 5 Draft eligible players in the organization worth protecting ahead of him. Not even close.
Asher asks: Any thought about an "Aroldis Chapman" rule- preventing a team from signing a free agent that that traded at the deadline? Perhaps we can call it the "Sidney Ponson" rule.
I don't see the need for one. I'm not sure who that rule change would be helping. It would likely lead to fewer trades — would the Yankees have traded Chapman knowing they couldn't re-sign him? I doubt it considering they tried to extend him before trading him — and it would limit the player's market by taking away a potential suitor. How many times does this happen anyway? The Yankees did it with Chapman, the Cubs did it with Jason Hammel, and the Orioles did it with Ponson way back in the day. I can't think of any others. This seems like a solution in search of a problem.
Chris asks: With all the international money the Yankees accumulated, is there any chance they try to trade some of it to a West Coast team and get someone useful in return?
Sure. The Yankees are going to do something with that $3.5M they have left over. Earlier this week the Angels (2017 third rounder Jacob Pearson) and Mariners (2017 fifth rounder David Banuelos) traded actual prospects to the Twins for $1M in bonus money. One of those teams traded away a legitimate prospect and won't get Shohei Ohtani. Maybe both!
Anyway, clearly the market for international bonus money is inflated right now. Matt Eddy says the Yankees received $1.75M in bonus money from the Orioles for Matt Wotherspoon and Yefry Ramirez. Geez. Now guys like Pearson and Banuelos are getting traded for $1M in bonus money? The Yankees absolutely should see what they can get for their bonus money from the teams chasing Ohtani.
Here's the thing though: the Mariners, Angels, and Rangers are the only teams that can add money. The other clubs in on Ohtani (Padres, Dodgers, Cubs, Giants) are all limited to $300,000 bonuses, so it doesn't make sense for them to trade for bonus money. I get the sense the Yankees are going to use that $3.5M to sign prospects, but it wouldn't hurt to see what the Mariners, Angels, or Rangers would give up for some of it in a trade.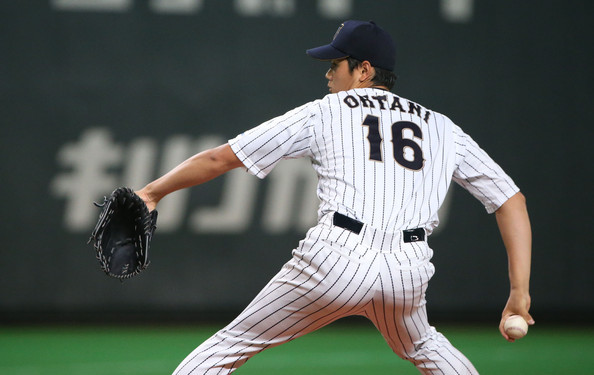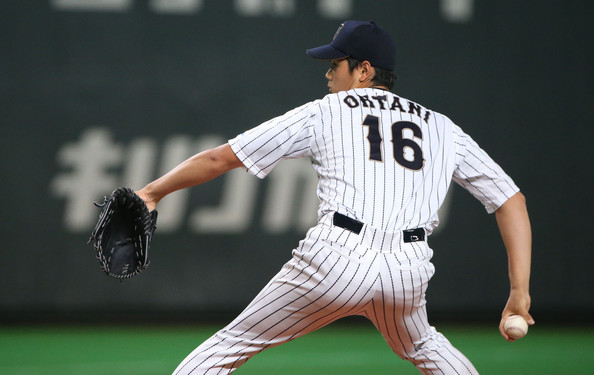 Anonymous asks: Assume a team signs Ohtani. If that team were to trade him prior to the season what do you think he would bring in return? Equivalent to the Chris Sale to the Red Sox package? Substantially less? How many top-25 prospects? top-50? top 100? What package of Yankees prospects would RAB give up to acquire Ohtani via trade?
Can't trade him before the season. Players can not be traded until six months after signing their first pro contract, which means whichever team signs Ohtani won't be able to trade him until next June at the earliest. Hypothetically though, it would take a monster package to get him. He's a potential ace, he's only 23, and he's under control for six more years. And that's ignoring whatever he might give you with the bat.
If Ohtani were on the trade market right now, his team would be asking for the moon. Gleyber Torres and Clint Frazier and Justus Sheffield. They might even aim higher and ask for Luis Severino or Aaron Judge, plus others. Chris Sale was traded with three years of control and he fetched two top 25 prospects plus two others. Ohtani doesn't have Sale's track record, but he has three more years of control, and that's huge. I feel like Ohtani for Torres, Frazier, and Sheffield would be a win for the Yankees. Ohtani is insanely valuable given his talent, his age, and his salary/team control situation.
Rich asks: How possible is it that the Boone hiring hurt the Yankees' chance of getting Ohtani? Shutting out big market teams on the East Coast just sounds silly to me and the timing seemed suspicious too.
Nah. Ohtani ruled out every single East Coast team and pretty much every Midwest team as well. The timing of the Aaron Boone news and Ohtani's rejection was just a coincidence. Boone did joke about it the other day at his press conference — "I called Cash and said, 'Sorry I couldn't get Ohtani for you.' I got named and Ohtani wanted no part of it," he said — but nah, I don't think there's anything to this. Ohtani doesn't want to play for the Yankees, or on the East Coast in general, apparently, and that's his choice. Sucks, but what can you do?
Pete asks: It seems pretty clear that Ohtani never intended on signing with the Yankees (and other teams) based on how quickly he whittled his list down to 7 teams. Reports indicate the Yankees delivered a very strong presentation and Ohtani's agents implored him to interview with them, but he still said no. That being said, what do you make of reports that teams are annoyed at the decision process and feel they got "played"? They just bitter or do they have a point – after all, they could have used that "wasted" time and resources to recruit other players.
I think they should stop whining. Ohtani is making a major life change here. He's moving halfway around the world and jumping into a new culture. Asking (not making) the 30 clubs to put together the recruiting letter/presentation is basic due diligence. Seven teams are still in the running and apparently some of them are convinced Ohtani has not only already made a decision, but made his decision a long time ago. Maybe instead of complaining about it they should be thankful they had an opportunity to meet with him in-person and potentially change his mind. Won't someone think of the poor front offices? I'm sure teams will complain about getting "played" next time they rake a player over the coals in arbitration for having the audacity to seek fair compensation.
Many asked: Why is the font on RAB smaller???
Yes, the font on RAB is smaller. More accurately, we added another layer of security to the site and the font defaulted to Times New Roman for whatever reason. I have no idea how to fix it. If it bothers you that much, take out the "s" in "https" in the site address and things will go back to normal. You are forewarned though, that is a less secure version of the site, so you'd be at risking the general badness of the internet infecting your device.
Update: The font issue is fixed. Stick with the "https" site for our own good, folks.