We have 12 questions in this week's special holiday weekend mailbag. There's really nothing special about it though. Just a regular old mailbag. Send your questions to RABmailbag (at) gmail (dot) com.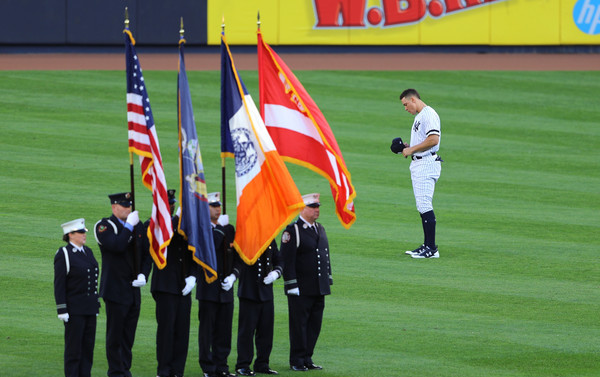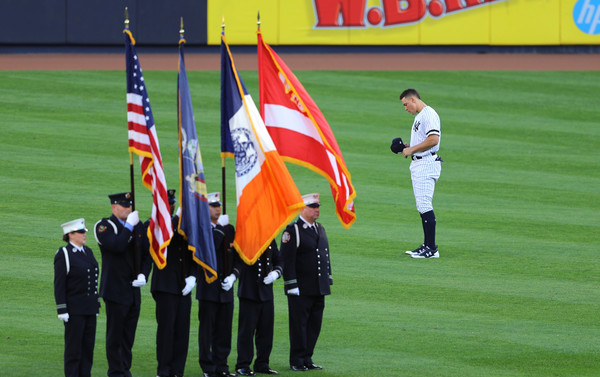 Anonymous asks: If you are the Yankees, are there any players for which you would trade Judge, one for one, taking into account all factors, like salary, age, position, years of control, etc?
Trading five years of Aaron Judge for four years of Corey Seager, Carlos Correa, or Francisco Lindor seems perfectly reasonable to me. There's a pretty good chance Judge will never repeat his 2017 season — that isn't to say he'll be bad, but doing that again is awfully hard — and trading a corner outfielder for a middle infielder who hits like a corner outfielder makes sense to me. Judge for four years of Kris Bryant works too since they're similar offensively, but Bryant plays a more premium position.
What about five years of Judge for three years of Mike Trout? Judge just had his first Trout-like season while Trout had his sixth straight Trout-like season. Trout comes with more certainty going forward. And besides, he outhit Judge this year anyway. Judge hit .284/.422/.627 (173 wRC+) in 2017. Trout hit .306/.442/.629 (181 wRC+). Plus he can play center field and play it well. Are the two extra years of control worth the increased certainty?
Here's an interesting one: Gary Sanchez. Both Sanchez and Judge are under control for another five seasons. Who would you rather have the next five years, Judge or Sanchez? Poll time!
Who would rather have the next five years?
(If you're getting an error when you vote, remove the "s" from "https" in the address bar.)
The cool thing is the Yankees have both Judge and Sanchez and don't need to pick between the two. Me? I think you have to take the catcher over the corner outfielder. The list of players I'd trade Judge for straight up, one-for-one, is very short. Seager, Correa, Lindor, Bryant, Sanchez, and probably Trout. That's about it. Wouldn't even consider a pitcher trade because those guys get hurt too often.
Joe asks: Are Aaron Hicks numbers really worth all the love he's getting? While he was better than expected last year, he still missed considerable time to injury and was a goose egg in the playoffs. I don't understand why he's being guaranteed a spot in the OF. Rather than eat money on Ellsbury's contract or ship out Frazier, why don't the Yankees try to trade Hicks off one good season and go with Gardner/Ellsbury/Frazier for CF/DH?
Hicks is being guaranteed a spot in the outfield because he just turned 28, he's a former first round pick and highly rated prospect, and he ranked 15th in OBP and 20th in wRC+ among the 114 outfielders who batted at least 300 times in 2017. It would've been nice if Hicks put up his .266/.372/.475 (127 wRC+) line in 650 plate appearances instead of 361 plate appearances, but he didn't. That's life. Also, Hicks went 7-for-22 (.318) with a .375 OBP between the Wild Card Game and the ALDS. He stunk in the ALCS, for sure. Calling him a goose egg for the entire postseason isn't fair.
Now, does that mean the Yankees shouldn't entertain trade offers for Hicks? Of course not. Always be willing to listen. Someone might blow you away with an offer. Realistically, Hicks is probably worth more to the Yankees on the field than anything he could fetch in a trade given his track record, especially since trading him would clear playing time for Jacoby Ellsbury. If the Yankees aren't going to give Hicks a chance now, they never will. Giving talented 20-somethings a chance is what got the Yankees here. I see no reason to stop.
Gregg asks: Any chance the Yanks attempt to get Dustin Fowler back via trade, a la Drew Henson? With Stanton on board, Fowler would seemingly be a much better roster fit than Clint Frazier going forward. Assuming they were interested, what do you feel the cost would be?
I doubt it. Trading to get a prospect back is rare but it is not unprecedented — the Mariners traded Anthony Misiewicz to the Rays in a minor deal in August, then got him back this month for international bonus money — though in this case I don't see the Athletics parting ways with Fowler. The only way they can get their hands on high-end up-the-middle athletes like that is through trades or the draft. Free agency isn't an option.
Also, keep in mind Fowler's knee injury was very serious. It's possible it will rob him of speed and maybe even of his ability to play center field — or at least his ability to play it as well as he did before the injury — in which case his value would plummet. Fowler has some skills. But move him from center to a corner and he's just another guy. I don't think this trade would work. What would the A's take for someone who could be their center fielder next year? Frazier for Fowler? No way. I wouldn't trade Frazier for healthy Fowler, roster fit be damned.
Steve asks: LOVE what the Dodgers just did, trading A-Gon, Kazmir and McCarthy for Kemp. Money is a wash, but its spread out over 2 years so the luxury tax hit helps the Dodgers. Who could the Yanks trade Ellsbury for in a similar deal?
No one. What the Dodgers did was take $45M worth of players in 2018 and trade it for $45M worth of players (o one player, really) from 2018-19, thus cutting the luxury tax hit in half. They still owe the same total salary, but spreading the money across two years reduces the impact on the luxury tax payroll. The Braves agreed to the deal because they get all the money off their books a year sooner, allowing them to prepare for the big 2018-19 free agent class.
Ellsbury has three years and $68M left on his contract. To swing a trade like that, the Yankees would have to trade him for a players(s) with $68M and more than three years on their contract to reduce the luxury tax hit. That player doesn't exist. The closest fits are Dustin Pedroia (four years and $56M) and Kyle Seager (four years and $76.5M), and trading Ellsbury for those guys isn't happening for different yet obvious reasons. The Dodgers-Braves trade was very creative. It happened because only one player in the five-player trade had multiple years remaining on his contract, and that was Matt Kemp with two. Ellsbury has three years remaining and he's the guy whose luxury tax hit you want to reduce.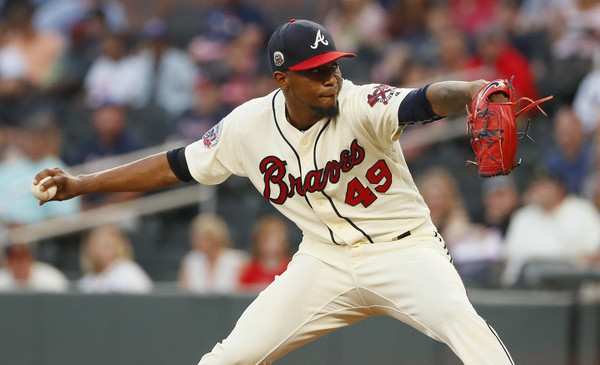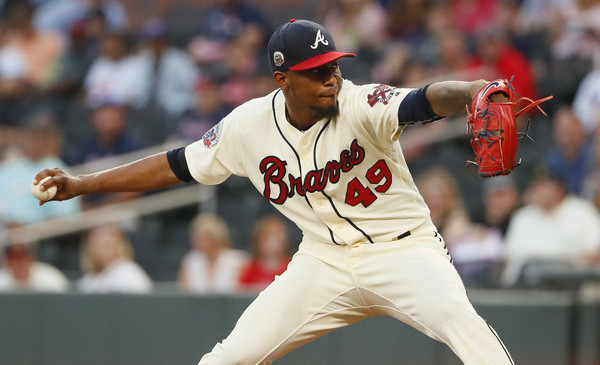 Nathaniel asks: How about Julio Teheran? He's has 2/$19MM left on his deal, plus a $12 million option for 2020. With Atlanta getting ready to run out a bunch of SP prospects, they may be open to shedding Teheran's contract and opening a rotation spot. Is Teheran's downward trend too alarming to pursue?
Never trade for Braves pitchers. That's my mantra. Those guys always seem to break down in their mid-to-late-20s (Jair Jurrjens, Mike Minor, Kris Medlen, the late Tommy Hanson, etc.). Teheran was pretty bad this year, throwing 188.1 innings with a 4.49 ERA (4.95 FIP), and he's never had a way to get out lefties. They hit .238/.342/.445 against him this year, and .259/.336/.454 in his career. A righty with a career 37.9% ground ball rate who can't get out lefties is a bad, bad fit for Yankee Stadium. There is always a price where something makes sense, sure, but in Teheran's case, I am steering clear. I don't see him coming cheap and I don't think his skills would fit well in his new environment.
Paul asks: What incentives do CC and others have that they could earn? Have those been cared for in your Plan197 calculations? The Yankees kind of have to plan as if any and all bonuses are achieved, right? Imagine them hitting $198M because CC pitched 10 more innings than expected!
Yes, bonuses count against the luxury tax payroll and that is something that is included in whatever money the Yankees will set aside for midseason additions and whatnot. Sabathia's contract reportedly includes incentives based on innings pitched, so the Yankees will have to go into the season with enough payroll space to cover those. Two Yankees in addition to Sabathia have bonuses in their contracts, and they're contracts the Yankees did not negotiate themselves:
Giancarlo Stanton ($1M total): $50,000 each for Gold Glove, Silver Slugger, and All-Star; $100,000 for league MVP; $250,000 for LCS MVP; $500,000 for World Series MVP
David Robertson ($390,000 max): $15,000 for All-Star; $25,000 each for Gold Glove and All-Star Game start; $50,000 for Sporting News All-Star; $75,000 for LCS MVP; $100,000 each for MVP and Cy Young win; ($90,000 each for second place finish; $80,000 each for third place; $70,000 each for fourth place; $60,000 each for fifth place)
There is some overlap there — Robertson can't get his $75,000 bonus for LCS MVP if Stanton wins the award and gets his $250,000 bonus, for example — and something tells me the Yankees don't have to worry about Robertson getting the All-Star Game start. We don't know what Sabathia's incentives are yet, but yes, the Yankees have to set money aside and plan for potential bonuses under the luxury tax threshold.
Al asks: Let's assume the Yankees just cannot trade Ellsbury without paying down virtually his entire contract. Might they then move on to Plan B and trade Gardner to get further below the salary cap? And if they did, which teams might be interested, and what sort of return could the Yankees expect?
Yeah, it's possible, though I think the Yankees value Brett Gardner very highly based on his play and his clubhouse leadership. He's been on the trade block before and they haven't gotten an offer to their liking yet. Maybe that'll change now since he is entering the final guaranteed year in his contract, meaning there's no long-term risk. My sense is the Yankees value Gardner very highly and would need a lot to part with him, making a trade unlikely.
Which teams could be interested? The Giants, I imagine. They need a good defensive outfielder and Gardner fits perfectly. The Blue Jays need an outfielder, but I can't see that happening. The Mets, Rangers, Athletics, Royals, Cubs, Dodgers, and Diamondbacks could all use another outfielder as well. Obviously some of those teams are more realistic trade partners than others. Trading Gardner to free up payroll space under the luxury tax threshold because Ellsbury is untradeable would be pretty, pretty terrible.
Eric asks: How many of years of team control do the Yankees have on Montgomery? Do they need to send him down for another 10 days to get a year of him?
Baseball Reference puts Jordan Montgomery's service time at 153 days, meaning the Yankees still have all six years of team control. (172 days is a full season in the baseball world). He spent enough time in Triple-A this year to delay his free agency. Montgomery will be a Super Two and will go through arbitration four times, but free agency is still six years away. As well as Montgomery pitched this past season, he was a non-elite prospect and he would've been under control through age 29 even if he had accrued a full year of service time in 2017.  Even if he hadn't spent enough time in Triple-A this year to delay free agency, I wouldn't have worried about it. Pitchers are too risky. Get as much out of them as soon as you can.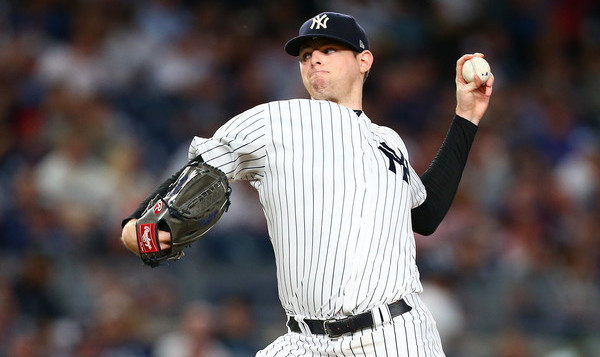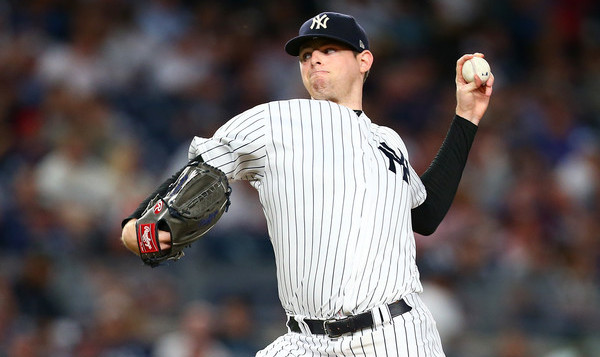 Bob asks: It seems like Chance Adams is linked to every Yankees trade rumor. As I see it, either the Yankees don't feel he is ready for prime time or they doubt his ability to significantly contribute in 2018 and beyond. Which is it?
I think Adams pops up in trade rumors all the time because he is arguably the Yankees' best pitching prospect — he is clearly behind Justus Sheffield for me, but to each his own — and when you're talking about trading for guys like Gerrit Cole and Michael Fulmer, you have to give up something of value. I can't find the link now, but I remember reading the Yankees originally tried to include Adams in the Sonny Gray trade, then later relented and gave the A's James Kaprielian, who was apparently the sticking point.
I do get the sense the Yankees are not as high on Adams as most outsiders. There's a bit of a Jesus Montero/Rob Refsnyder vibe here. That "his Triple-A performance is so good but they're still not calling him up" vibe, know what I mean? In Adams' case, I think there are concerns about his effectiveness against lefties (42/35 K/BB vs. LHB in 2017) and his inability to stop minor leaguers from hitting the ball in the air (41.4% grounders). That doesn't mean Adams can't improve against lefties or improve his ground ball rate. I think that is what's holding him back right now, and why the Yankees are apparently willing to make him available in trades.
Justin asks: Are major league players allowed to be left off the 40 man roster in advance of the Rule 5 Draft? If so, shouldn't the Yankees have left Jacoby Ellsbury off, in hopes he and his huge salary would have been chosen with the added benefit of being able to protect one more major league-ready farmhand?
In theory, yes, the Yankees could have removed Ellsbury from the 40-man roster and used the spot on another minor leaguer. In that case though, Ellsbury has enough service time to refuse the outright assignment, elect free agency, and keep his entire contract. Which he would've done. The Yankees still would've been on the hook for his contract and Ellsbury would've been able to pick a team that offers more playing time. By keeping him, they still have a chance to trade him for some level of salary relief. Removing Ellsbury from the 40-man roster is effectively the same thing as releasing him. There is no stashing him in Triple-A so the contract doesn't count against the luxury tax. Ellsbury is not agreeing to spend time in Scranton on anything more than an injury rehab.
Alessandro asks: Take a flier on Travis Wood?
There's no such thing as a bad minor league contract, but keep in mind Wood was so terrible this past season the Royals (who have no pitching) and Padres (who have no pitching) dumped him. Wood had a 6.80 ERA (5.90 FIP) with 14.9% strikeouts and 10.3% walks in 94 innings for the two teams. Yikes. If he's down with taking a minor league contract — the Padres are on the hook for his $6.5M salary in 2018, so whichever team signs him will only be responsible for the pro-rated portion of the league minimum — sure, sign him and see if he can be rebuilt in Triple-A. If the Yankees don't sign him, eh, no big deal.
Jason asks: I loved your article the other day on the results of the Yankees going all-in on the 2014-2015 international free agent class. It left me wondering though, are there some highly regarded prospects out there from that year who signed with other teams, or was that just an off year in general for International free agents? I'd love to know if the Yankees plan to beat the system would have worked better if they had spent their money differently.
Yep, there are a few worthwhile prospects from the 2014-15 signing period with other teams, most notably Braves OF Ronald Acuna, who I think is the best prospect in baseball. (MLB.com ranks him as the sixth best prospect in baseball.) Acuna hit .325/.374/.522 (155 wRC+) with 21 home runs and 44 steals in 139 games at three levels this past season, and reached Triple-A as a 19-year-old. The Braves signed him for $100,000. Everyone missed on him. Baseball America didn't include Acuna in their top international prospect rankings that summer. Not even among the honorable mentions.
Padres RHP Anderson Espinoza is the other big name prospect from that signing period. The Red Sox signed him for $1.8M, then traded him for Drew Pomeranz. MLB.com ranks Espinoza as the 72nd best prospect in baseball right now, though he missed the entire 2017 season with Tommy John surgery. Tigers RHP Franklin Perez signed with the Astros for $1M that summer and was the headliner in the Justin Verlander trade. MLB.com ranks him as the 41st best prospect in baseball. Acuna, Perez, Espinoza, and Estevan Florial are the four best prospects from the 2014-15 international signing period. Everyone missed on Acuna though. Even the Braves. They would've given him more than $100,000 to make sure they got him if they'd known he'd be this good.