Ten questions in this week's mailbag. The first Grapefruit League game is four weeks from today, you know. Baseball is getting closer. Anyway, RABmailbag (at) gmail (dot) com is the email address.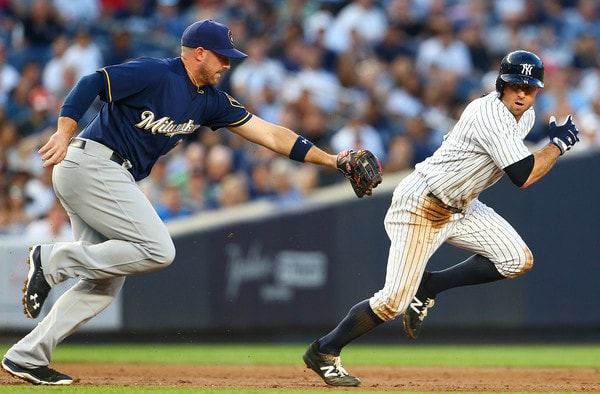 Many asked: What about Travis Shaw?
A few days ago Jim Bowden reported the Brewers may sign Mike Moustakas and trade Shaw, and he specifically mentioned the Yankees as a possible landing spot. Hmmm. I'm not sure that one passes the sniff test. Would the Brewers really spend big on Moustakas, who may not be an upgrade on Shaw, then trade Shaw for whatever they can get? I mean, sure, it's possible. Just seems a little far-fetched.
Anyway, in this hypothetical, yes it would make sense for the Yankees to go after Shaw. He's a left-handed power bat with a not excessive strikeout rate (22.8%) who can play a surprisingly good third base, and also back up first base as well. And he's cheap. This coming season is his final pre-arbitration season. That'll fit well in the luxury tax plan. Also, Shaw's nickname is the Mayor of Ding Dong City, and I could totally go for that.
Shaw is a bit of a late-bloomer — he'll turn 28 shortly after Opening Day — but four years of control of a guy who just hit .273/.349/.513 (119 wRC+) with 31 home runs and +4 WAR is pretty darn valuable. It'll hurt to get him. I'm having a tough time coming up with a trade benchmark. Maybe the Evan Gattis trade? The Braves got Mike Foltynewicz and two good prospects for him. (The Brewers got Shaw and
three
prospects from the Red Sox for broken down Tyler Thornburg last offseason. What a heist.)
Could the Yankees build a trade around Chance Adams with some strong secondary pieces? That'd be my preference. It's possible for Shaw, Greg Bird, and Miguel Andujar to co-exist going forward. Brett Gardner might be gone next year, freeing up left field for Aaron Judge (or Giancarlo Stanton), and opening the DH spot for a first/third/DH rotation between Shaw, Bird, and Andujar. I dunno. I'd be for a Shaw trade. The "sign Moustakas and trade Shaw" idea seems a little out there though.
Brian asks: If they add another starter is there a way they can hold CC back a bit so his season starts in May, to keep him fresher for Oct.?
I'm sure the Yankees could figure something out, though I'm not sure CC Sabathia is the guy I'd worry about. He doesn't pitch all that deep into games and I'm sure his knee will give him a little two-week vacation at some point too. Luis Severino might be the guy who needs to have his workload monitored early so he can be fresh late. I expect the Yankees to use a sixth starter fairly regularly this year to give the regular five starters extra rest. Maybe they'll go with a straight six-man rotation, or maybe they'll just call up a spot starter every so often to rest guys. I suppose the Yankees could stash Sabathia on the disabled list for a few weeks to start his season later, though I'm not sure he'd be thrilled with that. Anyway, yes, there are ways to do it. It can be done. Is it necessary? I'm not sure.
Kris asks: If Aaron Hicks gets injured or simply doesn't perform, both of which are possible, which do you see as the more likely scenario assuming nobody in the outfield gets traded first: 1. Ellsbury gets plugged in to play CF. 2. Gardner slides over to CF and Frazier starts in LF. Personally I'd go with the second option, even if it does make the lineup even more right-handed heavy than it already is. What do you think?
My preference would be Gardner in center and Clint Frazier in left, though I get the sense the Yankees would stick Jacoby Ellsbury in center in that case. Performance might not matter much either. If Ellsbury is on the bench and not hitting, the Yankees might use him in center to see if regular playing time will wake his bat up. And if he's playing sparingly and killing it, of course they'll put him in center full-time. Realistically, for Frazier to get called up from Triple-A, it might take two simultaneous outfield injuries, and that usually happens once or twice a year. Hicks and Ellsbury were both hurt at the same time last season, which is why Frazier was called up in the first place. We'll see. The Yankees have an outfield logjam right now, but before you know it, Jake Cave will be on the roster for two months. That's usually how it works. Depth disappears quick.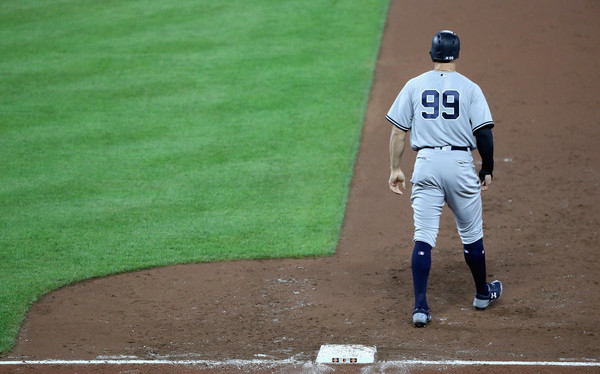 Paul asks: Talk to me about what Judge needs to do to beat the 1st year arbitration record Kris Bryant just set.
Bryant was arbitration-eligible for the first time this offseason and his $10.85M salary is the new record at that service time level, breaking Ryan Howard's old $10M record. Both Bryant and Howard went into arbitration with a Rookie of the Year and an MVP. Judge has the Rookie of the Year. Now he needs to win MVP. I don't think two more second or third place finishes will do it, even with a boatload of homers. That MVP award is crazy valuable. So, basically, Judge needs to keep doing what he did this year, and win an MVP either this year or next. If he does that, the Yankees will happily pay him a record salary for a first time arbitration-eligible player.
Ross asks: Could the Yankees sign Darvish to say a $190 million, 15-year deal, and have the bulk of the money paid during the first 7 years? They could say they think he'd be an effective reliever in his 40s.
MLB would flag it as luxury tax circumvention. That scenario is pretty obvious. The Red Sox would surely raise the point to the Commissioner's Office, the same way the Yankees would if the Red Sox tried to sign Yu Darvish to that contract. Pretty much any sort of creative contract designed to lessen the luxury tax burden — what about two years and $30M with an opt-out, and a $28M salary in year one? — will get flagged and MLB will not approve the contract. NHL teams ruined it for everyone. They handed out a bunch of those 15-year contracts with seven years at a low salary tacked on the end to lower salary cap hits, and the league had to change the rules. MLB will notice if the Yankees or any other team tries something like that.
David asks: Not to put the jinx on, but has a team ever had players win rookie of the year in back-to-back years? Could the Yankees be the first if Torres does it this year? If there's been two, has there been 3? Yankees could have legitimately had a shot at that too if they'd called Sanchez up earlier in the year in 2016.
Oh sure. The Dodgers just did it with Corey Seager and Cody Bellinger. The Dodgers had five straight Rookies of the Year from 1992-96 (Eric Karros, Mike Piazza, Raul Mondesi, Hideo Nomo, Todd Hollandsworth). The last AL team with back-to-back Rookies of the Year was the 2004-05 Athletics (Bobby Crosby, Huston Street). The Mariners did it from 2000-01 (Kaz Sasaki, Ichiro Suzuki).
Gleyber Torres will have to compete with Shohei Ohtani for the AL Rookie of the Year award this season, though I'd say he has as good a chance of winning the award as anyone. He's talented and has a clear path for playing time, which is important. Playing time is half the battle. My AL Rookie of the Year dark horse: Andujar! Assuming he takes over at third base reasonably quickly and plays regularly.
Michael asks: What are your thoughts on the new muscular Aaron Hicks?
I'm not sure where it originated, but a picture of a jacked as hell Hicks made the rounds on Twitter a few days ago. I guess he wants the Yankees to have three 50-homer outfielders. Here's the photo: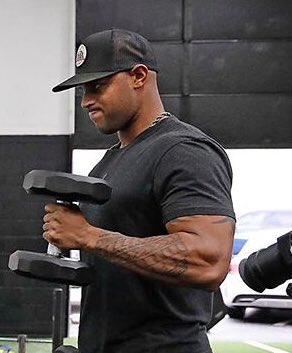 That is indeed Hicksie. Either that or it's some dude who looks an awful lot like him and has the same tattoos. My guess is Hicks isn't that much bigger than last year. That's a mid-workout photo so he was looking especially ripped. If Hicks is bigger and it helps him perform better, great! If he's bigger and it hurts his performance, that'd suck. Let's see what he looks like when he shows up to Spring Training a few weeks.
Adam asks: Does Lance Lynn make the most sense of any available pitcher, trade or free agent?
Eh, maybe. I still think Lynn is going to end up with $14M+ per season this offseason — who knows in this market though — and in that case, he's not especially luxury tax friendly. Also, he rejected the qualifying offer, so the Yankees would have to give up two draft picks and some international bonus money to sign him. Lynn is pretty good though. A solid workhorse type. He's a year removed from Tommy John surgery and he lives and dies with his fastball, so that's kinda scary, but he's a quality starter. The Yankees haven't been connected to Lynn at all and I don't think they're going to jump in. I think they'd either go big with Darvish or trade for a younger, cheaper pitcher. Not spend big(-ish) and give up draft picks for a second tier guy.
Dan asks: Do you buy into the rumor that at least one free agent might wait until midseason to sign with a team, just because he isn't getting the contract terms that he wants? Do you think that many players are ultimately going to have to settle for much less than what they were expecting to get, just to play next season?
Earlier this week Jeff Passan reported an unnamed top free agent said he's willing to wait until midseason to get a fair deal. Yes, I buy a free agent saying that. No, I don't think he'd actually go through with it. When push comes to shove, I think everyone is going to sign for what they can get. The players who have gone the "wait and sign at midseason" route were older players at the end of their careers. Roger Clemens, Pedro Martinez, Roy Oswalt, guys like that. Not prime age free agents who should be cashing in big. This is a weird offseason and I might be completely wrong about the not sitting out until midseason part. It just seems like such an extreme step for me.
Mike asks: Hi Mike, any updates on the rest of the coaching staff for this season?
The Yankees haven't officially announced any coaching staff hires aside from re-signing Larry Rothschild, though that is not all that unusual. They tend to announce these things all at once at the end of the offseason. Some teams announced hires as they go during the winter, some teams do it at the end. The Yankees do it at the end.
Here's what we know about Aaron Boone's coaching staff at the moment.
Bench coach: Josh Bard (Boone confirmed at Winter Meetings)
Hitting coach: Marcus Thames (expected to be promoted from assistant hitting coach)
Assistant hitting coach: Unknown who they will hire, or if they'll even have one
Pitching coach: Rothschild (announced by Yankees)
First base coach: Reggie Willits (Boone confirmed at Winter Meetings)
Third base coach: Phil Nevin (Boone confirmed at Winter Meetings)
Bullpen coach: Mike Harkey (expected to return)
Infield Coach: Carlos Mendoza (expected to be added to the staff)
Bard (Dodgers bullpen coach) and Nevin (Giants third base coach) are being hired from outside the organization while Willits (outfield and baserunning instructor) and Mendoza (infield coordinator) are being promoted from the minor league staff. Rothschild, Thames, and Harkey were all on Joe Girardi's staff the last few seasons. That's all we know about the coaching staff at the moment. Eventually the Yankees will get around to making it official.