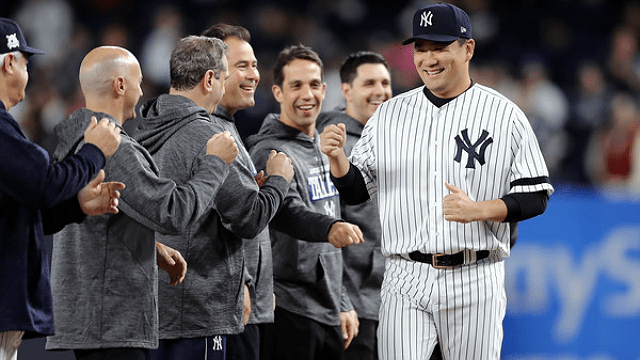 Defining the winners of the 2017-18 MLB offseason is a difficult task. Free agent signings have been sparse and few blockbuster trades have reshaped the competitive landscape. There hasn't been one team, perhaps outside the Angels, that has clearly gone from pretender to contender in the past few months.
Surely, Giancarlo Stanton and Marcell Ozuna won by getting out of Miami. Same with mid-to-upper-tier relievers who were the only group of players seemingly in demand. Finally, the owners have certainly won because it's easier to run up profits when you don't spend on players.
But an unlikely winner thus far has been Masahiro Tanaka, who looks like a genius for deciding to take his money and sit out the offseason.
The choice was simple for the 29-year-old starter and his agent, Casey Close: Remain a Yankee and take $67 million guaranteed for the next three seasons or wade in the uncertainty of free agency with the chance of striking another $100+ deal.
And when the opt-in date was creeping up, the decision to opt-in wasn't so clear-cut. Almost exactly half of RAB readers thought he'd opt-out despite questions about his bloated 2017 ERA and continuing concerns over his partially torn UCL. His home run, walk and hit totals all surpassed his 2016 numbers in 21 fewer innings and he alternated between dominant and horrid even in his better-looking September.
But Tanaka was coming off 20 innings of superb postseason pitching and the assumption was that he'd be third in line among the top starters behind Yu Darvish and Jake Arrieta, perhaps at a similar level to Alex Cobb and Lance Lynn. In a previous offseason, he could even have been the second guy to sign with Arrieta and Scott Boras holding out until late December or January. Unlikely as it was that Tanaka would surpass the $22.33 million per season he already had, a five-year, $100 million contract (as MLB Trade Rumors estimated he'd receive) appeared to be a reasonable expectation for the open market.
However, based on the reality of the market, Tanaka would still be looking for a new home if he had chosen to opt-out. The Yankees likely would have moved to other options and may have been more aggressive on the trade market. Maybe we'd have just witnessed an introductory press conference for Gerrit Cole in pinstripes. The extra money off their books could have allowed the Yankees to be a larger player for an infielder like Todd Frazier or Neil Walker.
That would have left Tanaka starved for options, waiting desperately for Darvish and Arrieta to find homes so the teams that missed out could move on to him. His best-case scenario may have been coming back to the Yankees around this time for a commitment closer to 3 years, $60 million, though who knows if Brian Cashman would still be entertaining a reunion after an opt-out.
As one of the younger starters to reach free agency, there's the chance that he would have been a more sought-after option than what's currently out there. Yet it seems just as likely that he'd have to settle for a three-year deal less than his current deal or a four-year deal that narrowly surpassed the mark and would have pushed his next free agency back to when he turns 33.
Another point to emphasize is that Tanaka would have had to look for a new home. He's become comfortable in New York playing in the Bronx the last four years and that's worth something. He cited that comfort when choosing to opt-in and it's hard to think he's looked back with regret or wonder since early November. So by not hitting free agency this winter, Tanaka looks like a big winner in a slow offseason.