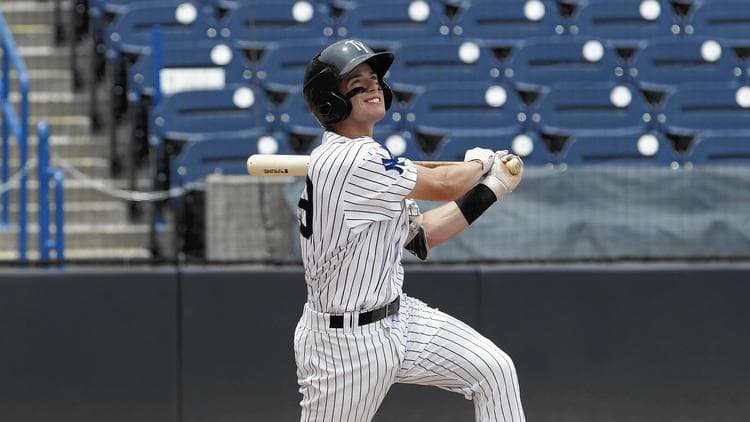 Nick Solak | 2B
Background
Nick Solak, who turned 23 just last week, was born in Woodridge, Illinois, and attended nearby Naperville North High School, where he would spend three years as the varsity shortstop. He was excellent in high school, lettering and making the All-Conference Team in all three varsity seasons and setting the school record with a .442 batting average as a junior, but he went undrafted.
Solak probably didn't view that as much of a setback, as he ended up attending college baseball powerhouse Louisville for three years. The Cardinals won the conference and regional championships in each of Solak's three seasons there, and he played a tremendous role on those teams, slashing .346/.442/.484 with 11 HR and 36 SB in 506 at-bats, and splitting his time between second base and the outfield. He was at his best in his junior season, when he hit .376/.470/.564 with 5 HR, 9 SB (0 CS), and more walks (28) than strikeouts (22) in 47 games.
The Yankees selected Solak with their second-round pick (62nd overall) on the heels of that season, in the 2016 draft. He signed shortly thereafter for $950,000, which represented some savings against the slot value of $1,040,800.
Pro Career
Solak officially signed with the Yankees on June 21, 2016, and he made his pro debut at short season Staten Island just two days later. He went 1-for-4 with a walk and a stolen base in his first game, and that set the tone for a tremendous all-around season. Solak would go on to hit .321/.412/.421 (155 wRC+) with 3 HR, 8 SB (0 CS), a 10.8% walk rate, and 14.0% strikeout rate in 279 PA for Staten Island. He ranked in the top-four in batting average, on-base percentage, and wRC+, as well. It's not terribly surprising to see a player out of a major college program perform well in the New York-Penn League, but it's nevertheless a welcome occurrence. For this, he was named as a starter on Baseball America's short season All-Star team, which includes both the NYPL and Northwest League.
As expected, Solak opened 2017 at High-A Tampa. And, as hoped, it was more of the same. Solak hit .301/.397/.460 (153 wRC+) with 10 HR, 13 SB (4 CS), a 13.1% walk rate, and a 18.7% strikeout rate in 100 games for Tampa; and those numbers are sold a bit short by the pitcher-friendly nature of Tampa, as well as the Florida State League as a whole. He ranked in the top-five in the league in all three slash stats, in addition to BB%, BB/K, and wRC+, and earned a promotion to Double-A on August 1.
Solak was not among the class of the league for the first time in his career following the promotion, though his overall numbers were still strong. He hit .286/.344/.429 (112 wRC+) with 2 HR and a steal in 30 games for Trenton, showing signs of wear and tear as his time at the level went on. Solak went just 7-for-34 in September, including the Double-A playoffs, and was more aggressive than usual. Whether it was a matter of more advanced pitchers adapting to him or the longest season of his career taking its toll is a question that bears pondering heading int0 the 2018 season.
Pro Career
Solak checks in at around 5'11" and 175 pounds, and is therefore automatically considered gritty and/or a gamer. To be fair, though, that's not all that far from the truth, based on the reports out there, as well as the fact that he has a propensity for beating out infield singles. Though, that may also be due to the fact that his two best tools are his plus hit tool and above-average to plus speed – and those will need to carry him to the show.
Solak's ability to barrel the ball has never been in question, dating back to his time in Louisville. He has a quick bat and smooth mechanics, and he is capable of driving the ball to all fields. He works the count, as well, and has earned a reputation for working himself into hitter's counts and either taking the walk, or getting his pitch to hit. And, despite his modest build, Solak has average-ish pop, and could hit 12 to 15 home runs at the highest level. It's not just pull power, either, as six of his twelve home runs last year went out between center and right field.
He's also a very good base-runner, in terms of both stealing and taking he extra base. While nobody considers Solak a burner, his combination of headiness and above-average speed makes him an asset on the basepaths. He boasts an 81.5% success rate in 27 professional steal attempts, for what it's worth.
With that out of the way, it's time to talk about his position. Solak is, at best, a fringe average defender at second. He has fringe average range and just enough arm for the keystone, and that's far from a ringing endorsement. As a result of this, the inevitable comparison for Solak, in the minds of many, is Rob Refsnyder. However, Solak's defense is already stronger than Refsnyder's, his bat is quicker, and he's a much better athlete. That may be damning with faint praise – but it's something.
2018 Outlook
Solak will probably open 2018 back at Double-A, if only because of the numbers game. Gleyber Torres, Thairo Estrada, and Tyler Wade could all conceivably start the season at Triple-A, and all three are on the 40-man roster. It seems inevitable nonetheless that Solak will move up to Scranton/Wilkes-Barre at some point this year, with an outside chance of spending some time in the Bronx. Given the Yankees handling of Miguel Andujar, who is similarly gifted offensively and iffy defensively, that's not a guarantee.
My Take
Were he in any other organization, I may well see Solak as the second baseman of the future. His defense has improved noticeably as a professional, and I think that he can be average at the keystone in time. I don't see Solak as being an asset defensively, which puts a great deal of pressure on his bat – but his bat speed, ability to use all fields, surprising power, and all-fields approach make me confident that his offense will be potent enough to keep him on a major league roster. And it'll have to, because he doesn't have the defensive tools to be a utility player.