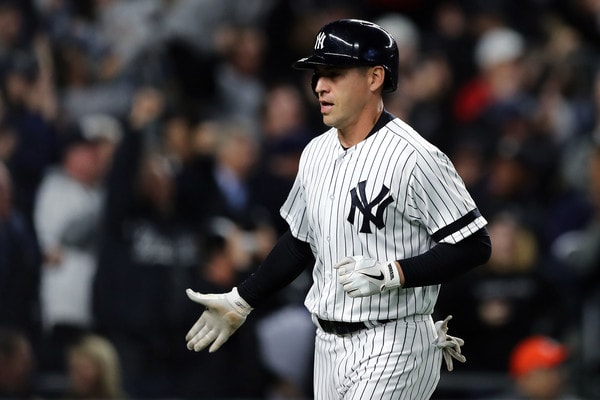 We're rapidly approaching the end of January, and Jacoby Ellsbury is still a Yankee. That's not much of a surprise, given that he's 34 years old and owed a minimum of $68.3 MM over the next three calendar years (including the buyout for 2021's team option), but the vast majority of the team's fans – and, one imagines, the front office – is disappointed. And, to be perfectly blunt, I count myself among those disappointed fans.
In trying to wrap my head around the increasing likelihood that Ellsbury is going to be donning the pinstripes in 2018, I began to realize that his presence on the roster is, in a vacuum, somewhat defensible; and for several reasons, at that.
1. Jacoby Ellsbury is not a complete sunk cost.
For all of the handwringing over Ellsbury's awfulness, his actual performance in 2017 is perpetually overlooked. He batted .264/.348/.402 (101 wRC+) with 7 HR, 22 SB (3 CS), and 4.7 BsR (FanGraphs' all-encompassing baserunning metric). That production came in just 409 PA, and his 4.7 BsR, which is a counting stat, ranked 18th in baseball. The league-average center-fielder hit .262/.333/.426 last year, which translates to a 101 wRC+ … which is right in-line with Ellsbury's production.
Defense is another issue, of course. Both DRS (-3) and UZR (-3.7) saw him as a negative last year, but that was the first time those numbers agreed with each other in his Yankees tenure:
2014: -3 DRS, 0.5 UZR
2015: 1 DRS, -3.2 UZR
2016: 8 DRS, 0.7 UZR
2017: -3 DRS, -3.7 UZR
There's a distinct possibility that Ellsbury's defense took a legitimate tumble last season, given his age and the wear and tear on his body. At the same time, though, it wouldn't be shocking if he was still an average defender in the position. Or, alternatively, if he could be something of an asset in the corners. What we do know is that, per Statcast, he isn't slowing down.
The overarching point is simply this: he was surprisingly solid last year, and was really only truly bad in 2015.
2. The Yankees have injury concerns.
Aaron Hicks missed nearly half of 2017 with oblique injuries, and he missed time in 2014 and 2016 with assorted leg injuries (mostly involving his hamstrings). Aaron Judge battled a shoulder injury for the last third or so of 2017, and needed surgery to correct the issue after the season ended. Brett Gardner is almost always battling nagging injuries, and he's actually a few weeks older than Ellsbury. Clint Frazier missed a month with an oblique injury. And Greg Bird (more on him to come) missed all of 2016 and the majority of 2017 with injuries.
And then there's Giancarlo Stanton. My excitement over him being in pinstripes has yet to settle down, but the reality of his injury history is staggering. Sure, some of it can be chalked up to freak accidents – but last year was the first time since 2011 that he didn't spend time on the disabled list, and it ended a stretch of three straight seasons that ended with a DL stint.
Ellsbury is no portrait of health, but the simple fact is that the Yankees were not a terribly healthy team last season, and the injury bug did hit their outfield.
3. There are four positions to fill in some combination.
Much of the off-season's discussion has revolved around having five or six outfielders (Judge, Stanton, Hicks, Gardner, Ellsbury, and Frazier) for three spots. That's not quite accurate, though, as the Yankees don't have a designated hitter at this point in time. It's true that Gardner and Ellsbury aren't traditional DH's, and you don't want to lose defensive value by having a good defender DH – but somebody needs to start there.
And Bird's injury history comes into play here, too. If the Yankees end up with semi-full-time DH, it'll almost certainly be someone that can take over in the event of a Bird injury. There are still options out there, to be sure, but with the team clinging to the luxury tax plan it may behoove them to utilize what they have. Why not let Ellsbury take a whack at first base? He's not a traditional fit, but the team isn't exactly brimming with options otherwise.
Or, alternatively, if Judge or Stanton learns first and is needed there, there'd be an opening in the OF/DH rotation.
4. The other outfielders aren't all sure things.
I'm a believer in Hicks, but he is far from a sure thing. His career has been incredibly up and down through five major-league seasons, and, again, he has had injury issues. Frazier is still essentially a rookie, and is entirely unproven. And, in a non-performance way, his apparent availability in trade talks coupled with his prospect shimmer make his place in the organization a bit less certain. We all know about Judge's slump in the second-half, as well as the fact that he overachieved relative to all reasonable expectations last year. And Gardner is 34, and Stanton has his injury issues.
Ellsbury is obviously not a masterstroke of an insurance policy, but he is more than competent. And he's already here. Which, well…
5. He's already here.
Ellsbury is under contract with the Yankees. He probably isn't going anywhere, because he's not a hugely desirable asset and he has a no-trade clause and doesn't seem to want to leave. And dead money kind of sucks, lest we forget the $5.5 MM they're sending to the Astros for Brian McCann this year; and that may well be the difference between Yu Darvish and staying the course.
---
So, clearly, this is a massive exercise in playing devil's advocate. This team would probably be better with Ellsbury gone and an extra $5 MM or so to play with this year, and there's a real possibility that his absence wouldn't be felt at all. And yet there is a distinct possibility that his small role on this team could turn into something larger, and he is capable of filling a major league role competently. Maybe that's a good enough silver lining to stop worrying about pairing him with a real asset just to free up a bit of payroll space.