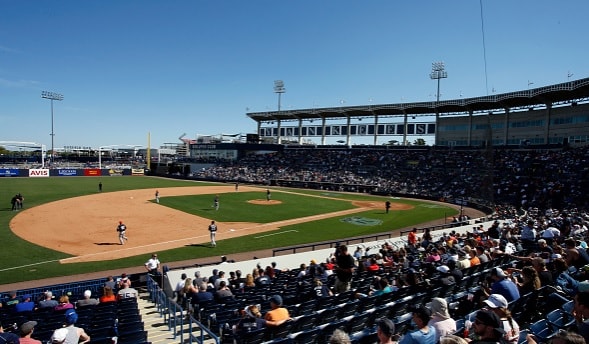 One week! One week until pitchers and catchers report to Tampa to begin Spring Training. Nothing really happens the day pitchers and catchers report, but still, it's exciting. It's the first day of the new season. The sooner baseball starts happening and we can move on from this bore of an offseason, the better. Anyway, some thoughts.
1. Have I mentioned I think the plan to get under the $197M luxury tax threshold is stupid? Because I think it's stupid. The Yankees are built to win now, they've already sold 550,000 more tickets than this time last year, they played six lucrative home postseason games last season, and there are still so many quality free agents available. And yet, the luxury tax payroll will be reduced from $226.4M last season to no more than $197M this season. Cutting payroll by $30M! After the year they just had and the year they expect to have in 2018? Good gravy. We tweeted out a link to my post making a case for going over the threshold over the weekend, and I was shocked at the number of pro-luxury tax plan responses. Blows my mind. (You know payroll going down doesn't mean ticket prices are going down, right?) The Yankees cutting payroll by nearly $30M one year after being a win away from going to the World Series needs to be a bigger story, especially with all the extra revenue they have coming in between the postseason and increased ticket sales and their share of the BAMTech sale. Hey, the Steinbrenners own the team and they're free to do whatever they want. It's good to be king. But imagine being where the Yankees are right now, with the marginal value of a win so high, and not signing Yu Darvish so you can stay under a self-imposed payroll limit.
2. Todd Frazier got less than I thought he would. He signed for two years and $17M, and I thought he'd be able to pull down two years and $22M or so. Maybe even three years and $39M like Jay Bruce. Didn't happen. This can't make all those unsigned free agents feel good about their upcoming paydays. I'm totally cool with the Yankees passing on Frazier at that price too. The money is whatever — it's actually really good, I think — but two years with Miguel Andujar looming? No thanks. I wrote about the Mike Lowell trade last week. Re-signing Frazier, who was kinda sorta the 2018 version of 1998 Scott Brosius, could've led to some Lowell-esque "they should've just played the kid" regret with Andujar. The Yankees are reportedly still monitoring the infield market, because duh. You never know when something will fall into your lap. I like Neil Walker the best of all the available free agent infielders because he switch-hits and can play the three non-first base infield positions, but can the Yankees really get him on a one-year deal? Would be cool. If not, so be it. The Yankees are smart to keep looking for a veteran infielder. I am all in on the kids this year though. Let's do this.
3. Last season the Yankees won a lot of blowouts (37-13 in games decided by at least five runs) and lost a lot of close games (18-26 in one-run games). That's why they underperformed their run differential by nine (!) wins. I feel like the 2018 Yankees will be similar. Not because they're not clutch and can't win close games or anything stupid like that. Look at the roster. The Yankees are going to score a ton of runs, and the bullpen is so good that, even when the Yankees are losing, they have enough quality relievers to keep it close. You're not going to win every time the bullpen shuts it down and gives the offense a chance to get back in the game, but as long as they have the opportunity, I like the Yankees' chances. They're going to bludgeon anything below really good pitching most nights. They'll rarely truly be out of a game. I expect the Yankees to win a lot of blowouts again, and when they lose, I expect most games to be pretty close. I foresee another season in which the Yankees underperform their run differential by some number of wins, which of course means basically nothing. Win blowouts, lose close games is a-okay with me.
4. Early in the offseason I planned to write a post looking at Gary Sanchez and Austin Romine, and how often pitchers threw a pitch in the dirt with them behind the plate last season. I kept pushing it off and pushing it off, and it turns out I'm not nearly good enough with PitchFX and Statcast to get the data. I wanted to break it down individually by pitcher, but I have no idea how. Here is the overall data:
Pitches in the dirt with Sanchez at catcher: 3.59%
Pitches in the dirt with Romine at catcher: 3.95%
Pitches in the dirt with men on base with Sanchez at catcher: 3.06%
Pitches in the dirt with men on base with Romine at catcher: 3.17%
Yankees pitchers as a whole threw a higher percentage of pitches in the dirt with Romine behind the plate, both in all situations and with men on base. The difference is negligible though. The difference is one every 278 pitches in all situations, and one every 909 pitches with men on base. That's nothing. If the pitching staff had more trust in Romine blocking pitches than Sanchez, it doesn't show in the number of pitches they threw in the dirt with each guy back there. Where am I going with this? I have no idea. There's been a lot of ink spilled about Sanchez's defense over the last year. I have yet to see anything that convinces me he is a worse defender than Romine.
5. With Spring Training a week away, it's safe to say the Yankees will not have another Winter Warm-Up event this offseason. That's disappointing. Last year's event — series of events, really — was a lot of fun. That the Yankees didn't do it again this year pretty much confirms they expected last season to be a down season — a transition year, as they said over and over — and they had to sell fans on the future, so they put together all those events with young players and prospects. Now people know the Yankees are good and know the young players can produce. People are much more excited about the team this year than at this time last year. Because of that, I guess there's not as much need for community outreach now. Lame. The Yankees are super popular and when they're good, they don't need much help getting fans interested. Still would be cool to see some kind of winter caravan event. Go out, meet some kids, turn them into Yankees fans for life. Could be cool. It was cool last year, after all. Disappointing they didn't feel the need for something similar this year.
6. This offseason isn't quite a total disaster for baseball, but it's close. It's a boring offseason. No free agents are signing, and, if it weren't for the Marlins tearing it down, the only trades of note would be the Evan Longoria and Andrew McCutchen deals. (Update: Forgot about the Gerrit Cole deal. So three trades of note.) Instead of fans talking about the hot stove and getting excited for the new season, they're hearing about possible collusion and pace-of-play and how a third of the league is tanking. Not a good look for baseball. It is tough to keep fans interested — especially young fans, the fans MLB is desperately trying to cultivate — when nothing is happening. Nothing interesting, anyway. I'm a diehard baseball guy, but if I see one more pace-of-play proposal, I might claw my eyes out. I imagine casual fans are put off by that stuff entirely. Teams are focused on efficient spending and getting under the luxury tax threshold — GMs only look smart when they don't spend money, you know — and the result is an impossibly boring offseason with little action. What's the cost? How many fans turned away? What if no one signs Darvish or Jake Arrieta or J.D. Martinez before Opening Day, and the quality of play suffers because some fringe player is occupying their roster spot? The MLBPA agreed to a crappy Collective Bargaining Agreement. It's on them. MLB teams are doing the league no favors this offseason though.