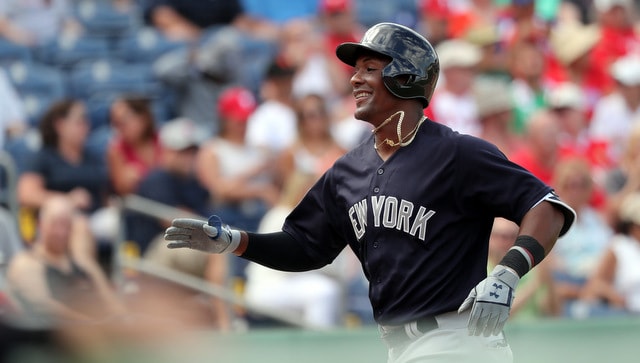 Three years ago the Yankees started their homegrown youth movement with Greg Bird and Luis Severino. Two years ago it was Gary Sanchez. Last year it was Aaron Judge and Jordan Montgomery. This season, the Yankees are expected to extend the youth movement to the infield. The Starlin Castro and Chase Headley trades made it all but certain.
Brandon Drury was acquired two weeks ago as infield insurance, and veteran journeymen Danny Espinosa and Jace Peterson are in camp as non-roster players, but make no mistake, Gleyber Torres and Miguel Andujar are the future at second and third base, respectively. The future is not necessarily Opening Day, mind you. But it isn't far away.
The Yankees are blessed with a bevy of young infielders that extends beyond Torres and Andujar. Heck, Drury is only 25 himself. It wouldn't be wrong to consider him part of the youth movement. There's also Tyler Wade, who figures to get an extended look this season in some capacity. Let's preview the upcoming season for the kid infielders.
Miguel Andujar
The Drury trade seemed to confirm Andujar would start the 2018 season back in Triple-A, mostly to work on his defense. Barely two weeks later, Andujar is making the decision very tough for the Yankees. The just turned 23-year-old third baseman has gone 8-for-19 (.421) with four home runs in Grapefruit League. He's putting a charge into the ball pretty much every at-bat.
"It's not about sending a message," said Andujar to
Pete Caldera
last week when asked whether he deserves the third base job given his spring performance to date. "It's about doing your job and helping your team. That's the way I see it … What I can control is my work, going out and giving the best I have."
There is a lot of Spring Training remaining — "It's March 1st," said Aaron Boone last week after Andujar hit two homers against the Phillies — and who knows what'll happen between now and Opening Day. Andujar could cool down and make it very easy for the Yankees to send him to Triple-A. And if they do, it'll be because of his defense, not his bat. Andujar's footwork needs to be refined and he has to be more consistent at the hot corner.
That said, the Yankees seem to more willing to roll with Andujar at the hot corner this year than they did last year, at least before the Drury trade. Andujar made his big league debut last season, though it was brief, and the Yankees opted to keep him in Triple-A to work on his defense in the second half rather than use him at DH. This year, I think they'd put him at third base on an everyday basis no questions asked, if necessary.
Andujar's calling card is his innate ability to barrel up the baseball. He makes lots of contact, and when he makes contact, he tends to hit the ball hard. Last season 167 players batted at least 200 times in the Triple-A International League. Here are their swing-and-miss and isolated power rates: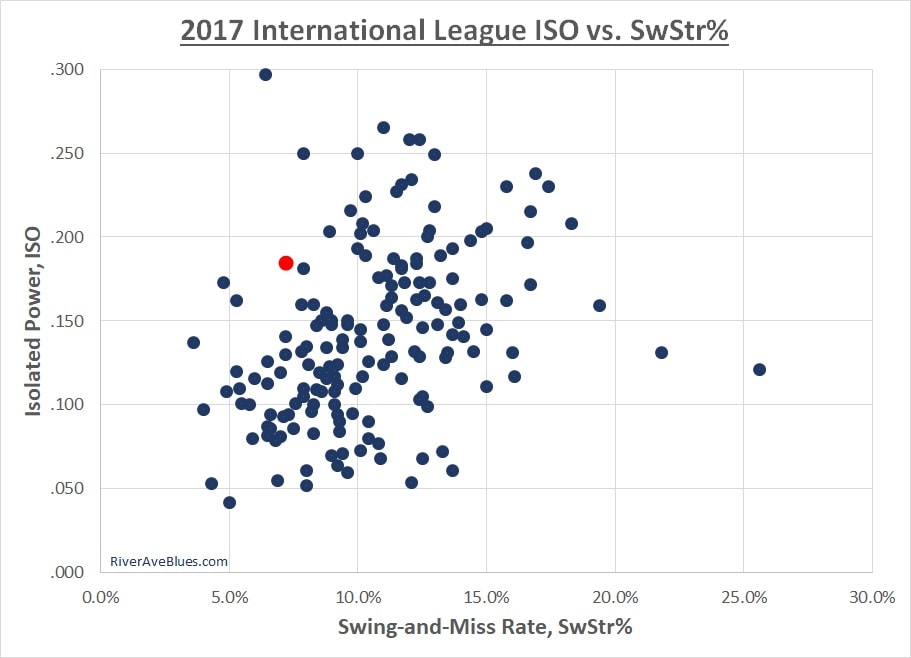 The red dot is Andujar. The dot all the way at the top is Rhys Hoskins. Hoskins, who is almost two full years older than Andujar, was the only player in the International League last season to hit for more power while swinging and missing less often than Andujar. Andujar's ability to make consistent hard contact is special. It really is.
That isn't to say Andujar is without flaws. Beyond his defense, he's also quite aggressive at the plate, and it's fair to wonder whether big league pitchers will pick him apart Starlin Castro style. That is a question that can't be answered until Andujar gets an opportunity, and I don't mean 15-20 spring at-bats or 100 regular season at-bats. Andujar will need a chance to adjust to the league and adjust to the league adjusting to him, know what I mean?
As great as he's been so far in camp, sending Andujar down to Triple-A come Opening Day wouldn't be the end of the world. Disappointing? Sure. But he has only played 58 games at Triple-A, and if the Yankees want to give Drury a look to see whether his new fly ball approach yields results, Triple-A is the place for Andujar. There's no sense in carrying him on the big league bench. It's everyday third baseman in the Bronx or Scranton. No middle ground.
I think we're going to see a lot of Andujar this season. I really do. I think he's going to force the issue with his bat — even with only 58 games of Triple-A experience, I think Andujar is at the point where he has to face MLB pitching to get better — and Drury is versatile enough that he and Andujar can be in the lineup together. The Yankees reportedly made Andujar untouchable in trade talks over the winter for a reason. This kid has the goods.
"He is special from a bat speed standpoint, and he knows where his barrel is and walks up there with a lot of confidence. It's good to see him continue to swing it," said Boone to George King. "… I am happy for him that he just continues to gain that confidence and obviously is in a really good place now."
Gleyber Torres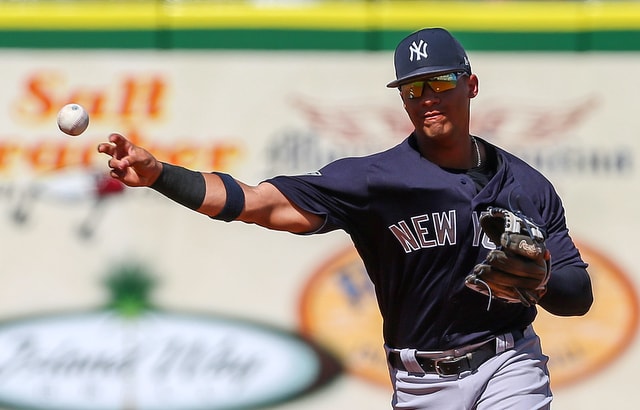 Andujar has the been the early star of the Grapefruit League. Torres, meanwhile, has looked very much like a kid coming off a major injury with only three month's worth of playing time above Single-A in his career. Gleyber has gone 2-for-16 (.125) in his first seven spring games, and he's also had some defensive issues at second base. He's had some hard-hit grounders eat him up, and he's gotten into trouble when he's tried to be too flashy.
Torres turned only 21 in December and the Castro trade all but ensures second base will be his long-term position. Gleyber can play shortstop — he can play the hell out of shortstop — but Gregorius isn't going anywhere, so second base is the next best spot. And that second base job is wide open. Andujar has to contend with Drury. Gleyber is competing against Wade, Espinosa, Peterson, and Ronald Torreyes. Not the biggest obstacles, you know?
Gleyber insists his focus is not on winning the second base job — "My focus right now is to play hard, stay focused, stay humble, and do my job. I don't think about winning the job," he said to King following the spring opener — but he's only human. Of course it's on his mind. How could it not be? Things haven't gone well thus far in camp, but it's only 16 at-bats, and the skills that make Torres one of the top prospects in baseball still exist.
Unfortunately for Torres, the Yankees could easily justifying sending him to Triple-A to start the season, even with a great Spring Training. Those reasons include:
He's coming back from a major injury and hadn't played since June.
Sixteen days in the minors pushes his free agency back one year.
He's played only 194.1 career innings at second base, including Spring Training.
He's played only 32 Double-A games and 23 Triple-A games.
The Yankees would never admit the whole service time thing, but it absolutely could factor into their decision to demote Torres. The injury, the lack of second base experience, and the lack of upper level experience provide plenty of cover for a Triple-A stint. And as much as I want to see Gleyber in the Opening Day lineup, I think a quick trip to Scranton to get up to speed following the injury would be a good idea.
Either way, Triple-A stint or no Triple-A stint, Torres is an extremely talented young man with a chance to be an impact player almost right away. He has the bat-to-ball skills, the ability to make quick adjustments, and strong defensive skills. MLB.com says Gleyber "has the tools to be a star wherever he winds up (defensively)" and I have no reason to disagree. Andujar may be more MLB ready, but Torres has the higher long-term upside.
The projection systems are all over the plate. PECOTA pegs Gleyber as replacement level in 2018 (+0.0 WARP in 279 PA) while ZiPS thinks he'll be average-ish (+1.5 WAR in 426 PA). Since 2010, only five middle infielders have qualified for the batting title in their age-21 season. All were top prospects and three of the five handled themselves well:
Carlos Correa, 2016 Astros: +6.0 WAR
Addison Russell, 2015 Cubs: +3.3 WAR
Starlin Castro, 2011 Cubs: +3.0 WAR (+1.6 WAR at age 20 in 2010)
Elvis Andrus, 2010 Rangers: +1.1 WAR
Xander Bogaerts, 2014 Red Sox: +0.3 WAR
All top prospects — all tippy top prospects — like Torres. When guys this young and this talented get to the show, they tend to perform right away. Now, that said, none of them were coming off a major injury like Gleyber is right now. He's healthy and that is the single most important thing. The elbow is good. The long layoff happened though, and based on his first few spring games, Torres needs some time to shake off the rust.
As with Andujar, I think Torres is going to spend most of this season in the big leagues. I think an Opening Day assignment to Triple-A is inevitable — I think the Yankees are going to use the injury as cover to delay his free agency no matter how well he hits in Spring Training — but I expect Gleyber to come up fairly soon, mostly because he doesn't have someone like Drury standing in the way, and also because he's incredibly talented and is likely the best second baseman in the organization right now.
Tyler Wade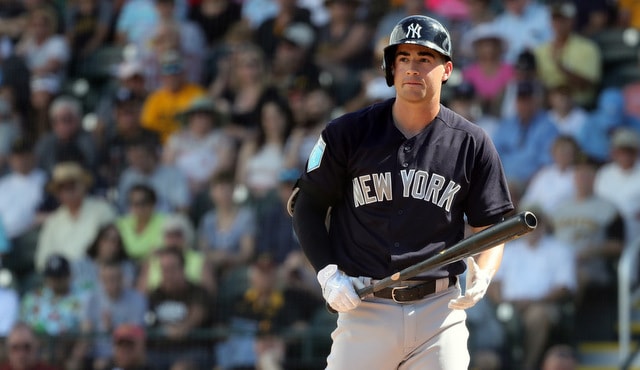 Wade does not have the same prospect shine as Andujar and Torres. He's not a super highly regarded prospect — technically he's not a prospect at all, Wade lost his rookie eligibility through service time last year — and he's appeared on just one top 100 prospects list in his career. Wade was No. 101 on Baseball Prospectus' top 101 list last year. Barely made the one top 100 list (top 101 list, whatever) he did make.
But, Wade has some ability, and he is firmly in the mix for the second base job this spring. He's had a nice Grapefruit League season so far, going 5-for-14 (.357), but who cares? It's 14 at-bats. I guess it's better than the alternative though. Wade's not going to win a roster spot with a bad spring, I don't think. He made some changes to his hitting mechanics and maybe they'll pay dividends. Little too early to say right now.
Compared to Andujar and Torres, Wade has four things going for him at the moment:
He has the most big league experience.
He's a left-handed hitter with very good speed.
He can play the three non-first base infield positions as well as the outfield.
He's the best infield defender of the bunch.
The big league experience point is negligible, as far as I'm concerned. Wade was on the roster for 81 days last season and he received 63 plate appearances. That's nothing. Being versatile, a left-handed hitter in a righty heavy lineup, having speed, and being a pretty darn good gloveman are not negligible, however. Wade can do a lot of things to help a team win. On Opening Day 2018, he might be able to do more to help the team win than Andujar and Gleyber!
More than a few Yankees fans seem to have soured on Wade after his rough debut last season — and I get it, the kid hit .155/.222/.224 (17 wRC+) and looked pretty overmatched — but the Yankees haven't, and they're the only ones that matter. Wade is in the running for an infield job in camp and the Yankees like him enough to play him in the outfield, because they want to find ways to get him in the lineup. At the same time, he wasn't untouchable in trade talks over the winter.
Even if he doesn't win an infield job come Opening Day, Wade is poised to spend a considerable amount of time on the big league roster this season, either as a starter or bench guy. He's performed in Triple-A — Wade hit .310/.382/.460 (136 wRC+) in Scranton last year — and his speed and defense give him a chance to contribute in ways other than at the plate. I'm not sure I'd expect big things offensively this year, but I definitely expect Wade to hit more than last year, and everything else he brings to the table can make him sneaky valuable.