Got a great big 14-question mailbag for you this week. Send your questions to RABmailbag (at) gmail (dot) com and I'll answer as many as I can each week.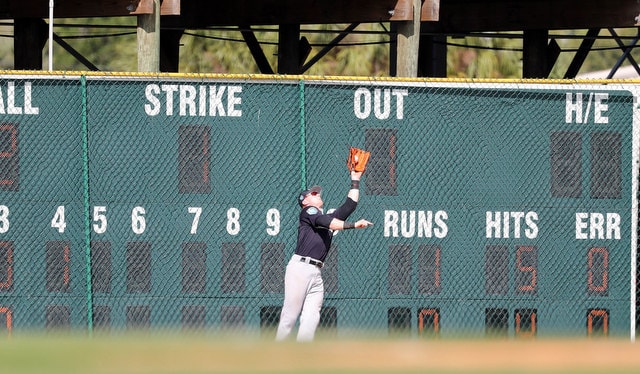 Matthew asks: Looking at the Drury trade and the prospects Cashman sent to acquire him, Solak and Widener respectively, it got me thinking the following: What other prospects in the system are most likely to be trade bait? Specifically in the manner of using the mid-level prospect depth to acquire talent to help the big league club win now.
I think you have to start with the arms. The Yankees have lots of pitching right now, much of it in the low minors, and it makes sense to cash some of those guys in as trade chips before injuries and general attrition do their thing. Among 40-man roster players, Domingo Acevedo strikes me as a potential trade chip because his breaking ball is still a work in progress and his command isn't very good, and it's not clear where he fits long-term.
Generally speaking, the Yankees tend to keep the guys with a chance to be above-average big leaguers, and trade everyone else. The Sonny Gray trade is the notable exception, though two of the three prospects in that trade were rehabbing from major injuries. The Yankees supposedly made Gleyber Torres, Miguel Andujar, Justus Sheffield, and Estevan Florial off-limits in trade talks over the winter. Chance Adams and Tyler Wade were available. I imagine others like Billy McKinney, Thairo Estrada, and Domingo German are available because they lack ceiling. Potentially useful players, but probably not difference-makers.
Clint Frazier is a bit of a special case because he has the ability to be an above-average big leaguer, but is simply blocked by all the outfielders ahead of him. Frazier is a corner outfielder — bless the kid for saying he can play center field, but no — and when you have Giancarlo Stanton and Aaron Judge locked into the corners for the foreseeable future, it makes sense to make the kid available. The Yankees don't have to trade Frazier, but in no way should he be off-limits.
Schuyler asks: Just wondering what our weakest position is organizationally, and also level-by-level. Is it something worth addressing? Is it better to be weak at say OF because it's easier to acquire them via trades and free agency? Thanks!
Catcher is by far the weakest position organizationally, which I guess is okay when you have Gary Sanchez at the MLB level. Austin Romine is an unspectacular backup catcher, Kyle Higashioka is third on the depth chart and he's had lots of trouble staying healthy in his career, and Erik Kratz is a generic veteran depth catcher stashed in Triple-A. I didn't have a catcher in my Top 30 Prospects List. Saul Torres and Donny Sands are the two best catching prospects in the system and they're both in the low minors. Catcher is a weak spot right now.
Because quality catchers are so hard to find, that is a position where you'd like some minor league depth. I wouldn't suggest targeting a catcher early in the draft to address the organizational weakness — drafted for need is a bad idea — but it is an area that can be improved. Teams always want to be deep in pitchers because they have such a high attrition rate, and acquiring quality pitchers from outside the organization can be expensive. Aside from first base, I'd say outfield is the one spot where you can get away with not being deep in prospects because there are so many outfielders available each year. Infielders, catchers, and pitchers are typically harder to find.
Aharon asks: With the glut of outfielders we now have, do you think the Yankees should regret not trading Gardner a couple of years ago at his peak? He is now 34 and would most likely fetch little on the trade market. He is still an important piece to the Yankees, but it seems as if it could have been worth their while to trade him off his all star appearance.
You kinda answered your own question there. If Brett Gardner is "an important piece to the Yankees," why would they regret not moving him? This isn't like the time the Yankees passed on trading Kei Igawa to the Padres because they wanted to see if they could get him right. Gardner is still productive and his contract isn't onerous. The Yankees can walk away after this season if his play collapses. Chances are Didi Gregorius' trade value is only going down from here because he's getting closer to free agency. That doesn't mean the Yankees should trade him now. The Yankees want to win and they need good players to do that. Gardner is a really good player, and it seems to me he's worth more to the Yankees on the roster than anything he could've realistically fetched in a trade 2-3 years ago. No regrets.
Ben asks: With recent news about Honeywell, would Tampa have interest in a Honeywell for Frazier trade?
Brent Honeywell, who Baseball America ranks as the 14th best prospect in baseball, blew out his elbow early in Spring Training and needed Tommy John surgery. Beyond the whole intra-division thing, I don't think the Rays are going to turn right around and sell low on Honeywell, which is what they'd be doing even while getting a really good outfield prospect in Frazier. You can make the case they should do that because Honeywell may never be the same, but I don't think they would. And if you're the Yankees, why trade Frazier for a broken pitching prospect? Trading him for an actual big league pitcher is the way to go. Honeywell is not helping you for 14-16 months at a minimum.
Joe asks: Can this Spring Training help or hurt Jacoby Ellsbury role on the Yankees for this season?
I think it can help him more than it can hurt. If Ellsbury struggles this spring, who cares, he's a veteran dude and he'll get the benefit of the doubt. If he tears the cover off the ball during Grapefruit League play, it might convince the Yankees to give him more at-bats early in the season to see whether it is something sustainable. When Ellsbury gets hot, he can get insanely hot. Carry a team hot. And if he starts the season on that kind of streak, you want to take advantage of it. At this point it seems expectations are fairly low for Ellsbury. He's already the fifth outfielder and it's not like the Yankees will release him if he hits .100/.140/.190 during Grapefruit League play. I think Ellsbury can help himself this spring, but not hurt himself.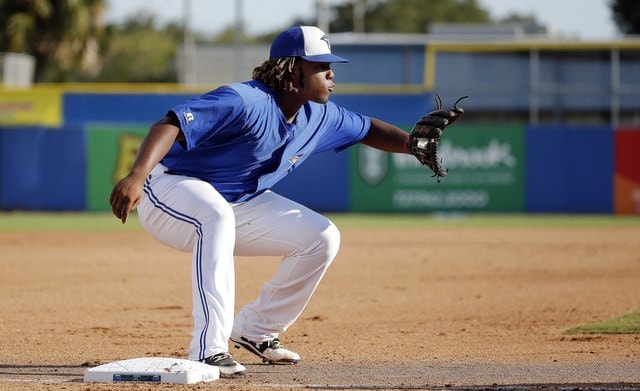 Michael asks (short version): So, I know a trade for Vlad Guerrero Jr ain't gonna happen. However, tell me if this thought is crazy. In a Montero-Pineda type trade, we give them Torres, Andujar, and someone else (McKinney, Tate, Adams, Estrada, Acevedo, etc) for VGJR? They get a load of talent either way, and we get back an absolute stud in return to play 3rd. Crazy???
Michael, you're crazy. Vlad Jr. and Torres are comparable prospects in terms of projected overall value — they will arrive at that value in different ways — and you want to add Andujar and a third piece to the package? No way. And Guerrero's hardly a lock to stay at third anyway. He's probably going to end up at first base, which is fine, because he's going to mash enough for any position. One +6 WAR player is more valuable than two +3 WAR players, but in this case, I think you're trading a +6 WAR player and a +3 WAR player (and a third piece) for a +6 WAR player. Vlad Jr. is really, really good. But so are Gleyber and Andujar. Seems like you're trading multiple quality players and sacrificing organizational depth for the flashy name.
Alex asks: How much do the veterans who sign minor league deals (i.e. Espinosa) get paid if they are in AAA? The reported amounts seem to only apply for the majors, but I have to imagine they make more than a typical minor leaguer.
They definitely make more than typical minor leaguers. The Triple-A minimum was $2,150 per month as of 2015, though guys with big league service time could've made as much as $25,000 per month. I assume those numbers have gone up a bit since then. The Yankees tend to pay minor league contract guys well — that's one place they can flex their financial muscle without any of it counting toward the luxury tax payroll — so chances are Danny Espinosa and Wade LeBlanc are at the high-end of the Triple-A pay scale. One thing to keep in mind: Guys like Espinosa and LeBlanc aren't looking to spend the entire season in Triple-A. If they have to go down there for a few weeks, they will, but the goal is to get back to MLB as soon as possible, even if it's with another team. A guy with big league service time can make a decent living in Triple-A — they only get paid six months out of the year though — but that is almost always Plan B.
James asks: I was wondering how Greg Bird's first base defense stacks up? I noticed it wasn't discussed at all in his season preview. I have heard it described as anywhere from above average (on the yes broadcast) to below average and haven't seen enough of his play there to gauge it for myself.
The scouting reports have never been all that enthusiastic about Bird's glove. In 2015, his last year of prospect eligibility, Baseball America (subs. req'd) said he is "average around the bag at first base." Keith Law (subs. req'd) said "he still needs work on fielding ground balls" and MLB.com said he has "adequate range and arm strength at first base, though he gets credit for working hard on his defense." Not awful, but not exactly glowing reports either.
We haven't seen Bird on the field enough to say anything definitive about his defense, I don't think. He did make some real nice stretching plays late last year, so that's cool. What is his range like going to his right? How is his decision-making when it comes to holding a runner at third and throwing home for a play at the plate? I have no idea. Bird's value is always going to come from his bat, primarily. If he can receive throws well, make some scoops, and knock down some ground ball ticketed for the outfield, I'll be happy.
David asks: With all of the quality infield candidates, what are the chances Torreyes doesn't make the 25 man roster? Does his popularity as a teammate have any impact? What happens to him if he doesn't make it?
Ronald Torreyes does have minor league options remaining, so the Yankees could easily send him Triple-A. And there is definitely a scenario in which Torreyes doesn't make the team. I wouldn't say it's likely, but it could happen. Andujar at third, Brandon Drury at second, Wade on the bench. Or Drury at third, Torres at second, and Espinosa on the bench. Not far-fetched to think Torreyes could be on the outside looking in.
That said, I think the Yankees highly value Torreyes for what he is, and that is a high-contact, high-energy reserve who can play all over the infield and not kill you defensively. Also, Torreyes has shown he can produce while playing sparingly, and also produce when pushed into everyday duty. That's a nice little trait for a bench guy. Torreyes is very popular with his teammates and that's not nothing. I don't think the Yankees would keep him on the roster no matter what though. If they feel strongly that, say, Wade or Torres is a superior option, they'll take them.
George asks: This may be nitpicky, but I'm sure it'll come up at some point in the season. Where does the mound technically start and end? Could Didi sort of wander in close and the pitcher wander over to the side to say something and have it not be a visit? How long do you give it until there's confusion over if something's a "visit?"
For sure this is going to come up during the season, and I'm guessing we'll see more than a few managers arguing over whether something should be considered a mound visit. Here's how MLB defines a mound visit in the press release announcing the new pace-of-play rules:
(2) Definition of Mound Visit. A manager or coach trip to the mound to meet with the pitcher shall constitute a visit. A player leaving his position to confer with the pitcher, including a pitcher leaving the mound to confer with another player, shall also constitute a mound visit, regardless of where the visit occurs or the length of the visit, except that the following shall not constitute mound visits:

a. Discussions between pitchers and position player(s) that occur between batters in the normal course of play and do not require either the position player(s) or the pitcher to relocate;
b. Visits by position players to the mound to clean spikes in rainy conditions;
c. Visits to the mound due to an injury or potential injury of the pitcher; and
d. Visits to the mound after the announcement of an offensive substitution.
So there is no boundary for a mound visit. If the pitcher and catcher — or pitcher and an infielder — meet on the infield grass somewhere for a quick chat, it counts as a mound visit. Seems kinda silly. The pace-of-play rules are designed to speed the game up, not reduce communication, right? Who cares if the infielder takes a few steps in and quickly says something to the pitcher?
Matthew asks: If Luis Cessa continues to get hit hard this spring do you think the team might move him to the bullpen full time before the minor league season starts? Ever since he hit 100 mph against the Mets last year I've been dreaming on how his stuff would play up in short stints.
The Yankees aren't going to base that decision on Spring Training. Too much noise to trust the numbers. This might be the year to move Cessa to the bullpen full-time — it is his final minor league option year, he has a pretty good slider, and his career splits the first time through the order are pretty darn good — though Spring Training performance shouldn't decide that. If the Yankees are confident in Domingo German and whoever else as depth starters, that'll clear the way for Cessa to move to the bullpen full-time. I get the sense such a move will wait until the regular season, once the Yankees get all their starters up to speed and feel good about their depth. You don't want to move Cessa to the bullpen now only to have two starters go down in April, you know?
Alessandro asks: Is Jeremy Hellickson worth it on a 1 year deal at this point?
Noooo. No. No no no. No.
Hellickson doesn't miss bats (13.8 K% in 2017), doesn't get ground balls (34.9 GB%), doesn't keep the ball in the park (1.92 HR/9), and he sits 88-90 mph most days. No chance would I give him a guaranteed Major League contract. Minor league deal as Triple-A depth? Fine. I'm not bumping any one of the starting five out of the rotation for Hellickson, who had a 5.43 ERA (5.77 FIP) last season, including a 6.97 ERA (6.33 FIP) after joining the Orioles. Few pitchers in baseball are a worse fit for Yankee Stadium and the AL East.
Frank asks: Of the 6 division winners from 2017, it seems obvious that the Red Sox will have the hardest time defending their title. Which team would you say has the 2nd toughest route to a repeat and why?
To me, the Astros, Nationals, and Dodgers are clearly the best teams in their divisions. That leaves the two Central divisions. I think the Cubs are pretty stacked now that they've addressed their pitching staff, maybe even best team in the NL stacked, so I think they're safer than the Indians. I don't think the Cardinals (or Brewers) will be total pushovers though. Cleveland's pitching staff has racked up a lot of innings the last two years, they lost Bryan Shaw and Carlos Santana, and the Twins are improved. So I guess that means the Indians have the second toughest route to repeat as division winner? I think they'll win the AL Central — Minnesota's pitching staff is pretty thin — but I'm more confident in the Astros, Nationals, Dodgers, and Cubs winning their divisions than I am the Indians.
Mike asks: Lots of MLBPA talk recently had me wondering. Do you know who the Yankee union rep is? What does he do?
George King says Chasen Shreve is currently the team union representative. He inherited the gig from Adam Warren when Warren was traded to the Cubs. Curtis Granderson was the team's union rep for a few years as well, though I'm not sure if anyone had the job between Granderson and Warren. Here is the union rep's job description from the MLBPA's site:
The Members on each Major League club elect, by secret ballot, a Club Player Representative and an Alternate Player Representative. Each Club Representative serves on the Executive Board and he is responsible for meeting regularly with the players on his Club and represents them in the resolution of problems at the Club level.
So it's Shreve's job to keep his teammates informed about union stuff and also handle any issues with the Yankees. There's is also an MLBPA Executive Board that handles league-wide matters. Granderson, Andrew Miller, and Matt Harvey are part of that. I know Paul Goldschmidt is also involved with the union in some capacity above team rep.