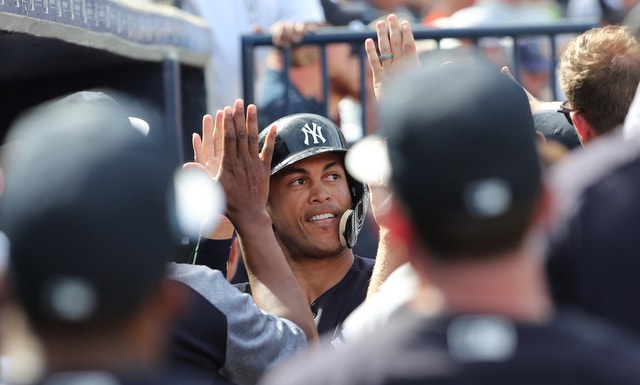 Last season the Yankees rostered the American League's best player by fWAR, a hulking right-handed hitter who led the league in home runs while also playing strong right field defense and being an all-around swell dude. This offseason they went out an added the National League version.
Giancarlo Stanton is a New York Yankee. Have you heard? Not many people know that.
A December trade brought Stanton to the Yankees at the cost of Starlin Castro and two prospects (Jorge Guzman and Jose Devers). Stanton used his no-trade clause to block deals to the Giants and Cardinals, allowing Brian Cashman to swoop in and acquire the reigning NL MVP in what amounts to a salary dump. Now the Yankees have Aaron Judge and the closest thing in baseball to Aaron Judge.
The 28-year-old Stanton — he turned 28 in November, so he'll spend the entire 2018 season at that age — authored a .281/.376/.631 (156 wRC+) batting line with 59 home runs for the Marlins last season, a season that included an outrageous second half in which he hit .287/.393/.702 (175 wRC+) with 33 homers in 73 games. At one point he hit 30 home runs in a span of 48 games. Good gravy.
Alas, Stanton fell one short of becoming only the sixth man in history to hit as many as 60 homers in a single season. Barry Bonds, Roger Maris, Mark McGwire, Babe Ruth, and Sammy Sosa are the only guys who've done it. Stanton was thisclose. That doesn't take away from his remarkable season, of course. In a season of juiced baseballs and a record number of home runs, no one was better at hitting home runs than Giancarlo.
The Bruce Sherman/Derek Jeter ordered fire sale in Miami allowed Stanton to fall into the Yankees' lap at a bargain price, no offense to Castro and the two prospects. Now the Yankees will enjoy having the game's two best power hitters — two best power hitters of 2017, at the very least — in the same lineup for at least another three seasons. Let's preview the upcoming season for the new guy.
So what are the expectations, realistically?
I'm thinking 75 dingers. Why not? If you had to pick one player to break the single-season home run record in 2018, wouldn't you pick Stanton in Yankee Stadium? He hit 59 homers last year — that is the ninth highest single-season home run total in history, you know — and he did it in a pitcher's ballpark. Consider the FanGraphs' home run park factors (100 is average):
Marlins Park: 90 for RHB
Yankee Stadium: 112 for RHB
In all seriousness, Stanton (probably) won't hit 75 home runs this year because hitting 75 home runs in one season is ridiculously hard. So hard no one has ever done it! It is entirely possible Stanton will never again do what he did last season. That might've been his career year. That isn't to say Stanton will be bad going forward. I mean:
| | AVG/OBP/SLG | wRC+ | HR | WAR |
| --- | --- | --- | --- | --- |
| 2014-16 (150-game average) | .266/.361/.544 | 145 | 40 | +5.3 |
| 2017 | .281/.376/.631 | 156 | 59 | +6.9 |
| 2018 ZiPS | .273/.366/.656 | 161 | 55 | +6.5 |
LOL at that ZiPS projection. Like the nerd I am, I've been looking at ZiPS projections as long as I can remember, and I don't ever remember a 50-homer projection. I guess if anyone was ever going to get a 50-homer projection, it's Stanton. Anyway, the point is Stanton is still ridiculously great even if 2017 was a career year, and he reverts back to 2014-16 form.
What are the reasons to believe Stanton will repeat his 2017 performance in 2018, if not improve on it? The ballpark, for starters. Marlins Park is a pitcher's park, even with the walls coming in a few years ago, and Yankee Stadium is decidedly not a pitcher's park. The wall is 26 feet — 26 feet! — closer in left field at Yankee Stadium than it is as Marlins Park. All those line drives that hook juuust foul down the line in Miami might stay inside the pole in the Bronx.
Stanton has the power to hit the ball out of any part of any park. His average home run distance was 417 feet last year, sixth highest among the 229 hitters with at least ten homers. When Giancarlo really connects, no ballpark can contain him. The difference between Marlins Park and Yankee Stadium will be the balls he doesn't square up that leave the park anyway. Remember this double the other day?
Look at that. He took a little half-swing and the ball banged off the wall. Stanton is so strong — and the ballpark is so small — that's he's going to throw his bat at the ball like that a few times this year, and it'll carry over the wall. It's inevitable. That's where Yankee Stadium will benefit Stanton the most. The cheap little homers that are doubles (or outs!) elsewhere. The ballpark won't make a difference when Stanton squares up a pitch. It's going out anywhere. The ballpark will make a difference when he doesn't fully connect.
Another reason to believe Stanton can repeat (or improve upon) last season's performance? Playing for a contender. Stanton has never experienced a postseason race with the Marlins. Their best record during his seven full seasons was 79-82 in 2016. The most meaningful games Stanton has played in his career have been with Team USA during the World Baseball Classic. For real. Playing for a contender has a way of motivating players, and if you've listened to Stanton speak at all not only this spring, but over the last few years, you know the man just wants to win.
Also, as far as repeating last season, we shouldn't discount Stanton's age. He just turned 28. He's right smack in the middle of what figure to be the most productive seasons of his career. This isn't, say, a 32-year-old player having a career year. That isn't to say a 28-year-old can't decline or a 32-year-old can't suddenly find a new level of success. But, generally speaking, the 28-year-old has a much better chance of maintaining their current performance level in the coming years.
What about reasons Stanton won't repeat last season? I mean, doing what he did last season is incredibly hard, and if Stanton goes out this summer and puts up a 140 wRC+ with 47 homers, it would be a step down from last season and also be totally amazing. As I mentioned before, Giancarlo averaged a 145 wRC+ with 40 homers and +5.3 WAR per 150 games from 2014-16. I'd be totally cool with that this year and going forward.
Beyond the whole "hitting 59 homers is hard" thing, Stanton will have to adjust to all the things that come with joining a new team. New teammates, new coaches, new ballpark, new city, new commute, new division, new division rivals, the whole nine. That can be a lot to handle. Both Paul O'Neill and Reggie Jackson have said in recent weeks the biggest adjustment for Stanton will be the expectations. I mean, duh. Playing in New York and playing in Miami are very different.
Stanton has the largest contract in the sport's history and every at-bat received national coverage the final six weeks last season as he chased 60 home runs, and he damn near got to 60 home runs. I don't think the attention will bother him. Yeah, there will be more media in the clubhouse and every 0-for-4 will be followed by more questions, but whatever. Stanton is great and he knows he's great. I'd be surprised if the extra attention bothered him, but it's possible it will.
And, frankly, when the best possible explanation you can come up for why a guy might not repeat a huge season is "there are lots of expectations here," you're in good shape. Stanton hit 59 homers last season because he has been the game's best power hitter for years now. He didn't run a ridiculously high BABIP — his .277 BABIP last year was well below his career .317 mark — or anything like that. Want a reason to believe Stanton can do it again? Look:
2014: 161 wRC+
2012: 158 wRC+
2017: 156 wRC+
2015: 155 wRC+
Once you adjust for ballpark and the offensive environment around the league, last season was not out of the ordinary for Stanton at all. It was his third best season on a rate basis, once you adjust for the fact everyone was socking dingers last season. Stanton is a great hitter. Not a good hitter, a great hitter. He might not hit 59 home runs again because hitting 59 home runs is crazy hard. Otherwise there is every reason to believe he will continue to be one of the game's most dominant offensive players this season.
Where's he going to play?
This is a question the Yankees are in the process of answering. Stanton and Judge are both right fielders — they're both good defensive right fielders — so someone will have to move. The DH spot helps out here, but there are days the Yankees will need/want both in the outfield, so someone has to move to left. Over the weekend, Stanton started in left field for the first time since he was in Double-A in 2010. And, well:
D'oh. Stanton had three balls hit to him in left field Sunday. One hit off his glove, one went over his head, and one dropped in in front of him for a single. The first two were clearly sun-aided. The third … I dunno. YES never gave us a good camera angle, so I don't know if it was catchable. Point is, in his first game at a new position, Stanton looked bad, and that's usually all it takes for people to latch onto a narrative the rest of the season. I can see it now. We'll be sitting here on September 1st, Giancarlo will be +5 DRS in left field, and everyone will bring up the ball he dropped in Spring Training.
"I felt all right. I got some bad balls that didn't help the team. I got to find a way to get behind them or something," said Stanton to George King following Sunday's game. "I felt good. The routes were good, the rest not as. Yeah, they were in the sun, but it doesn't matter. That's part of the game."
Aaron Boone brushed off Stanton's left field adventures — "Frankly, I saw nothing today that keeps me from feeling good out there going forward in the work that he has already done," he said to King — and I'm not sure what else he could do. We're talking about three fielding attempts on March 4th. Yeah, it didn't go well, but the Yankees aren't going to pull the plug based on that. Stanton will continue to work in left field — Judge will get his chance as well — and once he gets the lay of land, I expect him to be just fine.
More than anything, the question is how much left field will Stanton play? How much right field will he play? Stanton does have an injury history. Some of it is fluky, like being hit in the face by a fastball a few years ago. Some of it isn't, like the nagging hamstring trouble he had in 2013. My guess — and this is only a guess — is Stanton will wind up splitting his time 50/50 between the outfield and DH. He's a big man and getting him off his legs regularly could really help not just this year, but long-term.
It seems the Yankees are planning to give Brett Gardner more rest this season, which makes sense given his age and hard-nosed play, and that'll open up left field playing time. If Stanton proves capable in left field, he could wind up playing left when Gardner sits, right when Judge sits, and DH when Gardner and Judge are in the outfield. It could be a three-man rotation between the two corner outfield spots and DH.
This is a "problem," not a Problem. If Stanton can't cut it in left, the Yankees will keep him in right. If Stanton and Judge can't cut it in left, then they'll share right field and DH. See? Nice and easy. I think Stanton (and Judge) will both be fine in left field when it's all said and done. I know Stanton had the ugly game Sunday, but it was one game, who cares? Give him enough reps and Giancarlo will figure it out. The important thing is that he's willing to do it and he's working at it. He's not begrudgingly changing positions. He's buying in.
* * *
Long story short, Stanton is on the very short list of the best players in baseball and he is the game's top power hitter. He is in the prime of his career, the Yankees didn't give up a ton to get him, and his $22M luxury tax hit is a bargain when you consider guys like Chris Davis and Jason Heyward are each at $23M annually, and Bryce Harper is at $21.625M this season without even reaching free agency.
Yeah, the Yankees have to figure out how exactly the outfield/DH rotation will work, and yeah, Stanton is going to have to adjust to his new situation in New York. At the end of the day, the very good at baseball New York Yankees added the very good at baseball Giancarlo Stanton. Even if his performance slips back and he's merely an All-Star rather than an MVP candidate, the Yankees are a heck of a lot more dangerous now.