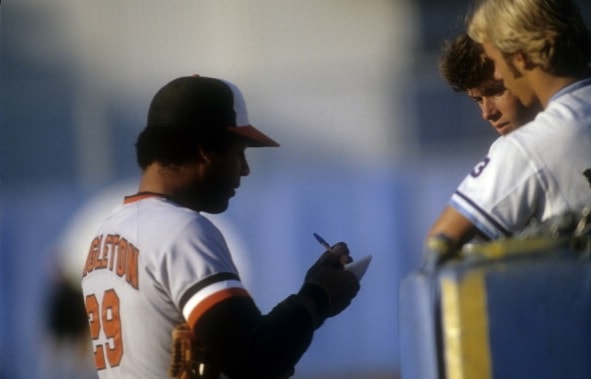 Earlier today, YES Network announcer Ken Singleton said he is stepping away from broadcasting after the season to spend more time with his family. He's been calling Yankees games since 1997, back when they were on the MSG Network, and he joined YES full-time when the network launched in 2002.
Singleton, who turns 71 in June, was a hell of a ballplayer back in the day. He was born in Manhattan, grew up in Mount Vernon, and went to Hofstra before being drafted third overall by the Mets in 1967. Singleton played for the Mets (1970-71), Expos (1972-74), and Orioles (1975-84) and retired as a career .282/.388/.436 hitter with 246 home runs and more walks (1,263) than strikeouts (1,246). He won a World Series ring with the 1983 O's and received MVP votes in seven seasons.
After retiring as a player, Singleton joined the broadcast booth and called games for the Blue Jays (1985-86) and Expos (1987-96) before covering the Yankees. He's the only former player in the YES Network's rotation who didn't play for the Yankees, which tells you how good he is in the booth. They want him anyway. We interviewed Singleton five years ago about his career, both as a player and broadcaster, so make sure you check that out even though it is a bit dated.
Personally, Singleton is my favorite broadcaster in baseball, regardless of team. I love listening to him talk about hitting. He's smart, he's funny, and I feel like I learn something every time he is behind the microphone, regardless of whether he's doing play-by-play or color commentary. I'm bummed Singleton won't call games beyond this year but I'm happy for him. He's been at this a long, long time. Seems like the best thing the Yankees can do is send him out with a World Series championship, no?