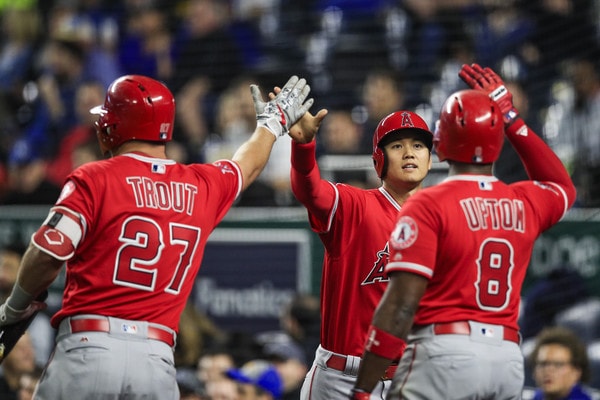 This series represents the midpoint of the Yankees' eighteen games in eighteen days stretch, and they have done quite well so far, taking three out of four from the Blue Jays and sweeping the Twins. That being said, the second leg of this stretch is a bit more foreboding, as they have three games in Los Angeles and four in Houston before returning home for three against Cleveland.
The Last Time They Met
The Angels visited the Bronx from June 20 through June 22, taking two of three from the Yankees. That came a week after taking two of three from the Yankees in Los Angeles. Those two series book-ended a deflating seven-game losing streak, the middle of which was a four-game sweep at the hands of the A's. Ugh. Here are some notes from the most recent series:
Mike Trout did not play, which makes the series as a whole sting that much more.
Tyler Clippard completed his transformation to unplayable in this series, pitching to the following line in two appearances – 0.1 IP, 5 H, 5 R, 2 HR, 0 BB, 0 K. His ERA jumped from 2.22 prior to the series to 3.77 when it was over.
Aaron Judge hit his 24th and 25th home runs of the year in this series, becoming the first rookie outfielder to reach those marks before the All-Star break – which, of course, was still a few weeks away.
Check out Katie's Yankeemetrics post for more interesting tidbits.
Injury Report
Pitchers Alex Meyer, J.C. Ramirez, Matt Shoemaker, and Blake Wood are all on the disabled list, and none are expected to return for this series.
Their Story So Far
The Angels are 16-9, and sit just half a game back of the Astros for first place in the AL West. They've only outscored their opponents by 16 runs, though, so they may not be quite as good as their record indicates. Offense has not been an issue for the Angels, as they rank in the top-ten in baseball in both runs scored and wRC+, but their pitching has been mediocre as a whole. They're in the middle of the pack in runs allowed and park-adjusted ERA, which isn't bad – but they're bottom-five in home runs per nine and walk rate.
Shohei Ohtani has been their biggest point of interest so far this year (even as Mike Trout continues to be an absolute beast), as he has raked to the tune of a 174 wRC+, and been competent on the mound (94 ERA+). The Yankees won't see him on the mound this weekend, but he'll probably start at DH at least once or twice.
The Lineup We Might See
Mike Scioscia is constantly tinkering with the lineup, as he rotates multiple players through first base, second base, third base, and DH. That is largely by design, though, as the Angels have versatile defenders in Zack Cozart and Luis Valbuena, and a part-time DH in the aforementioned Ohtani. They've already used nineteen different lineups, so it's difficult to guess what they'll trot out on any given day – but I expect something like this:
Ian Kinsler, 2B – .239/.308/.304, 76 wRC+
Mike Trout, CF – .295/.404/.663, 189 wRC+
Justin Upton, LF – .235/.304/.398, 95 wRC+
Albert Pujols, 1B – .257/.279/.455, 100 wRC+
Andrelton Simmons, SS – .318/.396/.471, 146 wRC+
Shohei Ohtani, DH – .333/.378/.619, 171 wRC+
Luis Valbuena, 3B – .234/.263/.364, 74 wRC+
Kole Calhoun, RF – .174/.200/.228, 18 wRC+
Martin Maldonado, C – .172/.273/.207, 46 wRC+
Zack Cozart (.226/.284/.376, 84 wRC+) will almost certainly start over Valbuena against CC Sabathia, and Ohtani will probably sit that day, too. If he does, Pujols will probably DH, and Jefry Marte (.378/.425/.595, 184 wRC+ in 40 PA) will start at 1B.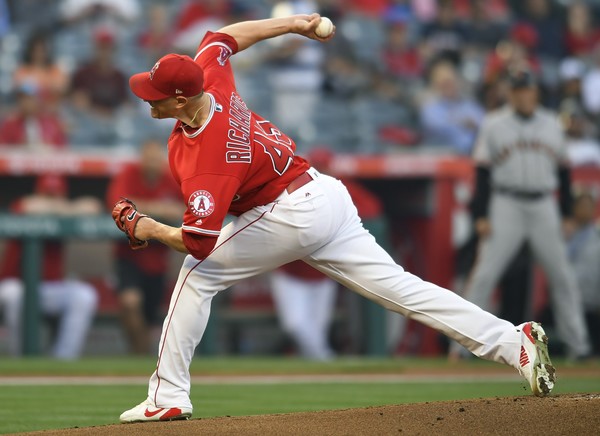 The Starting Pitchers We Will See
Friday (10:07 PM EST): RHP Luis Severino vs. LHP Andrew Heaney
Heaney was a consensus top-50 prospect in baseball in 2014 and 2015, but he has yet to fulfill that promise. He was quite good in 2015, pitching to a 3.49 ERA (108 ERA+) in 105.2 IP, but Tommy John Surgery kept him out for all but one start in 2016 and five last season, and he hasn't looked the same just yet. We're talking about a sample size of 31 post-TJS innings, though, and he's still just 26 – but he has a 7.84 ERA (8.04 FIP) in those innings, and his stuff isn't fully back.
Heaney is a three-pitch guy, with a low-90s sinker, a mid-80s change-up, and a high-70s/low-80s curve. His curveball is his best pitch, and a true swing-and-miss offering when it's on.
Last Outing (vs. SF on 4/20) – 4.1 IP, 6 H, 7 R, 2 BB, 6 K
Saturday (9:07 PM EST): RHP Masahiro Tanaka vs. RHP Garrett Richards
There aren't many pitchers whose injury woes have been as maddening as Richards over the last few years, as the 29-year-old has pitched like a top flight starter when healthy … while missing roughly 50 starts between 2016 and 2017. He has a 3.08 ERA (123 ERA+) in 464.1 IP since becoming a full-time starter back in 2014, and that's the level he's pitching at this season, so things are looking up for him. He's walking a ton of batters this year (16 in 26 innings), but he's striking out even more (35 strikeouts)  and keeping the ball on the ground (55.0% GB).
Richards is a power pitcher, featuring a mid-90s four-seamer, a mid-90s sinker, a low-90s cutter/slider hybrid, and a low-80s curveball.
Last Outing (vs. SF on 4/21) – 6.0 IP, 5 H, 2 R, 1 BB, 11 K
Sunday (8:07 PM EST): LHP CC Sabathia vs. LHP Tyler Skaggs
The story of Skaggs's career isn't all that different from Heaney's; Skaggs was the superior prospect (he peaked near the top-10), and his TJS came back in 2014. And Skaggs has dealt with lingering arm soreness since then, as well. He's been quite good so far this year, though, pitching to a 2.96 ERA (140 ERA+) in 27.1 IP, including a shutdown performance against the Astros earlier this week.
Skaggs is a four-pitch guy, with a low-90s four-seamer, a low-90s sinker, a mid-80s change-up, and a mid-70s curveball. He throws that curveball roughly a third of the time, too.
Last Outing (vs. HOU on 4/23) – 7.0 IP, 4 H, 0 R, 1 BB, 3 K
The Bullpen
The Angels bullpen has been surprisingly stout so far, ranking fourth in the majors in WPA and tenth in ERA. Closer Keynan Middleton has a 1.93 ERA in 14.0 IP, and lefty specialist Jose Alvarez (0.82 ERA in 11.0 IP) has been among the best in the league in his role. The injury to Blake Wood hurts their depth a bit, but Cam Bedrosian, Blake Parker, and Jim Johnson are all solid hands.
Yankees Connection
There are only two players of note here, in Blake Parker and Chris Young. Parker tossed 16.1 subpar innings for the Yankees in 2016, and was picked up by the Angels on waivers that October. And Young (.257/.326/.465 with 17 home runs in pinstripes) was signed to a one-year, $2 MM to be the Angels fourth outfielder in February.
Who (Or What) To Watch
There's the novelty of Shohei Ohtani, the all-around brilliance of Mike Trout, and the all-time great defense of Andrelton Simmons, to name a few. And, if you think he could go on a mini-tear, it could be worth noting that Albert Pujols is just 6 hits shy of 3000.