With any luck, this one will go down as the Worst Loss of the Season. The Yankees lost a frustrating 14-inning game to the Orioles on Friday night, and they had four — four! — players leave the game with injuries. The final score was 7-3. In August and September, we're all going to look back at this game and laugh. Only 154 more games to go.
Four Innings Before The Hip
Right hip soreness forced CC Sabathia to exit Friday night's start after four innings and 58 pitches, and prior to that, he managed to allow three solo homers, including two to Manny Machado. Both no-doubters too. The first landed in the left field second deck. The other settled into the visitor's bullpen. Chris Davis took Sabathia deep as well. Another solo shot, that one into the right field bleachers. Four innings, three solo homers. Not a good ratio.
In the grand scheme of thing, that sore right hip is much more important than three homers in four innings. The Yankees have lost enough players to injury already this season, but their pitching staff has stayed healthy, until now. Having to dip into your Triple-A rotation depth this early in the year is not ideal. An MRI came back clean and Sabathia said he expects to make his next start. The Yankees can use Monday's off-day to push that next start back to next Saturday. If Sabathia can make that start, great! If not, well, plug in the next guy and go from there.
Rally To Tie Three Times, But Never Lead
Three times the Orioles took a one-run lead Friday, and three times the Yankees tied the game up. They answered Machado's first inning homer with a walk (Brett Gardner), a hit batsman (Aaron Judge), and a bloop single (Giancarlo Stanton) in the bottom half. Gardner got a great read on Stanton's little flare and scored from second with ease. It looked like the Yankees were all set to put up a crooked number against Kevin Gausman, but lol no.
In the third, after Machado's second homer, Gardner doubled to right field and Judge drove him in with a little bloop single to center. Another great read by Gardner. He took off right away knowing it wasn't going to be caught. It took the Yankees a little longer to answer Davis' fourth inning homer. It wasn't until the eighth inning that Sir Didi Gregorius, far and away the Yankees' best player in the early going, tied the game 3-3 with his third homer of the year.
The good news: The Yankees showed some resiliency by coming back to tie the game three times. The bad news: They still scored only three runs in 14 innings, and never held a lead. The Orioles weren't much better! But still, man. The Yankees had their best chances to take the lead in the 11th and 13th innings, and the 13th inning wasn't much. Judge drew a leadoff walk and that was that. Three fly ball outs followed.
In the 11th, however, the Yankees had three of the first four batters of the inning reach base. Gregorius drew a leadoff walk, he moved up to second on Gary Sanchez's ground out, Neil Walker was intentionally walked, and Ronald Torreyes beat out a potential inning-ending double play. With two outs and runners at the corners, Mychal Givens uncorked a wild pitch, and basically sat on home plate, preventing Gregorius from scoring. I mean: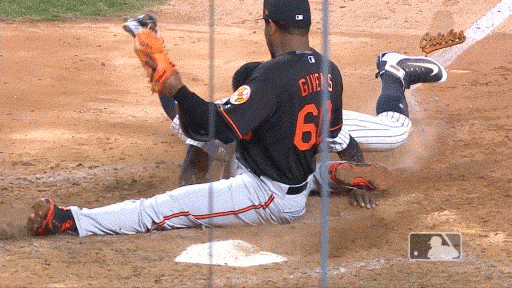 Apparently that's not against the new plate-blocking rules, because the umpires called down to the replay center and were told the out stood and the inning was over. It seems that's okay because the throw from catcher Caleb Joseph took Givens into that position. I do not understand. Whatever. That was as close as the Yankees got to winning the game. Givens sitting on Gregorius.
The Battle of the Bullpens
For the first time this season, the bullpen had a really good game. For their first nine innings, anyway. The first nine innings from the relief crew Friday night: 9 IP, 3 H, 0 R, 7 BB, 12 K. A few too many walks, but they, that's a heck of a lot better than what the bullpen had been doing. The tenth inning was the problem. Let's annotate the box score: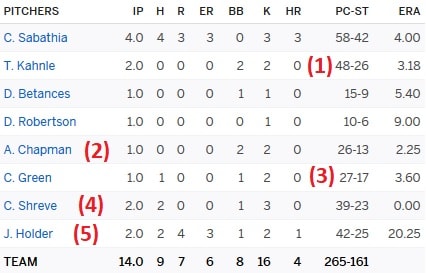 (1) Geez Aaron Boone really let Tommy Kahnle wear it, huh? I mean, two scoreless innings is two scoreless innings, but 48 pitches? There's nothing wrong with pushing a reliever to 40 pitches every once in a while, but 48 is an awful lot, especially since many of them came with men on base in tight situations. Also, Kahnle threw a ton of changeups. The pitch data:

I remember a few games last year where, when Kahnle appeared to be fatigued, he went heavy on changeups rather than fastballs. I guess that's his thing. The Yankees have an off-day Monday, so I imagine the earliest we'll see Kahnle next is Tuesday.
(2) Did Boone fake an injury to get an extra mound visit in the ninth inning? Sanchez went out to the mound to talk to Aroldis Chapman, then Larry Rothschild went out to talk to him a few pitches later — apparently the second visit after a catcher visit doesn't necessitate a pitching change — then Boone brought the trainer out with him to talk to Chapman again a little later. Whatever it was, Chapman remained in the game without throwing a test pitch, and he struck out Trey Mancini on the next pitch to end the inning. Hmmm.
(3) Twenty-seven pitches and only an un-Chad Green-like three swing-and-misses from Chad Green. He was pitching for the second straight night — Green threw back-to-back days only once last season — and I imagine that had something to do with it. Still, he wasn't his usual self. The Orioles made him work for his three outs, but three outs he did get, and to the 11th they went.
(4) Nice work by Chasen Shreve, who pitched into and out of trouble in the 12th inning. Two singles and a walk loaded the bases with two outs, but he rebounded to strike out Colby Rasmus to end the inning. Seven pitch at-bat, fouled away a couple good splitters. Shreve eventually got the inning-ending strikeout. For the seventh guy in the bullpen, Shreve's cool with me.
(5) On the bright side, Jonathan Holder was able to go 36 pitches before allowing runs this time. Also, his ERA went down Friday night! Went from 40.50 to 20.25. I kid you not. Holder's first inning was mostly clean. The second was a mess. Leadoff walk, then a single, then a Ronald Torreyes error to load the bases with no outs. I know Torreyes short-hopped the throw, but would it kill Tyler Austin to make a scoop one of these days? Geez. Anyway, Pedro Alvarez spin-rated Holder's 36th pitch into the right field seats for a grand slam. Fin.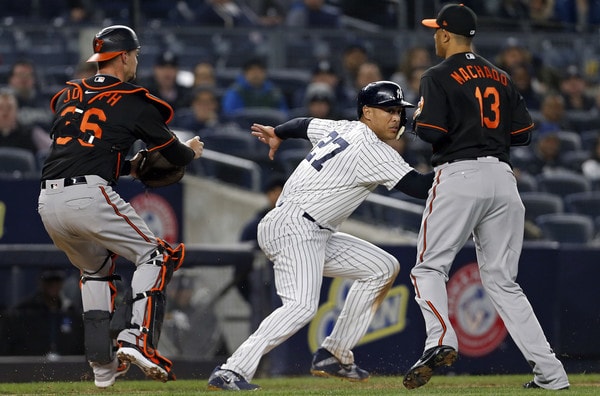 Leftovers
Weird play in the sixth inning. The Yankees had runners at second and third with one out, Walker hit a tapper back to the pitcher, and Stanton got caught in a rundown between third and home. While that happened, Sanchez advanced from second to third. Stanton was chased back to third and the Orioles tagged both Sanchez, who was standing on the base, and Stanton, who ran through the bag. Stanton was ruled out and Sanchez was called safe. The O's argued Sanchez passed Stanton on the bases– or, more accurately, Stanton ran behind Sanchez — giving them the double play. I have no idea whether Buck Showalter protested. Doesn't matter since the O's won (and Torreyes grounded out as the next batter to end the inning, so the play had no impact on the outcome of the game).
Gardner (double, two walks), Judge (single, walk), Stanton (two singles), and Gregorius (single, homer, walk) were all the offense. The 1-2-3-4 hitters went a combined 6-for-19 (.316) with four walks. The 5-6-7-8-9 hitters went a combined 1-for-28 (.034). Good gravy. The one hit was a Walker single. Only one walk by the 5-6-7-8-9 hitters, and it was Walker's intentional walk. The Yankees went 2-for-11 with runners in scoring position.
Judge robbed Joseph of a home run in the 13th inning. He used all of his 6-foot-7 frame to make the leaping catch at the wall, and yes, he did crash into the wall hard. Fortunately it was Judge's right shoulder, not his surgically repaired left shoulder. He's fine. Judge is such a good all-around player. He doesn't get enough credit because drrr strikeouts.
And finally, in case you missed all the injury nonsense, here's a recap of where everyone stands. Sabathia, Sanchez, Tyler Wade, and Brandon Drury all left the game with some kind of ailment. Sounds like they'll all be okay, however.
Box Score, WPA Graph & Standings
Here are the box score and video highlights for the game and updated standings for the season. Little too early to worry about the standings, but to each his own. Here's our Bullpen Workload page and here's the win probability graph:

Source: FanGraphs
Up Next
The Yankees and Orioles continue this four-game series with the third game Saturday afternoon. That's a 1pm ET start. Sonny Gray and Chris Tillman are the scheduled starters. Not so bold prediction: Runs will be scored.