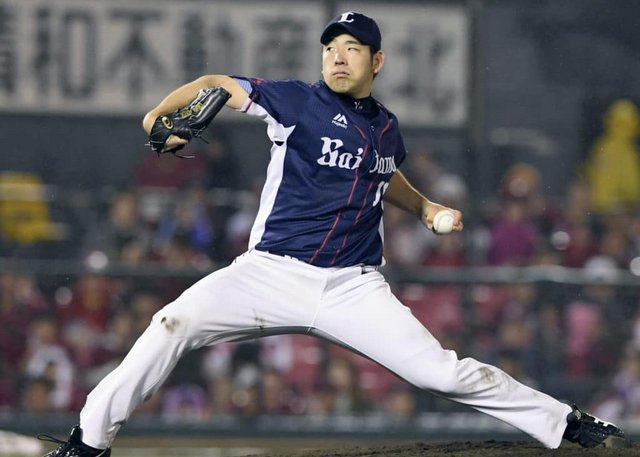 The next big name Japanese pitcher is preparing to jump to MLB. Jon Heyman reports Seibu Lions left-hander Yusei Kikuchi, arguably the best pitcher in Japan in Year One post-Shohei Ohtani, is expected to be posted after the season, though of course nothing is set in stone. "He's coming," said one source to Heyman.
Kikuchi, 26, has allowed eight runs in three starts and 21 innings in the early going this season. Last year he threw 187.2 innings with a 1.97 ERA and a 217/49 K/BB, and from 2015-17, Kikuchi threw 463.2 innings with a 2.41 ERA and a very good 24.9% strikeout rate. His walk rate (9.1%) was a touch high. Unlike Ohtani, Kikuchi is a one-way player. He's a pitcher only.
Obviously there's a long way to go between now and the offseason, but whenever a highly regarded young pitcher is preparing to make the jump from Japan to MLB, he's worth discussing. Let's talk out the Yankees and the looming Kikuchi situation.
1. He's already met with the Yankees once before. Back in 2009, Kikuchi was considering following in Junichi Tazawa's footsteps, and signing with an MLB team right out of high school. He met with a few big league teams at the time, including the Yankees. Kikuchi ultimately decided to remain in Japan, but he does have a bit of a history with the Yankees. There's some history here.
2. He's not subject to the international bonus pools. Kikuchi is already 26, so he is free to sign a guaranteed Major League contract of any size. It'll be a straight bidding war. No need to trade for bonus pool space or anything like that. The Yankees could flex their financial muscle and outbid everyone else. Kikuchi does have to be posted, and the posting rules changes last year. Here is the release fee structure:
Contract worth $25M or less: 20% of total contract value.
Contract worth $25M to $50M: $5M plus 17.5% of contract value over $25M.
Contract worth $50M or more: $9.375M plus 15% of contract value over $50M.
Got all that? Under the old posting system the player's team in Japan set the release fee at whatever amount, up to a $20M maximum. Now, if Kikuchi were to sign a $100M contract, the release feel would be $16.875M. MLB keeps renegotiating the posting system and the NPB teams keep getting less.
3. Kikuchi's stuff is legit. While he's no Ohtani, Kikuchi is pretty impressive himself, with a mid-90s heater and three secondary pitchers that all grade out well. Dennis Lin (subs. req'd) has more:
(The) makings of a quality major-league starter are there. Kikuchi's fastball is consistently in the mid-90s. His curveball, slider and splitter all rate as average or slightly better. "He is a good one," one scout wrote in a text. "Has not been real durable, but stuff is solid."
Injuries, specifically a series of shoulder issues, held Kikuchi back earlier in his career. He averaged 131 innings per season from 2012-16 — his high was 143 innings in 2016 — before staying healthy and throwing a career best 187.2 innings last year. A history of shoulder problems is scary, but Kikuchi hasn't needed surgery, and he was healthy during his most recent season. Here's some video:
4. The Yankees are going to need pitching.
I mean, duh. Every team always needs pitching. The Yankees could certainly use some right now! Who knows what things will look like come the offseason — I'd be very surprised if the Yankees didn't add a starter before the trade deadline — but chances are the Yankees will be in the market for a starter next winter. How about a 26-year-old southpaw with strikeout stuff?
The Yankees obviously aren't opposed to spending big on a Japanese pitcher. They signed Kei Igawa (and got burned), they signed Masahiro Tanaka (has mostly worked out), and they were ready to make a major run at Ohtani before learning he wouldn't even listed to their pitch. The Yankees scouted Tanaka and Ohtani a very long time before deciding to take the plunge, partly because they didn't do enough homework with Igawa.
We haven't heard Kikuchi connected to the Yankees or any team yet this year, though I'm sure it's only a matter of time before we start hearing about scouting trips and all that. As good as he is, Kikuchi is not a generational talent like Ohtani, and he doesn't offer the same sort of track record as Tanaka. That doesn't mean the Yankees won't or shouldn't go after him. It just means Kikuchi is his own person. With the Yankees likely to be in the market for pitching, he's someone we figure to hear quite a bit about in the coming weeks and months.