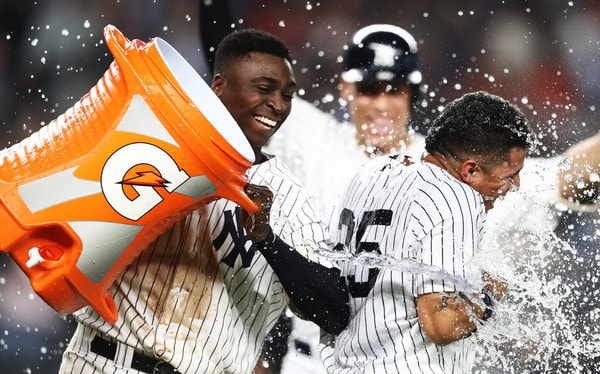 The Yankees stole a win away from the Astros last night, and that means tonight's game is a chance for yet another series win. They've won a lot of them lately. Nine of the last ten, in fact. Tonight could make it ten of eleven, which is something I'm guessing the Yankees haven't done since 1998. Just keep winning series, man. Do that and everything will work out come the end of the season.
Tonight the Yankees are sending staff ace Luis Severino to the mound, the same Luis Severino who shut out the Astros in Houston earlier this month. I'm curious to see how the 'Stros adjust. Last night it appeared the Yankees' plan of attack against Charlie Morton was to swing early to avoid falling behind in the count. Maybe the Astros will do something similar tonight. Win a series, then go out on the road. Here are the starting lineups:
New York Yankees
1. CF Aaron Hicks
2. RF Aaron Judge
3. LF Giancarlo Stanton
4. DH Gary Sanchez
5. 1B Tyler Austin
6. 2B Gleyber Torres
7. SS Didi Gregorius
8. 3B Miguel Andujar
9. C Austin Romine
RHP Luis Severino
Houston Astros
1. RF Tony Kemp
2. 3B Alex Bregman
3. 2B Jose Altuve
4. SS Carlos Correa
5. 1B Yuli Gurriel
6. LF Marwin Gonzalez
7. DH Evan Gattis
8. C Max Stassi
9. CF Jake Marisnick
LHP Dallas Keuchel
It is cloudy and cool in New York this evening, though there is no rain in the forecast, so that's cool. Tonight's series finale will begin at 6:35pm ET and you can watch on YES locally and ESPN nationally. Enjoy the ballgame.