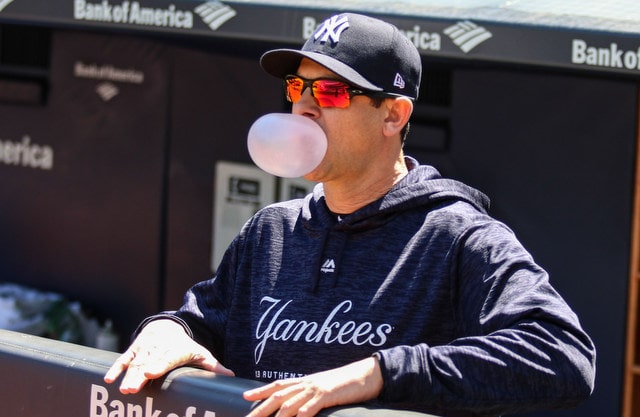 With 17 wins in their last 18 games, the Yankees are currently in the middle of their greatest hot streak since 1953. They're beating good teams and coming back against great closers. Yeah, there's been some luck involved (remember Francisco Lindor's errors?), but good teams capitalize on those situations and the Yankees certainly have.
There is no shortage of on-the-field reasons for this recent 17-1 hot streak. The Yankees are very talented, and guys like Aaron Judge, Giancarlo Stanton, Luis Severino, Gary Sanchez, and Didi Gregorius have all carried them to victory at some point during these 18 games. When talent like that performs, you're going to win a lot of ballgames.
The on-the-field stuff is only part of the equation, however. A large part of the equation, but still only a part. There are off-the-field factors in play as well, the intangible stuff we can't measure but know exists. We don't delve into this side of the game often at RAB, but with the Yankees in the middle of this hot streak, it's worth discussing.
The mental side of going 17-1
Seven times in their last 13 games — seven times! — the Yankees have won despite trailing or being tied in the seventh inning or later. They did it again last night with their go-ahead eighth inning rally. The Yankees have blown leads and answered right back. Last week's series finale in Houston is the best example but hardly the only example.
As a team, the Yankees appear to be playing with a great deal of confidence right now, and they are winning in many different ways. There's a different hero every game. The Yankees seem to have that "if I don't get it done my teammates will pick me up" mentality, which is a wonderful thing. It's not up to one guy to carry the team. Everyone can relax and do their part.
The only thing better than a talented roster is a talented and confident roster, and that's what the Yankees have right now. There's a little chicken or the egg going on here. Are they winning because they're confident, or are they confident because they're winning? Whatever it is, the Yankees are never out of a game. They've proven that and they know it.
"We have been playing good baseball," said Brett Gardner following last night's game. "We have pitched well and come up with the big hits. We have to keep playing well. No matter if we are down four or five runs we are in striking distance."
How much credit does Boone deserve?
It's impossible to say. Do the Yankees go 17-1 in these 18 games with Joe Girardi? Almost certainly not, and I say that only because I believe if you change one little thing, the results would be different, and the Yankees have been so good lately that any change would make the results worse almost by default. Had Clint Frazier been on the roster instead of David Hale, the Yankees probably wouldn't go 17-1.
Remember though, the Yankees hired Aaron Boone because of his communication skills, and because they wanted to create a better clubhouse atmosphere. I don't think they had a bad clubhouse under Girardi, not at all, but communication was a concern and the Yankees took steps to improve it. Boone seems relaxed — you know as well as I that Girardi would've been on edge in the dugout last night — and I think players feed off that. The current manager projects calm.
Ultimately, Boone is the manager and the buck stops with him. When the Yankees got off to a slow start, people were already questioning his hire. Now that they're kicking butt, he's getting credit. Boone obviously deserves some credit. How much is up for debate. Talent reigns surprise. You can't win without talent. But is it possible Boone's clubhouse skills, the clubhouse skills the Yankees invested in, are taking that talent to another level?
Yankee Stadium feels like Yankee Stadium again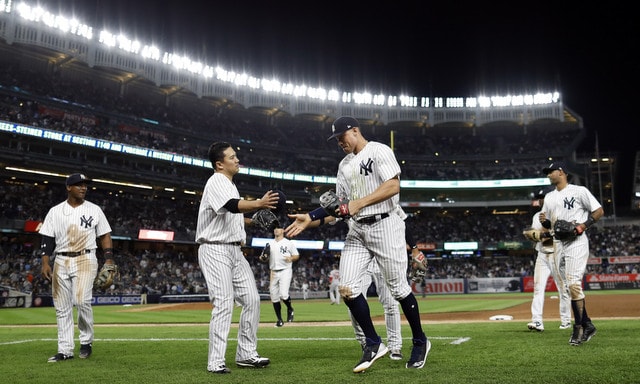 Gosh, how awesome has the crowd been the last two nights? Yankees vs. Red Sox has a different feel, no doubt about it, but these last two games were very different than Yankees vs. Red Sox series in previous years. Yankee Stadium really came to life in the postseason last year. That atmosphere carried over into these games with Boston.
"It got my attention," said Boone following last night's game. "I looked around a little bit in the eighth inning and it's May and it was bedlam. It was fun to be a part of that and fun to watch those guys slow things down when the place is going nuts."
Several Astros admitted it was intimidating playing in Yankee Stadium during the ALCS — "New York is no joke. Yankee Stadium is a tough place to play," said Dallas Keuchel to Kristie Ackert following Game Five — and that was something that didn't really exist prior to last year. I'm not sure the new Yankee Stadium was a tough place to play even in 2009.
The old Yankee Stadium has been romanticized into something it never was — the old Yankee Stadium was great, I grew up in that place, but it was never packed and raucous on a nightly basis like some would lead you to believe — but there's no doubt the new ballpark lacks the charm and history. It was never going to have that same feel.
Lately though, since last postseason, the new Yankee Stadium has come to life, and it feels like a true home field advantage again, especially in games like these last two nights. The fans are into it, the opponents hate it, and the Yankees seem to feed off the crowd. You can't convince me the livelier Yankee Stadium crowd doesn't help the team to some degree. The atmosphere is incredible.