Make it eight consecutive series win for the Yankees. First time since 1998 they've done that. The Yankees made a big park look small en route to a 10-1 win over the Royals on Sunday afternoon. The Bronx Bombers are 30-13 overall and have won 21 of their last 25 games, and they literally have more good players than they can fit on a 25-man roster. Things could be worse.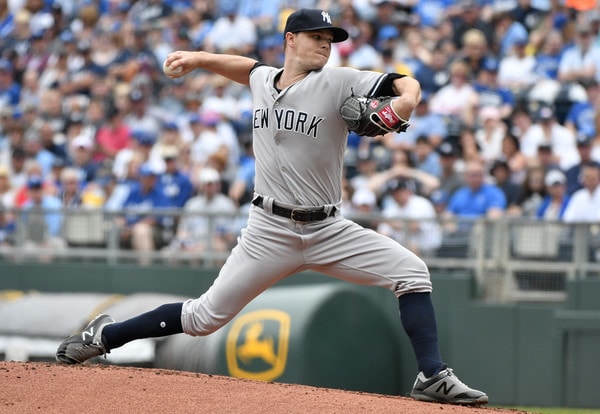 Sonny The Great
The following two statements are true. One, the Royals are very bad. Very, very bad. And two, Sonny Gray looked better Sunday than he has at any other point this season. Aggressive, working quickly, curveball was snapping. Would Gray have pitched this excellently against a better offensive team? Probably not. But I do think he would've pitched well no matter who was standing in the box. His stuff was crisp and his location was good.
The Royals hit one ball out of the infield the first time through the lineup and they didn't have a runner reach base until Hunter Dozier's soft single with two outs in the fifth. It wasn't until there were two outs in the eighth, when the game was already well out of hand, that Kansas City put a run on the board. Dozier singled, Drew Butera walked, and Jon Jay singled back up the middle. Not mad about it.
Sonny's final line: 8 IP, 4 H, 1 R, 1 ER, 1 BB, 5 K, 1 HB on 92 pitches. He threw a first pitch strike to 22 of 29 batters faced and that is huge. Going into this start, Gray held opponents to a .213/.253/.373 batting line after getting ahead in the count 0-1. When he fell behind 1-0, it was a .348/.500/.545 line. That first pitch strike is super important and Gray was getting it consistently Sunday. Here are the pitch locations and exit velocities of the 21 balls he allowed in play:
Not much hard contact, even on pitches out over the plate. That's what happens when you get ahead in the count. Hitters are defensive and the quality of their contact suffers. Also, Gray mixed up his pitches very well. He threw 28 four-seamers, 21 sinkers, 22 sliders, and 19 curveballs (and one changeup). Hitters didn't know what to expect because Sonny was throwing four pitches pretty much equally.
Is Gray out of the woods? Of course not. But Sunday's start was encouraging. The Good Sonny Gray is still in there. Three of his last four starts have been pretty good now, and I'll take that ratio the rest of the season. Positive signs. Good tempo, lots of first pitch strikes, great pitch mix. This is the Sonny Gray the Yankees thought they were acquiring last year. I hope to see some more of him going forward.
Ten Runs, As Expected
Complaining about the lineup is part of being a baseball fan. Fans of every team do it, day after day after day. And, through 43 games this season, I'm not sure any of Aaron Boone's lineups generated as much hand-wringing in our comments and on social media as Sunday's. Why is Brett Gardner leading off against a lefty? Why is Aaron Hicks hitting cleanup? Why is Gary Sanchez sitting? Why is Gleyber Torres hitting ninth? Blah blah blah, yadda yadda yadda.
So, naturally, the most complained about lineup of the season put up ten runs on 14 hits and four walks. The Yankees hit four homers and it felt like ten. Tyler Austin hit two homers against lefty Eric Skoglund, and Miguel Andujar and Romine went back-to-back in garbage time. The Yankees went 5-for-11 (.455) with runners in scoring position and are hitting .288 in those situations overall this season. Who cares about that though? Dingers!
The 3-4-5-6-7 portion of the lineup went 12-for-23 (.522) with two doubles, two triples, and four homers. Scored nine runs and drove in eight. Hicks went 2-for-4 with a triple and a walk. He went 7-for-12 in the series. Andujar was a double short of the cycle. Romine was a triple short of the cycle. Every starter reached base at least once and seven of the nine starters reached base multiple times. Only Aaron Judge and Gleyber did not. They each drew a walk and went hitless in four at-bats.
The Yankees hit four home runs Sunday after hitting five home runs Saturday, and I can't count how many balls they hit to the warning track. It was quite a few. Keep in mind Kauffman Stadium is one most home run unfriendly ballparks in baseball. Ten runs, 18 baserunners, and four homers. And the Yankees rested a few of their regulars. Throw anything other than top notch pitching at this team and you don't stand much of a chance.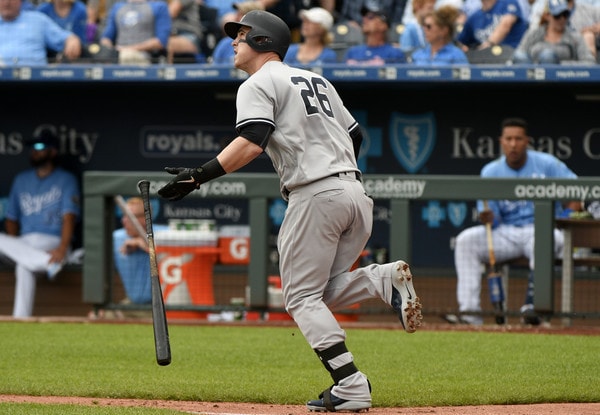 Leftovers
Judge went 0-for-4 and is 0-for-13 in three and a half games on the road trip. His batting line is down to … .282/.416/.546 (160 wRC+). Still awesome! The Yankees scored 18 runs the last two nights and 20 runs in the three-game series with their best player doing nada. Imagine the 2013 Yankees scoring 20 runs in a three-game series with Robinson Cano going 0-fer. Hah.
And finally, A.J. Cole made his bi-weekly appearance a week early and struck out two in a perfect ninth. He threw more sliders (seven) than fastballs (six) in typical Yankees' anti-fastball fashion. Cole has faced 18 batters as a Yankee and has struck out seven, or 38.9%. Pretty good, even if it is a super duper small sample size.
Box Score, WPA Graph & Standings
ESPN has the box score and updated standings, and MLB has the video highlights. Here's our Bullpen Workload page and here's the win probability graph:

Source: FanGraphs
Up Next
The series in Kansas City is over and the Yankees are now heading to Texas for a three-game series with the Rangers. Pretty good road trip for barbecue, eh? Masahiro Tanaka and the ageless Bartolo Colon are the scheduled starters for Monday night's series opener.