For the first time since 1953, the Yankees have won 16 times in a 17-game span. And, for the first time since March 31st, the Yankees are in first place. Tied for first, but still in first. The Yankees opened their three-game series with the Red Sox with a thrilling 3-2 win Tuesday night. Yankee Stadium was electric. Play today, win today. Das it.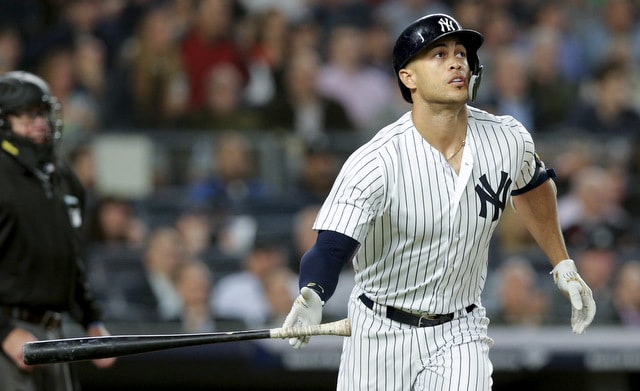 Two More Stanton Smashes
Hitting two home runs against the Red Sox is a pretty good way to turn boos into cheers, eh? It's no secret Giancarlo Stanton's first few weeks in pinstripes have been difficult — the fact hitting .227/.313/.455 (106 wRC+) with a 33-homer pace can be considered "difficult" tells you how high expectations for Stanton are — but he's still a game-changing hitter, and we've seen it twice in the span of a week now. Two homers against Dallas Keuchel and now two homers against Drew Pomeranz.
Giancarlo going deep twice against Keuchel and Pomeranz perhaps shouldn't be surprising. Following his two-homer game Tuesday night, he is now hitting .400/.441/1.200 against left-handers compared to only .190/.225/.292 against right-handers. Dude has been a one-man army against southpaws. Against righties? Not so much. Stanton has to work on that. Let's get to the two homers, shall we?
A laser to left field and more of a high fly ball to right field. Hooray for variety. I am pretty sure neither of those balls leaves the yard at Marlins Park, so I bet Giancarlo is pretty thrilled he calls Yankee Stadium home now. I was shocked Red Sox skipper Alex Cora let Pomeranz face Stanton a third time. He hit another rocket too. It just so happened to be right at a defender. Stanton drew a walk later in the game to raise his batting line to .237/.325/.504 (121 wRC+). He's getting there.
The Yankees other than Giancarlo really let Pomeranz off the hook. He allowed just two hits and two walks to Not Stanton, and the two walks came to consecutive batters following Stanton's second inning homer. The runners didn't advance any further as the next three batters made outs. Can't help but feel like the Yankees let Pomeranz off easy there. He threw 107 pitches in six innings.
"Not His Best"
That's what Aaron Boone said about Luis Severino after he became the first Yankee to strike out eleven Red Sox with zero walks since Mike Mussina in his near perfect game in 2001. It was "not his best." And, really, Boone is kinda right. Severino's slider was up early and he labored through some long counts late. His defense also did him no favors. Consider …
Gleyber Torres muffed a routine ground out that would've ended the first inning.
Gary Sanchez couldn't block a strike three slider in the fifth inning.
Tyler Austin couldn't scoop a throw from Didi Gregorius in the seventh inning.
Severino pitched around the Torres error. The Sanchez non-block — it was scored a wild pitch but it should've been a passed ball (I don't understand official scoring anymore) — and Austin non-scoop led to runs. Andrew Benintendi singled in a run in the fifth and Mookie Betts tripled in the game-tying run in the seventh run. Brett Gardner's sliding attempt to keep Mookie's ball in front of him didn't work. The defense has been better of late. The Yankees are still prone to all-around sloppy games like this.
The final line on Severino: 6 IP, 6 H, 2 R, 2 ER, 0 BB, 11 K on 109 pitches. He faced one batter in the seventh and was pulled after the Austin non-scoop. Severino threw 18 first pitch strikes to 25 batters and generated 18 swings and misses. He put up season high strikeout and swing-and-miss totals against a Red Sox team that went into Tuesday's game with baseball's lowest strikeout rate (19.0%). The kid is an ace in every way. What a stud.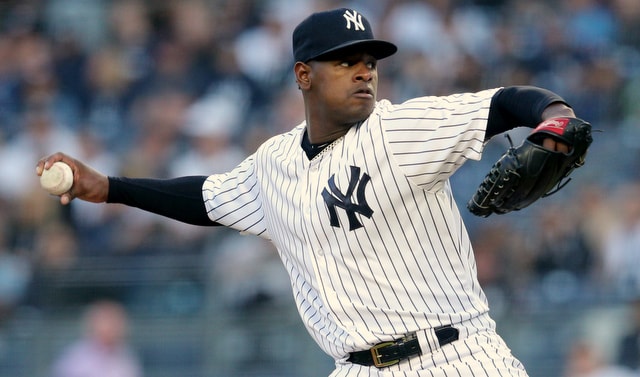 Late Inning Madness
It didn't work in this game, but I like that Boone is now using David Robertson as his fireman and letting Chad Green pitch the eighth inning when necessary. Robertson entered the seventh and nearly escaped with the lead, but he hung one of those drop down breaking balls, and Mookie made him pay. Wasn't a terrible pitch. It was hung just enough for Betts to hook it to left field though. Argh.
The Yankees answered right back. Like I said, this team can take a punch. And once again, Neil Walker started the rally. He's been doing that a lot lately. With Pomeranz out of the game, Walker pinch-hit for Austin in that seventh inning, and he doubled to right with one out. Torres and Gardner followed with six-pitch walks to load the bases with one out. There was a balk mixed in too, but the walk to load the bases made it irrelevant.
So, with the bases loaded and one out, Cora went to the hard-throwing Joe Kelly against Aaron Judge. Kelly was greeted as you'd expect after the brawl up in Boston last month. Loud boos. Very loud boos. Glad the fire is back at Yankee Stadium. Glad the rivalry has some more life to it. Kelly caught a little too much of the plate with a 1-1 slider and Judge drove it to left field to give the Yankees a 3-2 lead.
Alas, the shot at a bigger inning was snuffed out when Torres was thrown out at home on Judge's single. Real bad send by third base coach Phil Nevin. I think two things happened there. One, Nevin underestimated how hard Judge hit the ball. It got to Benintendi quick. And two, Nevin overestimated Gleyber's speed. Love Torres. He's the man. But he is not the speediest runner. He was out by a mile.
Can't help to feeling a little uneasy whenever Torres slides after the whole Tommy John surgery thing. Oh, and by the way, the Yankees had a runner thrown out at the plate in the eighth inning too. Stanton was cut down on Aaron Hicks' grounder to first. I have no problem with the contact play in the eighth inning of a one-run game. Force the other team to make the play. The Red Sox did and that was that. Having two runners thrown out at the plate in the late innings of a one-run game is not ideal!
Fortunately, Green and Aroldis Chapman rendered those outs at the plate moot. Green got a key double play to end the eighth and Chapman pitched around a two-out hit-by-pitch in the ninth. Betts was on deck when the game ended. Retiring Christian Vazquez was a damn near necessity, and Chapman did exactly that. Ballgame over, Yankees win. They've been doing that a lot lately, eh?
Leftovers
Stanton had two hits and the rest of the Yankees had four. Judge singled, Walker doubled, Torres singled, and Miguel Andujar singled. Andujar's single was generously scored. He grounded out and the throw went in and out of Hanley Ramirez's glove at first base. I continue to not understand official scoring in the year 2018. Gardner, Stanton, Sanchez, Hicks, and Gleyber all walked.
The defense was crummy overall, but shout out to Judge for throwing Vazquez out at second on a would-be double in the third inning. He retrieved the ball in the right field corner and made an casual flat-footed throw that was right on the money at second base. It was incredible. I'm pretty sure we've yet to see Judge put all he has into a throw. Maybe he doesn't want to show up the pitchers.
Box Score, WPA Graph & Standings
ESPN has the box score, MLB has the video highlights, and ESPN has the updated standings. Here's our Bullpen Workload page and here's the win probability graph:

Source: FanGraphs
Up Next
The Yankees and Red Sox will get together again for the middle game of this three-game series Wednesday night. Rick Porcello, not David Price, will start for the Red Sox. Price went back to Boston for tests after experiencing numbness in his fingers. Masahiro Tanaka will be on the mound for the Yankees. Check out RAB Tickets if you want to catch that game at Yankee Stadium.