Complain about the strikeouts all you want. Once again, the Yankees went toe-to-toe with the Astros and played a ridiculously close and high level game. That was the case throughout the ALCS last year and it has been the case these last two nights as well. On Tuesday the Yankees came out on top thanks to Gary Sanchez's ninth inning three-run homer that had Ken Giles literally punching himself in the face. What fun baseball games these have been. /barfs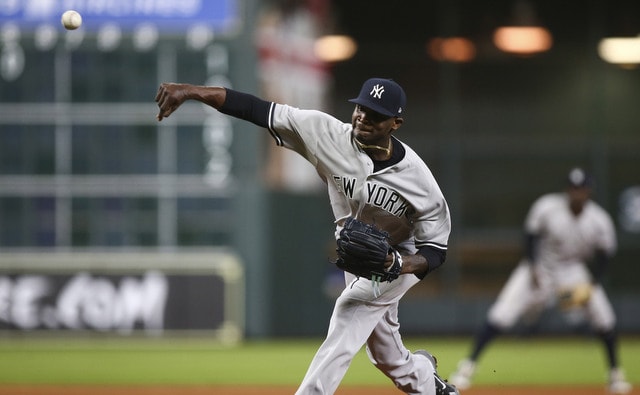 Bullpen vs. Verlander
It's a damn shame such a great win has a cloud hanging over it. Jordan Montgomery, who needed seven pitches to retire the side in the first inning, exited the game with what the Yankees are calling elbow tightness. He's heading back to New York for tests Wednesday. The Yankees and Montgomery downplayed the injury, but still, elbow woes are never good. Neither is losing your starter three outs in the game.
So, with Montgomery out, Aaron Boone had to dip deep into his bullpen. First up: Domingo German. Little Sunday gave the Yankees four innings of heroball, striking out four and throwing 61 pitches. He did put some men on base (four hits and a walk), but he wiggled out of jams each time. Most notably, German pitched out of a first and second with no outs situation in the fourth by getting Alex Bregman to fly out and Marwin Gonzalez to bang into a double play.
Once he got all he could out of German — Domingo hasn't pitched a ton lately and isn't fully stretched out — Boone smartly went to Chad Green against the middle of Houston's lineup in the sixth inning. Green needed nine pitches to retire Jose Altuve, Carlos Correa, and Yuli Gurriel in order. I thought he was going back out for the seventh, but nope. Boone went to Dellin Betances, who allowed a ground ball single to Gonzalez, but otherwise struck out the side.
The eighth inning went to David Robertson — he allowed a two-out single to Altuve and nothing more — and I don't want to know what would've happened in the ninth had the Yankees not taken the lead. Jonathan Holder? A.J. Cole? Another inning for Robertson? Like I said, I expected Green to go back out for the seventh, but I'm not going to get upset about not working relievers hard on May 1st. It's a long season. Boone went one inning at a time with his core relievers and it worked like a charm.
On the other side, Justin Verlander carved the Yankees up all night. He looks better right now than he did even at his peak with the Tigers. Eight innings, three singles (Sanchez, Miguel Andujar, Didi Gregorius), one hit batsmen (Brett Gardner), a career high tying 14 strikeouts. Verlander threw 105 pitches and got 24 swings and misses. The Yankees took 54 swings against him and missed 24 times. That is insane. I have no idea how anyone ever gets a hit against this 'Stros staff. The bullpen was up to the task. They matched zero for zero against Verlander.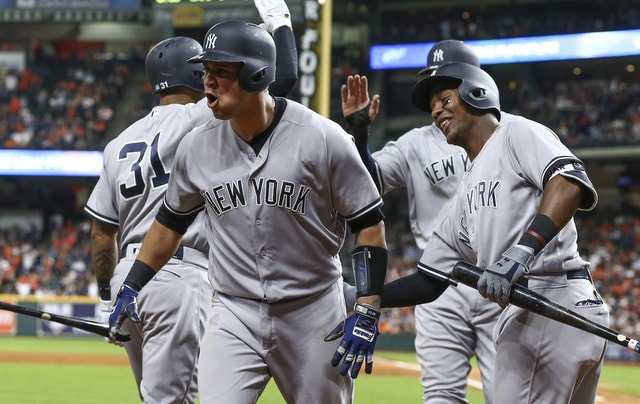 Yo Soy Gary
The Yankees employed the old Pedro Martinez strategy against Verlander. The pitching staff matched zeros and the offense got to the bullpen. Giles entered for the ninth inning, fell behind in the count 3-0 to Aaron Judge, and eventually allowed a 3-1 single to right to start the inning. It felt like their first baserunner of the night. It really did. That put the wheels in motion.
Gregorius, who bunted against the shift earlier in the game, showed his trademark aggressiveness, shooting a first pitch double into the left-center field gap to put runners on second and third with no outs. Giles caught too much of the plate with a fastball and Gregorius jumped all over it. Giancarlo Stanton, who went 0-for-3 with two strikeouts against Verlander, couldn't get the run home. He struck out for the third time. Houston threw Stanton fastballs all night and he couldn't touch them. Yuck.
Fortunately, the Yankees have a very deep lineup, so even after Stanton struck out, a dude like Sanchez was waiting to get those runs in. He wasted no time either. Giles left a cement mixer slider out over the plate, and Gary hammered it way out to center field for a three-run homer. He knew it was gone. We all knew it was gone.
After Giles went nuts following the final out Monday, Gary stared him down after the homer and took his sweet time running around the bases. Love it so much. I have no problem with Giles going bonkers Monday. It's baseball. Be silly. But if you're going to do that, don't get upset when the other time shows you up the next day. In the words of David Cone, even Ken Giles hit Ken Giles hard on Tuesday night.
Uh, did Ken Giles just punch himself in the face? pic.twitter.com/Y8kbDIDVtl

— Kenny Ducey (@KennyDucey) May 2, 2018
That's four homers in the last eight games for Sanchez. Three of the four are game winners. He had the walk-off against the Twins, the two-run homer in the 2-1 win over the Angels, and now this go-ahead three-run homer. This game was only tied, the Yankees weren't trailing, but this one felt like Gardner's homer against the Cubs last year. We're going to see that highlight all season and remember exactly how it felt. So awesome. So, so awesome.
The Yankees did add an insurance run in that ninth inning, which is always appreciated. Aaron Hicks singled, stole second, moved to third on Andujar's ground out, then scored on a wild pitch. Gary Sanchez socking a huge homer and Brian McCann allowing a run because he couldn't throw out a runner or block a pitch? My favorite half-inning of the season so far.
Leftovers
Aroldis Chapman, who looks absolutely ridiculous with the dead center field camera, struck out the side on 14 pitches in the ninth. He's been out of this world. Twenty-four strikeouts in 13 innings. Good gravy. Chapman's outing closed the book on the bullpen. Their combined line: 8 IP, 6 H, 0 R, 0 ER, 1 BB, 13 K. Basically Verlander. The bullpen basically put together a Verlander start.
The Yankees somehow had seven hits, which doesn't feel right. Verlander will do that to you. Gregorius and Sanchez had two each while Hicks, Judge, and Andujar had one each. Gardner was hit by a pitch and no one drew a walk. It was not a pretty night for the offense. At least not until the ninth inning. Yeah, the strikeouts are annoying, but this win was satisfying as hell.
And finally, gosh it was good to see the Yankees win a game in Houston. Win a game and score more than one run. They haven't had much success at Minute Maid Park dating back to the ALCS. Glad they got that monkey off their back.
Box Score, WPA Graph & Standing
Go over to ESPN for the box score and updated standings, and MLB for video highlights. Here's our Bullpen Workload page and here's the win probability graph:

Source: FanGraphs
Up Next
This four-game series is halfway over. The Yankees and Astros will continue things Wednesday, when Luis Severino and Dallas Keuchel will be on the mound. Guessing that's gonna be another close game.