Cheesy headline is cheesy. Not sorry about it though. The Yankees avoided their first three-game losing streak of the season Saturday afternoon — they're the only team in baseball without a three-game losing streak this year — thanks to another middle innings comeback and Neil Walker's walk-off single in the 11th inning. The final score was 7-6. Good game, good win.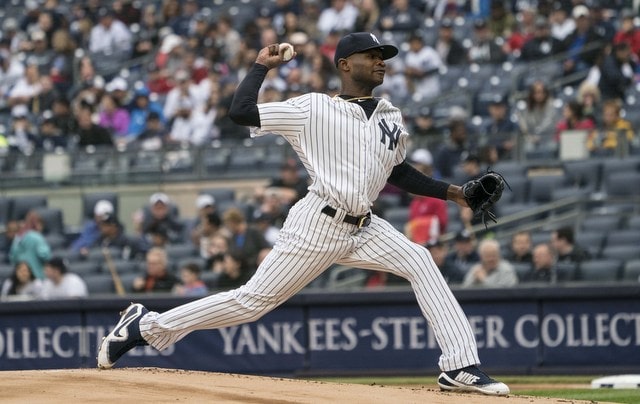 Domingo's Bad Inning
Things unraveled quickly for Domingo German. He threw six no-hit innings last time out and started this game with two more hitless innings before allowing a soft single to left in the third. A ground ball double play erased that runner. German faced the minimum through three innings and had started his big league starting pitcher career with nine scoreless innings. Hooray!
Then everything fell apart in the fourth inning. It started with a Marcus Semien single to center and a five-pitch walk to Matt Joyce. The big mistake — the first big mistake, I should say — was a center cut 87.6 mph changeup to Khris Davis. I mean, German may've well just put it on a tee: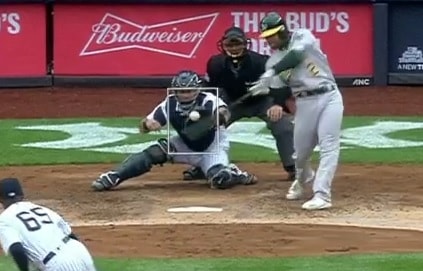 A batting practice fastball, that is. Davis hit it off the top of the left field wall for a go-ahead three-run homer. It was his 96th home run since Opening Day 2016, passing Giancarlo Stanton for the most in baseball. (For real.) A good home run hitter did what he should've done to a terrible pitch. The three-run homer stunk, but whatever. Move on.
German couldn't move on though. Eleven of his next 12 pitches were out of the strike zone. Back-to-back walks and a grounder to first put runners on second and third with two outs. German thought he had Mark Canha struck out to end the inning, but first base umpire Quinn Wolcott ruled Canha checked his swing, and the at-bat continued. A middle-middle 94.8 mph fastball followed …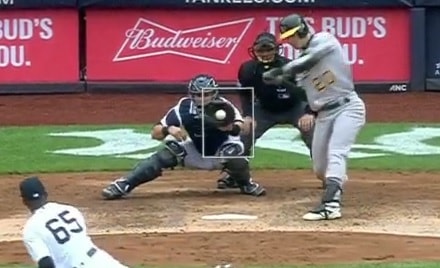 … and Canha roped it to left field for a two-run single. Replays showed that, at best, the check swing was borderline. Could've gone either way. I don't think Canha went around, personally. Ultimately, the real mistake was the next pitch, that very hittable fastball. German was tagged for five runs in the fourth inning because he walked three and left two cookies right out over the plate.
Domingo's final line: 5 IP, 6 H, 6 R, 6 ER, 3 BB, 1 K. Two singles and a sacrifice fly created the other run in the fifth inning. Aaron Boone said German was available to throw more than the 84 pitches he threw last time out, but ineffectiveness forced him out of the game at 74 pitches. German is neither really as good as he was last start nor really as bad as he was this start. The truth is in the middle somewhere.
Back-to-Back Jacks
It somehow took until May 12th, but the Yankees have finally hit their first set of back-to-back home runs this season. Gary Sanchez and Aaron Hicks did the honors in the second inning. Both were solo shots (obviously for Hicks). The Sanchez homer was similar to his walk-off homer against the Twins a few weeks ago. It was an inside fastball, probably off the plate, and he yanked it out to left field.
As for Hicks, he came into this game mired in a long and miserable 8-for-49 (.163) slump that dated back to the Twins series. Andrew Triggs left a fastball over the plate — his fastball averaged 89.0 mph Saturday, so he doesn't have the velocity to get away with fastballs over the plate — and Hicks hit it into the home bullpen. The back-to-back homers gave the Yankees an early 2-0 lead. Here's the video:
Neil Walker walked (naturally) and Miguel Andujar singled after the back-to-back homers, but the Yankees couldn't bring them home. Stanton walked and Sanchez singled with two outs in the fourth, and the Yankees couldn't get them home either. Felt like the Yankees were going to regret stranding those runners against Triggs, and they did, at least temporarily.
The Latest Comeback
Two things are true: One, comebacks are awesome. Two, it would be nice if the Yankees didn't have to comeback pretty much every single day like they have lately. It's okay to play from ahead every now and then, fellas. Anyway, the Yankees were down 6-2 after four and a half innings, but Triggs wasn't really fooling anyone, so the game hardly felt over. At least that's how I felt.
A lot happened in the game-tying four-run fifth inning, so I'm going to annotate the play-by-play to make sure I don't miss anything. Let's get to it.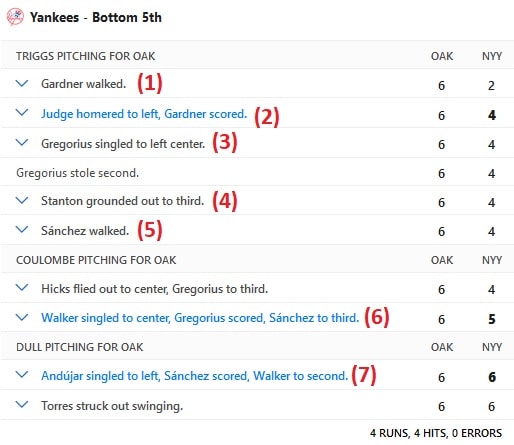 (1) Brett Gardner's long slump is coming to an end. He reached base eight times in the three games prior to this one, and this leadoff walk was a classic Gardner at-bat. Six pitches, spit on some good two-strike pitches out of the zone, reach base. There were times Brett seemed a little anxious at the plate the last few weeks. Gardner seems back to normal now. His leadoff walk got the rally started.
(2) I feel like we don't talk about how good Aaron Judge is often enough. I mean, we talk about it plenty, but it's not enough. He's actually getting better. Strikeouts and swings and misses are down a tick, and when he gets a pitch early in the count, he's being more aggressive. Judge's three-run homer Friday night came on the first pitch of the at-bat. His two home run in the fifth inning came on the second pitch. This was homer No. 11 for Judge and his third within the first two pitches of the at-bat. He's hitting .306/.436/.597 (175 wRC+) this season. He is: Good.
(3) The longest hitless streak of Didi Gregorius' career came to an end with a solid single to left field. He hit a long fly ball to the warning track his first time up and I thought it was gone off the bat, but alas. Thankfully Didi broke the hitless streak in the fifth inning. The 0-for-30 dropped his batting line from .343/.427/.731 to .268/.356/.572, which tells you a) how damaging an 0-for-30 can be, and b) we're still kinda early in the season given that 30 at-bats equals 230 OPS points.
(4) This was a ridiculous play. Stanton hit a 106.9 mph grounder down the line that third baseman Matt Chapman backhanded on his knees, then threw across to first for the out. Just ridiculous. Look at this:
Matt Chapman owns the hot corner. ? #glovework pic.twitter.com/AaloK30mPX

— MLB (@MLB) May 12, 2018
Can't be mad about it. Giancarlo has been shockingly terrible against right-handed pitching this year — he went into the game hitting .191/.290/.322 (67 wRC+) against northpaws — but there's nothing you can do about that. Most third basemen don't make that play and Stanton's on second after doubling into the corner. Alas.
(5) Sanchez hit a home run in his first at-bat against Triggs and singled the other way in his second. There was a mound visit prior to his third at-bat and you could tell Triggs wanted nothing to do with him with a base open. Four-pitch walk with maybe one close pitch. Remember when Gary went 12 games without a walk to start the season? He has 17 walks in his last 23 games now. His season walk rate sits at 11.5%. Huh.
(6) Another good at-bat by Walker, who's had a lot of them lately. This was a seven-pitch battle that ended with a little ducksnort into the triangle in shallow left-center field. Well-placed more than well-struck. They all count the same though. Walker's single drove in a run and cut the deficit to 6-5. It would not be the last run he drove in Saturday afternoon.
(7) Would you believe me if I told you Andujar has a five-game hitting streak? Because he does, even as much as he's struggled lately. Ryan Dull threw Andujar three straight sliders, the third of which hung up in the zone, and Andujar plopped it into left field for a game-tying single. Hooray for that. This is already the 16th time this season the Yankees scored at least four runs in an inning, so they do it once every 2.4 games, on average. Last year they did it once every three games on the nose.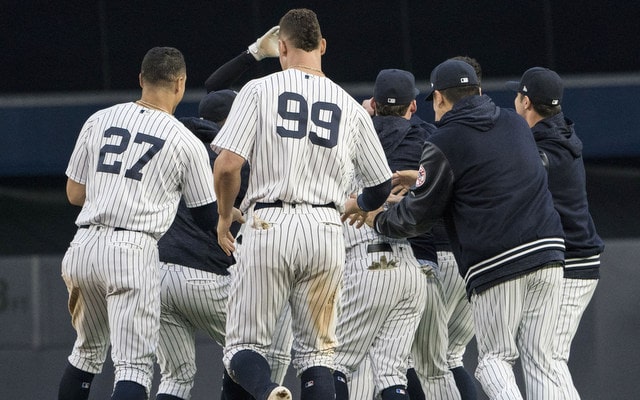 Battle of Bullpen Attrition
All those comebacks and the 17-1 stretch have apparently come at a price. The usual late-inning relievers have been worked hard the last week or so, and it's showing on the field. Chad Green had a rough outing Wednesday, Dellin Betances allowed the game-losing homer Thursday, and David Robertson had a rough outing Friday. On Saturday, it was Aroldis Chapman's turn to struggle.
With the score tied 6-6, Chapman came out firing 96 mph bullets with zero command in the ninth inning. Walked the first three dudes he faced on 16 pitches, and mixed in a wild pitch as well. The Athletics had the bases loaded with no outs! Trainer Steve Donohue came out to check on Chapman, who had a fingernail issue but remained in the game. As much as he labored, Chapman was far and away the Yankees' best chance to escape that inning because of his ability to strike guys out.
And escape he did. Chapman struck out pinch-hitter Chad Pinder for the first out, then got pinch-hitter Jonathan Lucroy to hit into the ol' 7-2 double play. Gardner threw Matt Olson out at the plate to end the inning. Olson was initially called safe and I don't blame home plate umpire James Hoye for the call. Olson looked safe live. Thankfully, instant replay is a thing, so the Yankees challenged and Olson was called out. The Yankees got him by this much: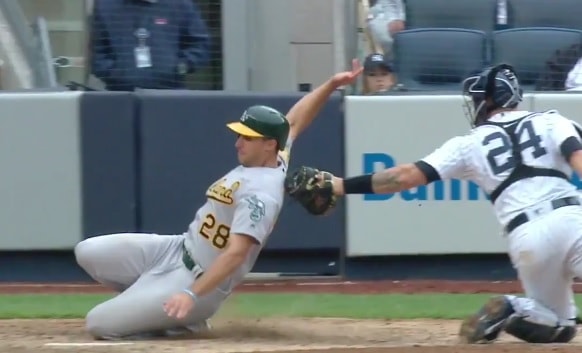 Can't get any closer than that. Good throw by Gardner and a great pick and tag by Sanchez. The Yankees had a new lease on baseball life. And in the 11th inning, they capitalized. Stanton worked a one-out walk, Sanchez replaced him at first base on a fielder's choice, and Hicks worked a two-out walk to put a runner in scoring position. Designated rally starter Neil Walker played rally finisher this time. The walk-off single:
NEIL WALKER WALKS IT OFF!@YANKEES WIN 7-6 IN THE 11TH!#YANKSonYES pic.twitter.com/ymQqrtTfk9

— YES Network (@YESNetwork) May 12, 2018
A Neil Walker-off! He's been so good lately. After going 2-for-5 with a walk on Saturday afternoon, he is 9-for-26 (.346) with eight walks and four strikeouts this month. Walker has shown basically zero power — we're still waiting for his first home run — but hey, singles and doubles and walks are cool with me. Glad he's snapping out of it.
Also, big props to A.J. Cole for two scoreless innings following Chapman. He hadn't pitched in close to two weeks, and after he walked the first two men he faced, it was easy to believe the end was near. Cole rebounded to retire the next six men he faced. Five relievers combined for six hitless innings: 6 IP, 0 H, 0 R, 5 BB, 10 K. Jonathan Holder, Green, and Betances each went three-up, three-down to get the ball to Chapman (and Cole).
Leftovers
Back to Chapman for a second. He was pitching for the third time in the last five days and the 18th time in 39 games this season. Dude's on pace for 75 appearances. Chapman's fastball averaged 96.7 mph and topped out at 98.2 mph Saturday afternoon. It was his slowest average fastball in a game since May 2012 and his slowest maximum velocity in a game since September 2012. The entire bullpen needs like a week off. Win some blowouts, dingbats.
Worst game as a big leaguer for Gleyber Torres, who went 0-for-5 with three strikeouts. His nine-game hitting streak ends. Start a new one tomorrow, Gleyber. Every starter reached base except Torres while Gardner (two singles, two walks), Judge (homer, walk), Stanton (two walks), Sanchez (homer, single, two walks), Hicks (homer, walk), Walker (two singles, walk), and Andujar (two singles) all reached base multiple times. Twenty baserunners in 10.2 innings.
And finally, Sanchez's home run was his tenth of the season. The Yankees are the only team in baseball with three 10+ homer guys — the Angels (Mike Trout, Justin Upton), Indians (Francisco Lindor, Jose Ramirez), Nationals (Matt Adams, Bryce Harper), and Rangers (Joey Gallo, Nomar Mazara) are the only other teams with even two 10+ homer guys — and it is the first time in franchise history the Yankees have three double-digit homer guys within their first 40 games of the season.
Box Score, WPA Graph & Standings
Head over to ESPN for the box score and updated standings, and MLB for the video highlights. Here's our Bullpen Workload page and here's the win probability graph:

Source: FanGraphs
Up Next
The homestand comes to an end with the rubber game Sunday afternoon. The series finale with the A's is a 1pm ET start, though there is rain in the forecast, so we'll see what happens. Luis Severino and lefty Brett Anderson are the scheduled starting pitchers.