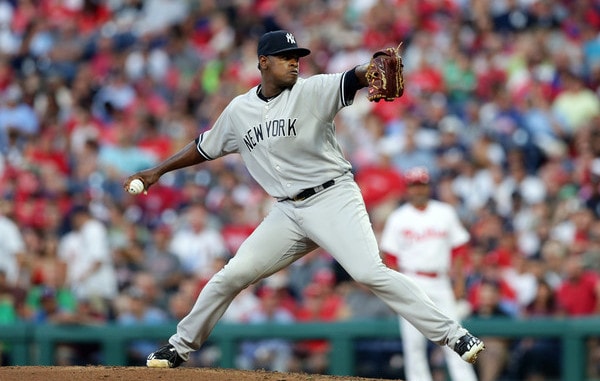 The 2018 All-Star Game is less than three weeks away now, and, given their play to date, the Yankees will undoubtedly have multiple representatives at Nationals Park. They definitely will not be a "one token All-Star" team. The Yankees have sent multiple players to the All-Star Game every year since 1992, when Roberto Kelly was their lone representative.
The All-Star Game rosters will be announced Sunday, July 8th. That makes this as good a time as any to look at which Yankees could be selected to the Midsummer Classic. In fact, let's rank the 25 players on the active roster in terms of their All-Star Game worthiness. Shall we? We shall. Let's get to it.
1. Luis Severino
I feel like we don't talk enough about how great Severino has become. Maybe that's my fault since I run RAB and all. Anyway, here are Severino's current ranks among the 89 pitchers with enough innings to qualify for the ERA title this season:
ERA: 2.10 (fourth behind Jacob deGrom, Justin Verlander, and Max Scherzer)
FIP: 2.21 (third behind deGrom and Scherzer)
Strikeout Rate: 30.4% (tenth)
Walk rate: 6.0% (18th)
bWAR: +4.5 (second behind deGrom)
fWAR: +4.2 (second behind Scherzer)
Severino's an ace and he belongs at the All-Star Game. Hell, he deserves to be considered for the All-Star Game start. I'd bet against that though. Astros manager A.J. Hinch will probably pick Verlander or one of his other guys to start the All-Star Game. That's fine. Houston's earned the right.
Assuming he is selected to the All-Star Game, Severino will be the first Yankees pitcher with multiple All-Star Game selections prior to his age 25 season since Mel Stottlemyre in the mid-1960s. Crazy.
2. Aroldis Chapman
You can count on one hand the number of relievers who have been more dominant than Chapman this season. Josh Hader, Blake Treinen, Adam Ottavino, Edwin Diaz … that's it. The list stops there and you could argue Chapman has been better than all those guys (except Hader, who's been insane). One-hundred-and-nine relievers have thrown 30 innings this season. Chapman's ranks:
ERA: 1.29 ERA (eighth)
FIP: 1.59 (second behind Hader)
Strikeout Rate: 44.1% (third behind Hader and Dellin Betances)
bWAR: +1.8 (third behind Ottavino and Hader)
fWAR: +1.6 (fourth behind Hader, Diaz, and Treinen)
Yep. It has been a few years since Chapman last made an All-Star team — he was an All-Star every year from 2012-15 before missing the 2016 and 2017 All-Star Games due to various reasons — but he's a big name player have an All-Star season. He should be a lock for the Midseason Classic.
3. Aaron Judge
A recent ground ball funk has sapped Judge's production this month, relatively speaking — he's hitting .244/.337/.488 (121 wRC+) with a 51.9% ground ball rate in June — though he remains one of the premier offensive forces in baseball. He is hitting .277/.397/.553 (158 wRC+) with 20 home runs overall and ranks fifth in OBP, eighth in SLG, fifth in wRC+, and fourth in home runs among American League players. Judge is also a top five player in baseball according to both version of WAR. He belongs in the All-Star Game and not only because he is in line to start thanks to the fan voting.
4. Giancarlo Stanton
A rather sizeable segment of Yankee fans don't seem to like Stanton, but the reigning NL MVP is currently on pace for 40 homers and better than a +5 WAR season. He's been especially good of late, hitting .333/.402/.656 (183 wRC+) with eight homers in his last 23 games. That'll work. One thing that may work against Stanton is the All-Star Game roster size. Giancarlo's probably not going to win the fan voting, which means he'll have to compete with guys like Nelson Cruz, Eddie Rosario, Andrew Benintendi, George Springer, Mitch Haniger, and Shin-Soo Choo for one of the four reserve outfield spots. The numbers crunch is real.
5. Chad Green
Is it possible we're already spoiled by Green? I've gotten a lot of mailbag questions and comments on social media that boil down to "Chad Green hasn't been as good as last year," which is true, but the dude has a 2.17 ERA (2.40 FIP) and a 34.9% strikeout rate in 37.1 innings. He's been a top ten reliever in baseball all season! And yet, he hasn't been as good as last year, because last year he had a 1.83 ERA (1.75 FIP) with a 40.7% strikeout rate in 69 innings. Setup relievers are getting more All-Star Game love than ever before and Green could slot into the roster spot usually reserved for Dellin Betances.
6. Gleyber Torres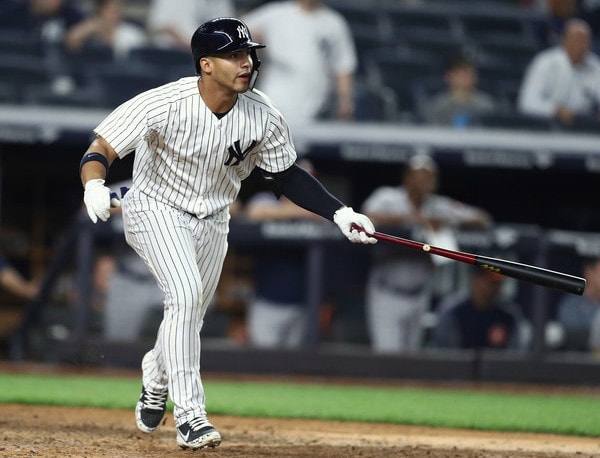 Clutch homers have masked a recent decline in production — Gleyber's hitting .228/.291/.468 (102 wRC+) in his last 22 games — but Torres still owns a .289/.347/.547 (142 wRC+) batting line and 14 homers, and he's made enough highlight defensive plays to catch everyone's attention. A rookie making the All-Star Game after a late April call-up would in no way be unprecedented. Cody Bellinger did it just last year.
Jose Altuve should and will win the fan voting at second base, and, generally speaking, there are three backup middle infield spots on the All-Star Game roster. Sometimes they squeeze in a fourth. Treinen means Jed Lowrie doesn't have to be the A's token All-Star, but the Royals need to send someone to the All-Star Game and Whit Merrifield is their best candidate. Plus there are sooo many good shortstops. Given the plethora of quality middle infielders, perhaps this gets left up to the fans via the Final Vote? I could see MLB copping out and including Torres in the Final Vote ballot.
7. Dellin Betances
You know what? Betances has been so good lately that he might make the All-Star Game despite his early season hiccups. He's sitting on a 2.83 ERA (2.59 FIP) with 62 strikeouts in 35 innings — only Hader (80) and Diaz (66) have more strikeouts among relievers — and I think the fact he's a four-time All-Star bodes well for his chances. The majority of the All-Star Game roster is compiled through player voting. Players know how good Betances is — you think they like standing in the box against him? — and they know he's been an All-Star multiple times. Those early season hiccups happened and can't be ignored. Dellin's been so good they might not even matter.
8. Miguel Andujar
Here's a question: Who's the second best third baseman in the American League? Jose Ramirez is far and away the best. But who's second best? Adrian Beltre? He's missed a bunch of time with hamstring trouble. Kyle Seager? He's hitting .225/.275/.421 (92 wRC+). Matt Chapman or Alex Bregman? Maybe! There is usually only one backup third baseman on the All-Star Game rosters and Beltre might get it as the token Rangers player. As good as Andujar's been, I don't think he can beat out Beltre, Chapman, or Bregman for an All-Star Game roster spot.
9. Didi Gregorius
April sure was fun, wasn't it? To his credit, Gregorius has rebounded quite well in June — he's hitting .302/.365/.477 (131 wRC+) this month — but yeah, that brutal May slump sunk his All-Star Game chances. The AL shortstop class is far too deep for a dude hitting .259/.330/.478 (117 wRC+) overall to make the All-Star Game. Alas.
10. CC Sabathia
Even after an ugly May stretch in which he allowed 20 runs in four starts and 18.1 innings, Sabathia is still sitting on a 3.18 ERA (4.19 FIP) through 76.1 innings this season. Very good overall but not All-Star Game worthy. Besides, Sabathia has already accomplished everything a pitcher could possibly want to accomplish in a career, including going to six All-Star Games. I am certain he would rather spend the four-day break on an island somewhere than at the All-Star Game.
11 & 12. Aaron Hicks & Brett Gardner
Hicks didn't make the All-Star Game last season following his insane start, so I can't see it making him this year. Gardner made the 2015 All-Star Game as an injury replacement and that's pretty much his only path to the Midsummer Classic this year. Hicks and Gardner are both reliably above-average players on both sides of the ball having seasons short of All-Star caliber. Ain't mad about it.
13 & 14. Jonathan Holder & David Robertson
Holder has been out of this world since resurfacing in late April and, because he's worked so many multi-inning outings, his workload is on par with the typical setup man or closer at this point of the season. Robertson tripped up a bit last month but has rebounded to be regular ol' Dave Robertson. Both guys have been great and they are no better than the fourth most All-Star worthy reliever in the Yankees' bullpen, so yeah. Not happening. Enjoy the break, boys.
15. Sonny Gray
Eighty-nine pitchers have enough innings to qualify for the ERA title right now, and among then Gray ranks 78th in ERA and 76th in WAR. If there were a road stats only All-Star Game (3.28 ERA and 2.69 FIP), Gray would be on the roster. But that's not a thing. Disappointing year for Sonny. The Yankees need him to be a lot better in the second half.
16. Domingo German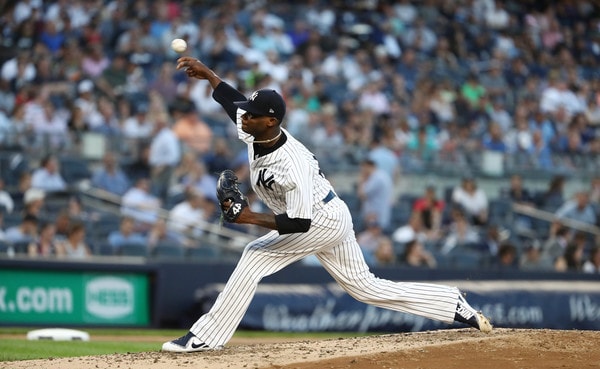 Fun fact: German is second on the Yankees with 73 strikeouts. Bet you didn't know that! He's had some promising moments to be sure, and he currently ranks fourth among all pitchers in swing-and-miss rate (min. 60 innings) …
Max Scherzer: 17.2%
Chris Sale: 15.6%
Jacob deGrom: 15.4%
Domingo German: 15.3%
Noah Syndergaard: 15.0%
… but Little Sunday is something like the 15th best rookie best pitcher in baseball this season. He's not an All-Star Game candidate.
17. Austin Romine
Wouldn't it be something if Romine went bonkers for two weeks as the starting catcher and claimed an All-Star roster spot? The AL catching crop is so unbelievably bad. Wilson Ramos will deservingly win the fan vote and then what? Sal Perez is hitting .214/.257/.397 (75 wRC+). Brian McCann is hitting .209/.289/.331 (76 wRC+). Mike Zunino is hitting .190/.251/.408 (82 wRC+). Give Ramos the starting spot and then use two NL guys as the backups and hope no one notices.
18. Adam Warren
A weirdly high walk rate (12.2%) and a month long stint on the disabled list mar another typically strong Adam Warren season: 1.56 ERA (3.10 FIP) with 27.0% strikeouts in 17.1 innings. Middle relievers with fewer than 20 innings pitched don't go to All-Star Games though.
19 & 20. Jonathan Loaisiga & Luis Cessa
Impressive stuff from Loaisiga last time out, eh? Two very good starts and one not so good start for the youngster with zero Triple-A experience. Cessa's pitched well in his very limited big league time around the oblique injury.
21 & 22. Greg Bird & Neil Walker
Man, I hope Bird starts hitting soon. He reached base three times last night and perhaps that's a sign he's starting to snap out of it. Walker? Yeah, no. I like the guy, but this hasn't worked out.
23. Chasen Shreve
I like Chasen. He's a good dude. But he's also allowed 14 runs and 33 baserunners — including six homers — in his last 15 innings now.
24 & 25. Kyle Higashioka & Gio Gallegos
Higashioka is on the roster but has not yet played. Apparently Gallegos threw two innings in a game last month? I do not remember that at all. Maybe next year, guys.
* * *
The Yankees have a few regulars on the disabled list at the moment, most notably Gary Sanchez, who will miss the next month. That puts him on track to return after the All-Star break. His .190/.291/.433 (97 wRC+) batting line is both ugly and among the best offensive production among AL catchers this season. Sanchez leads all backstops with 14 homers too. There have been All-Stars with .200-ish batting averages. I wonder if Gary would've made the All-Star Game even with his disappointing year just because the AL catching crop is so terrible.
Masahiro Tanaka and Jordan Montgomery weren't having All-Star caliber seasons before their injuries — Montgomery was good, but not that good — and besides, I am totally cool with never seeing a Yankee pitch in the All-Star Game again. Too much risk, not enough reward. Severino not getting into the game last year was bittersweet. He was awesome and deserved to strut his stuff on national television, but yeah, don't waste those bullets in a meaningless exhibition, you know?
Anyway, my guess right now is the Yankees wind up with five All-Stars this season: Betances, Chapman, Judge, Severino, and Stanton. I think Dellin will sneak in thanks in part to his All-Star history even though Green has been more consistently excellent this season. If the Yankees get a sixth All-Star — that's always tough just due to roster size and the need to get every team a representative — I think it would be Torres over another reliever (i.e. Green).