Always a good feeling when you win a game with your sixth starter on the mound against the other team's ace. The Yankees came from behind to beat Blake Snell and the Rays in the four-game series opener Thursday night. The final score was 4-3. The Yankees are 35-11 since their 9-9 start.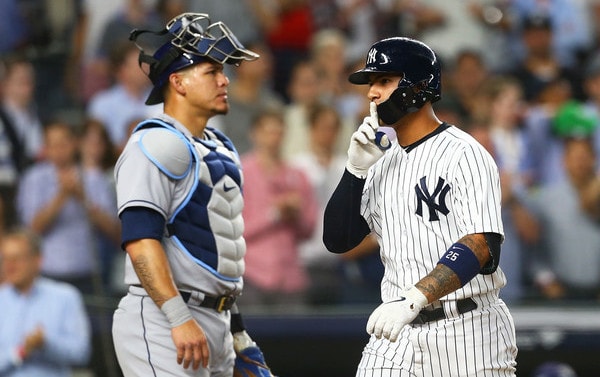 A Gleyber of Love
Blake Snell has been very, very good this season. He went into Thursday's start with a 2.30 ERA (3.30 FIP) on the season, and only twice in his 14 starts did he allow more than two runs. One of those two came at Yankee Stadium in April, when the Yankees got to him for five runs. Well, now Snell's allowed more than two runs three times in his 15 starts, and two of three have come in the Bronx.
Early on, it looked like the Yankees would regret blowing some run-scoring opportunities against Snell. They loaded the bases with two outs in the second on a double (Miguel Andujar) and two walks (Tyler Austin and Ronald Torreyes), but Snell bounced back to strike out Neil Walker on a nasty 90 mph full count changeup. In the fifth, a Gary Sanchez walk and a Austin single put runners on the corners with two outs, then Torreyes grounded out.
Despite being held scoreless, the Yankees were able to get Snell's pitch count up the first four innings, forcing him to throw 77 pitches to get 12 outs. They finally got to him in the fifth inning. Aaron Hicks jumped on a first pitch changeup right out over the plate for a solo home run the other way to right field, which got the Yankees to within 2-1 on the scoreboard. Aaron Judge followed with a single on a pitch way down in the zone, then Sanchez walked.
For whatever reason Snell really struggled to locate from the stretch Thursday. I'm not sure if that's an every start thing with him or just something that happened in this game. Every time he went to the stretch, he was consistently missing away to righties, mostly down in the zone. It happened to Gleyber Torres in that fifth inning. Snell fell behind in the count 3-1, had to come back in the zone, and Torres clobbered the go-ahead three-run homer.
The first pitch of the at-bat was a 96 mph heater up in the zone that Gleyber swung through. The 3-1 pitch was a 96 mph heater up a little higher in the zone. Torres fouled that one back. Snell had beaten Gleyber with the elevated heater twice in the at-bat already. He couldn't square it up. Snell went back to the pitch in the 3-2 count and my goodness, Torres was ready for it. That swing turned a 2-1 deficit into a 4-2 lead. Thirteen homers for the kid already. He leads MLB with five three-run homers.
Domingo Best
One pitch into the game — literally one pitch — the Yankees were trailing 1-0. Matt Duffy ambushed Domingo German's first pitch fastball for a leadoff solo homer to begin the game. First time the Yankees allowed a first pitch homer to begin a game since Jose Reyes jumped Masahiro Tanaka back in 2014. Just like that, the Yankees were down 1-0. Annoying!
German bounced back quite well from the leadoff dinger — he struck out the next three batters — and, overall, he turned in the kind of solid start I would take every fifth day no questions asked. His line: 6 IP, 5 H, 3 R, 3 ER, 2 BB, 10 K, 1 HR on 91 pitches. Do that every five days and the offense and bullpen will take care of the rest. The most impressive thing? German generated 26 swings and misses. 26! Easily the most by a Yankee this season.
The Rays were able to add runs against German in the third and sixth innings and they were both kinda dumb. German hung a two-strike, two-strike curveball to Wilson Ramos in the third inning and he deposited it in left field to score a run. Giancarlo Stanton muffed the short hop and allowed the ball to deflect away, though he recovered to throw the trail runner out at the plate.
I'm not sure that ball was catchable. Maybe Brett Gardner would've had it, but probably not most left fielders. That feels like a ball most left fielders try to keep in front of them and potentially hold the runner at third. It all worked out in the end. A leadoff walk, a wild pitch, and another two-out hanger gave the Rays their third run of the game in the sixth. Feels like Domingo would've had a better pitching line without some sloppiness.
Let's get back to the swings and misses for a second though. German had 26 of them, which tied Chris Sale and Aaron Nola for the fourth most by any pitcher this season. Only pitchers with more in a game this year are James Paxton (31), Max Scherzer (29), and Jacob deGrom (27). Pretty good company, eh? Look at German's swing-and-miss breakdown Thursday night:
Four-seamer: 5 whiffs on 14 swings
Two-seamer: 3 whiffs on 9 swings
Curveball: 13 whiffs on 20 swings
Changeup: 5 whiffs on 9 swings
That is stupid good. German was out there getting swings and misses with four different pitches. Luis Severino doesn't even do that. Domingo's stuff is so obviously excellent. The potential is tantalizing. He does need to iron out the command (example: the two two-out hangers to score runs) but the ability is there. I'm exited to see what German does once he gains a little more experience.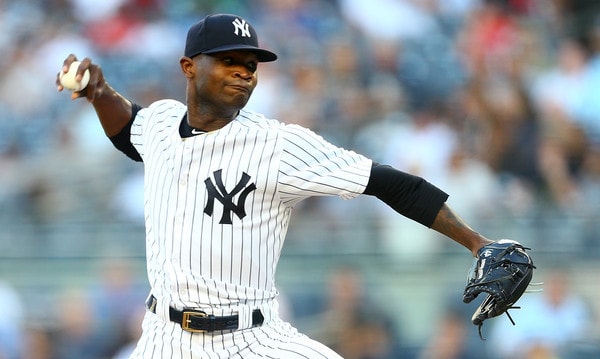 Leftovers
Another great night for the bullpen. Chad Green allowed a double to Carlos Gomez, who was immediately erased when he tried to steal third down a run. How stupid. Whatever. Dellin Betances walked a batter in an otherwise strong eighth inning, and Aroldis Chapman slammed the door in the ninth. The bullpen was legitimately crummy the first few weeks of the season. They've really settled in nicely since then though.
Welcome back, Gary Sanchez. He returned after a two-game hiatus. Gary went 0-for-2 with a strikeout, two walks, and a pop-up. He also dropped a pop-up in foul territory that had to be caught by someone — Walker was bearing down on Sanchez, but still — and people are going to blame him for the wild pitch that led to a run in the sixth even though German missed his spot by more than the entire width of the plate. At least Gary's back in there. He's not going to snap out of his slump on the bench.
Two hits for Judge and one hit apiece for Hicks, Gleyber, Andujar, and Austin. Sanchez drew two walks while Austin and Torreyes drew one apiece. The offense is still in a little funk — the Yankees haven't scored more than four runs in a game since the first game of the doubleheader in Detroit last Monday — but you know what? They're still winning much more often than not. I'll deal.
And finally, Michael Kay and Rays broadcaster Brian Anderson in the mixed FOX Sports 1 booth were great, I thought. Good chemistry between two announcers who are very familiar with both teams. It was a refreshing listen.
Box Score, WPA Graph & Standings
For the box score and updated standings, head over to ESPN. MLB has the video highlights. Here is our Bullpen Workload page and here's the win probability graph:

Source: FanGraphs
Up Next
This four-game series is just getting started. The Yankees and Rays will meet again Friday night, when Jonathan Loaisiga makes his MLB debut. Fun fun fun. Former Yankee Nathan Eovaldi will be on the bump for Tampa.