Another day, another impressive rookie, another win. The Yankees shut out the Rays 5-0 on Friday night thanks to spot starter Jonathan Loaisiga, who is filling in for Masahiro Tanaka. The Bronx Bombers have won 12 of their last 15 games and they have baseball's best record at 45-20. They're good. And they're young, which is the best kind of good.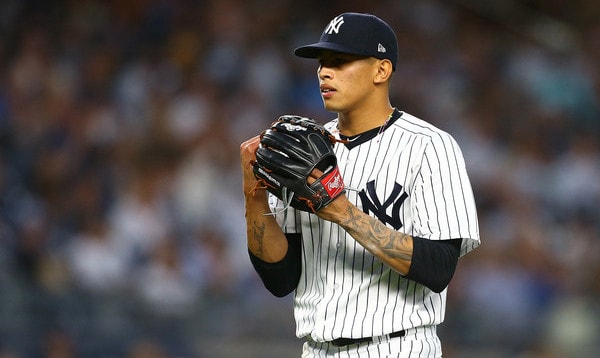 Lasagna, Hold The Meatballs
Welcome to the big leagues, Jonathan Loaisiga. The kid who skipped over Triple-A twirled five shutout innings in his big league debut Friday night, striking out six and showing some serious gumption whenever he ran into a mess. Three singles, four walks, six strikeouts, eighth ground ball outs, one fly ball out, and 17 (!) swings and misses among 91 total pitches. Facing the Rays helped, sure, but it was a mighty fine MLB debut.
Coming up through the minors — not that he was down there all that long — Loaisiga's calling card was his control. He walked four batters in 45 innings before being called up and, since returning from Tommy John surgery last year, he walked only seven of the 161 minor league batters he faced, or 4.3%. So, naturally, Loaisiga walked the first batter he faced in the big leagues. Go figure. First pitch swing and miss, then four wide ones. Womp womp.
Loaisiga rebounded to escape that first inning, pitched around more walks in the second and third innings, then really ran into a jam in the fourth. Two singles and a walk loaded the bases with two outs. I thought Loaisiga was starting to visibly fatigue at that point — his pitch count was around 80 — but he had enough left in the tank to throw a fastball by top prospect Willy Adames for the inning-ending strikeout. Loaisiga's pitch locations against righties: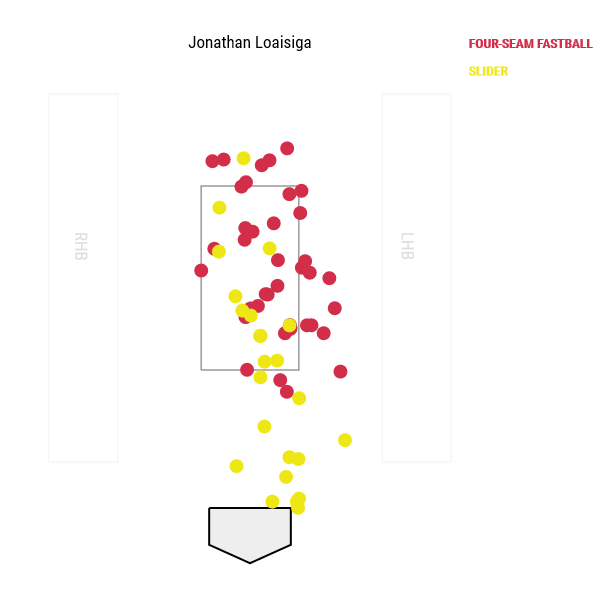 Pretty much everything on the outer half or away. Maybe a little too predictable at times — second time through the lineup Tampa's righties starting poking the ball the other way for singles — but it was Loaisiga's first start. He'll learn. Against lefties, Loaisiga showed a filthy changeup that averaged 87.7 mph. He threw eleven changeups, the Rays swung at five of them, and they missed on four of those five swings. Goodness.
Loaisiga's velocity did fade as the game progressed — his heater averaged 96.4 mph in the first inning and topped out at 96.1 mph in the fifth inning — which was probably part fatigue and part MLB debut adrenaline wearing off. All in all, great outing for the rookie. The walks will (probably) come down with experience and I'm sure he'll learn to pitch righties inside soon enough. Lots to like from Johnny Lasagna. Wait, I'm sorry. He's a big leaguer now. It's Mr. Lasagna.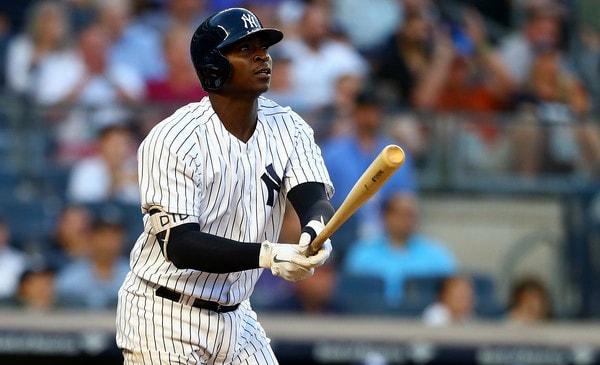 A Homer, A Sac Fly, And A Huge Sigh Of Relief
Two things are true. One, the offense has been scuffling lately. They Yankees scored 22 runs total in their previous seven games going into Friday night. And two, the Yankees have been winning anyway. They won five of those seven games. But still, the offense has been struggling, and it's getting kinda annoying. They'll snap out of it. The offense is way too good for this to last. But yeah, annoying.
Friday night it was former Yankee Nathan Eovaldi's turn to shut down the Yankees. I have nothing but love for Nasty Nate. He's a good dude who had some good moments in pinstripes. I'm happy he's back from his second Tommy John surgery and I'm happy he pitched well Friday night, especially since it was just well enough to lose. Sir Didi Gregorius gave the Yankees a 1-0 lead with a third inning solo homer on a hanging breaking ball. Sure looks like Gregorius is out of his slump to me.
Even with that home run, Eovaldi retired 15 of the first 19 batters he faced Friday, and one of the four baserunners was an infield single and another came on an error. Aaron Judge started the sixth inning with a double to right and Gregorius was able to move him to third on an infield single. Giancarlo Stanton brought Judge home with a long sacrifice fly to dead center field. At that point, the Yankees had scored 23 of their last 24 runs on homers or sac flies, by my unofficial count. The Stanton sac fly gave the Yankees a 2-0.
In the eighth inning, the offense finally broke through. Specifically, Gary Sanchez broke through. He's struggled big time the last few weeks — Gary went 0-for-3 in his first three at-bats Friday to extend that slump — so when Johnny Field was unable to make the diving catch on Sanchez's eighth inning line drive, it felt like a minor miracle. The Yankees had loaded the bases on two singles (Judge and Didi) and an intentional walk (Stanton). They needed a big two-strike hit to break things open. Gary provided it.
Write that 'W' in ink. pic.twitter.com/5malD10KXa

— New York Yankees (@Yankees) June 16, 2018
Ex-friggin-hale. I think we could all feel the weight being lifted off Gary's shoulders after that bases-clearing double fell in. Boy did he need that. The Yankees needed it too. Haven't been many easy wins this last week or so. Giving Aroldis Chapman, who'd pitched six times in the previous eleven days, a night off was rather huge. Hopefully this gets Sanchez going. He's been hitting some rockets for outs the last few days. About time he was rewarded.
Leftovers
Thirteen up, eleven down for the bullpen. Jonathan Holder walked a batter who was then erased on a caught stealing — Sanchez had a real good game behind the plate (am I allowed to say that?), blocking a bunch of pitches in the dirt and throwing out a basestealer — and David Robertson allowed a dinky ground ball single. Dellin Betances struck out two in a perfect eighth — he's a video game right now — and Adam Warren had an uneventful ninth. The final nine Rays to bat made outs.
Two hits for Judge and three hits for Gregorius. They went 5-for-8 combined. The rest of the Yankees went 4-for-26 (.154). Sanchez (double), Brett Gardner (single), Greg Bird (double), and Miguel Andujar (infield single) had the other knocks. Giancarlo drew the team's only walk, which was intentional. Another not great night for the bats. Another win anyway.
And finally, Loaisiga is the first player to skip Triple-A and make his big league debut with the Yankees since Ramiro Pena in 2009. He's the first pitcher to do it since Chase Wright in 2007. I get the feeling things will go a little better for Mr. Lasagna going forward than they did for Wright.
Box Score, WPA Graph & Standings
Head over to ESPN for the box score and updated standings, and MLB for the video highlights. Here is our Bullpen Workload page and here's the win probability graph:

Source: FanGraphs
Up Next
The Yankees and Rays will continue this four-game series with the third game Saturday afternoon. That's a normal 1pm ET start. Luis Severino will be on the mound for the Yankees. The Rays will start reliever Ryne Stanek as their "opener." Lefty Ryan Yarbrough will then pitch in long relief.