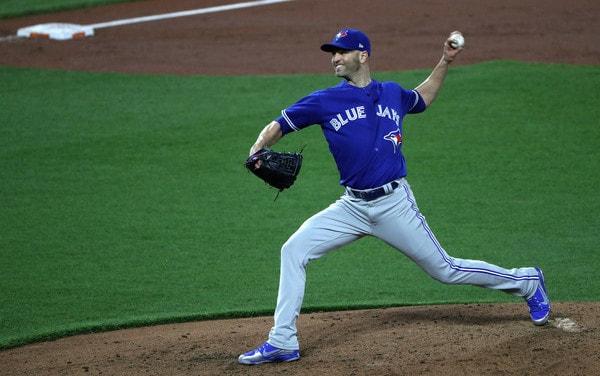 The 2018 non-waiver trade deadline is exactly six weeks away and, now that the draft is over, the first wave of trade rumors are starting to roll in. It is no secret the Yankees are looking for rotation help, and, according to Jon Morosi, they have interest in Blue Jays southpaw J.A. Happ. Morosi says the Mariners have interest too. I'm guessing many other teams do as well.
Happ is having a rock solid season for the Blue Jays, pitching to a 3.48 ERA (3.42 FIP) with a career best strikeout rate (28.1%) and walk (7.5%) and ground ball (46.4%) rates better than his career averages (8.7% and 40.5%). He's a rental — Happ is making $13M this year — and the Blue Jays stink, so either they're going to trade him or they're going to sign him to an extension. Hard to see them keeping him only to risk losing him for nothing (I guess a draft pick) as a free agent.
Trading with the Blue Jays might not be easy because of the whole AL East rivalry thing — the Yankees and Blue Jays did hook up for the Rob Refsnyder trade last year, though their last meaningful deal was the Raul Mondesi trade in 2002 — but it shouldn't be impossible. If you're the Blue Jays and you're out of the race, why wouldn't you trade a rental to a division rival? Happ's not going to hurt Toronto this year and they'd get some sweet Yankees prospects to boot. Three things about a potential Happ trade.
1. He's familiar with the AL East and that's not nothing. The AL East is not an easy place to pitch and that is especially true when you call Yankee Stadium home. Happ has been in the division for several years now and he's pitched very well, and he was part of the 2016 Blue Jays team that went to the ALCS. He's pitched in big games at Yankee Stadium and Fenway Park. It won't be new to him. You never really know how a player will adjust to a new environment after being traded and that is especially true with pitchers coming to the AL East. Happ has been there, done that. He knows the ropes. In theory, the transition should be seamless.
2. It could be an audition for next year as well. Happ is a rental, so if you trade for him, you're making the trade to improve your 2018 chances. That's all. Those however many weeks he spends in your uniform after the trade do effectively serve as an audition for next season though. If he performs well and fits into your clubhouse nicely and enjoys his time with the team, re-signing him as a free agent is absolutely an option.
Remember, Jordan Montgomery is not coming back next season. At least not until later in the season. Also, CC Sabathia may retire. Depending on their trade deadline activity, the Yankees could very well need a starting pitcher this offseason, and if they trade for Happ and he pitches well, why wouldn't they look to re-sign him? He's good and it'd be preferable to bringing in someone you have no background with, you know?
This works both ways as well. Remember when the Yankees acquired Chase Headley? He said he came to New York not expecting to like it, then he fell in love with the place and took less money to re-sign with the team when he became a free agent. Maybe the Yankees trade for Happ and he falls in love with the organization. Or maybe he hates it and won't consider re-signing with them. That's good to know too!
Trade for Happ and you're trading for him to help you win the 2018 World Series. That's it. That's the goal. The fringe benefit is getting to know him firsthand — the only Yankee who has been teammates with Happ previously is Neil Walker, and that was only for two months in 2015, so Brian Cashman can't glean much information about Happ the person from his roster — which is useful information come free agency. Happ helps you win this year and you get a chance to determine whether he can help you win in the future.
3. What's it going to cost? The million dollar question. Happ is very good and very affordable — trade for him on the July 31st deadline and his luxury tax hit would be about $4.4M, which fits comfortably into the luxury tax plan — and several teams figure to be after him (Mariners, Dodgers, Nationals, Braves, Brewers, etc.), so the team that gets him will have to win the bidding war.
The Yankees, fortunately, have the prospects to win any bidding war. That doesn't necessarily mean they should pay whatever it takes to get Happ. It just means they're not at a prospect disadvantage here. They can get pretty much anyone they want. Here are some recent rental starter trades that may serve as a Happ trade benchmark:
Jaime Garcia: Traded for an organizational top 30 prospect (Zack Littell) and a depth arm (Dietrich Enns).
Yu Darvish: Traded for a top 50-ish prospect (Willie Calhoun) and two organizational top 30 prospects (Brendon Davis and A.J. Alexy).
Andrew Cashner: Traded for an organizational to ten prospect (Josh Naylor) and two broken MLB arms (Carter Capps and Jarred Cosart).
Mike Leake: Traded for an organizational top ten prospect (Keury Mella) and a young MLB ready player (Adam Duvall).
Do any of those seem like a reasonable trade benchmark for Happ? The best match is Darvish, right? And you know what, Happ is pitching much better right now than Darvish was the time of his trade, and he didn't come with any of the injury red flags either. Darvish was less than two years removed from Tommy John surgery at the time of the trade. Happ has made at least 25 starts in four of the last five years, and the one time he didn't, it was because he got hit in the head by a line drive.
My trade proposal sucks, but I wonder whether the Yankees could build a package around Albert Abreu (a top 100 prospect) and supplement it with a big league ready player the Yankees have no room for like Tyler Wade, Billy McKinney, or Josh Rogers. Something like Abreu, Wade (the Blue Jays desperately need an actual shortstop), and third lower level piece for Happ. Blue Jays fans will say it's not enough, Yankees fans will say it's too much. So it goes.
My preference is a younger pitcher with long-term control because the Yankees have a young team and it would be cool to address this year's pitching needs and future pitching needs with one move. Absent that, I think Happ is the best rental on the market, even better than Cole Hamels given Hamels' home run issues. Happ's recent success is not a fluke. He's elevating his fastball more than ever and pitching inside more effectively. We'll see how the bidding war plays out. As far as I'm concerned, Happ is a very good and very obvious fit for the Yankees.