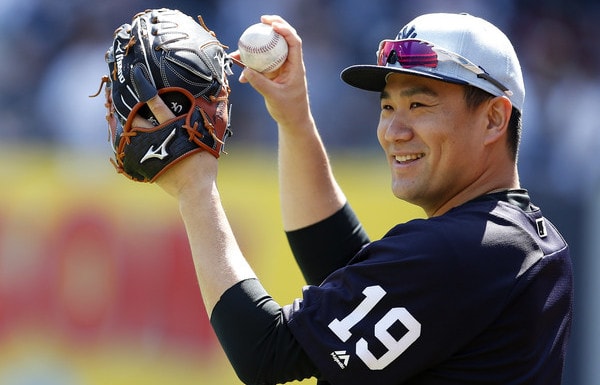 For the first time in a little more than four weeks, Masahiro Tanaka will take the mound in a big league game this evening. Tanaka's been out since June 8th with mild strains of both hamstrings — he suffered a very Mets injury running the bases at Citi Field — but he's healthy now and has completed his rehab assignment, and is ready to rejoin a rotation in need of reinforcement. Good Tanaka would be quite a boost.
Anyway, the Yankees have won five of their last seven games but dammit I'm still annoying by the first game of yesterday's doubleheader. Winnable game right there for the taking. Bah. At least the Yankees blew the Orioles out in the second game of the doubleheader. That was fun. Please treat the 25-66 team like a 25-66 team again today. Here are tonight's lineups:
New York Yankees
1. LF Brett Gardner
2. RF Aaron Judge
3. CF Aaron Hicks
4. DH Giancarlo Stanton
5. SS Didi Gregorius
6. 3B Miguel Andujar
7. 1B Greg Bird
8. C Austin Romine
9. 2B Neil Walker
RHP Masahiro Tanaka
Baltimore Orioles
1. 3B Tim Beckham
2. CF Adam Jones
3. SS Manny Machado
4. DH Mark Trumbo
5. 2B Jonathan Schoop
6. 1B Chris Davis
7. LF Trey Mancini
8. RF Joey Rickard
9. C Caleb Joseph
RHP Andrew Cashner
Hot and sunny in Baltimore but surprisingly not all that humid. Usually it gets so humid you stick to the seats at Camden Yards. Tonight's game will begin at 7:05pm ET and you can watch on YES locally and MLB Network out of market. Enjoy the ballgame.
Injury Updates: Gary Sanchez (groin) has started running the bases, so he's doing everything as he works his way back into game shape. Hitting, catching, throwing, running, the whole nine … Gleyber Torres (hip) played catch today. Pretty sure this is the first time he's done any baseball activity since landing on the disabled list.
Roster Moves: As expected, Luis Cessa was sent down to Triple-A Scranton following last night's game to clear a roster spot for Tanaka. Gio Gallegos also went back down since he was the 26th man … So long, David Hale. He cleared waivers and elected free agency. I suspect he will re-sign with the Yankees in short order. It would be the third time this year Hale has elected free agency and re-signed with the Yankees. No idea why he doesn't just accept the outright assignment.
All-Star Game voting: Giancarlo Stanton is currently third in the Final Vote race behind Jean Segura and Andrew Benintendi. Stanton's hitting .310/.377/.599 (163 wRC+) with eleven homers since June 1st, you know. Here's the ballot. Voting ends Thursday.