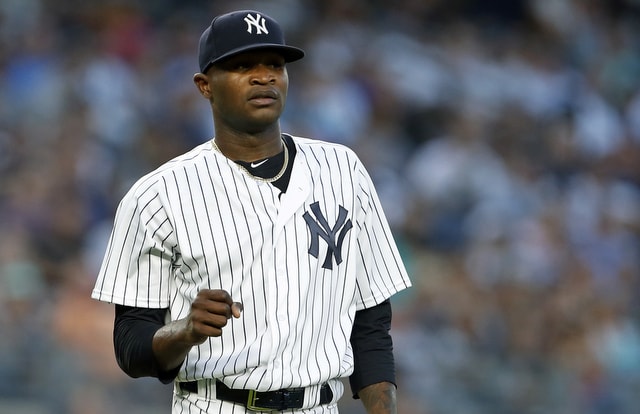 Only three more games until the All-Star break. Each year it's right around now that I start to feel like players are in survival mode. Just finish up these last few games, stay healthy, then enjoy the break and recharge the batteries. The Yankees have played eight games in the last seven days. I'm sure the guys are feeling it.
Anyway, there are two rookies on the mound tonight: Domingo German vs. Shane Bieber. German no-hit these Indians for six innings in his first career big league start a few weeks ago. Bieber is a top prospect — MLB.com ranks him as the game's 90th best prospect — though it's more of a command and pitchability profile than a blow-you-away profile. The opposite of German, basically. Here are tonight's lineups:
New York Yankees
1. LF Brett Gardner
2. DH Aaron Judge
3. CF Aaron Hicks
4. RF Giancarlo Stanton
5. 1B Greg Bird
6. 3B Miguel Andujar
7. 2B Neil Walker
8. C Kyle Higashioka
9. SS Tyler Wade
RHP Domingo German
Cleveland Indians
1. SS Francisco Lindor
2. LF Michael Brantley
3. 3B Jose Ramirez
4. DH Edwin Encarnacion
5. 1B Yonder Alonso
6. 2B Jason Kipnis
7. RF Tyler Naquin
8. C Yan Gomes
9. CF Greg Allen
RHP Shane Bieber
Another very nice night in Cleveland. The Yankees have enjoyed some nice weather these last few days. Tonight's game will begin at 7:10pm ET and you can watch on YES locally and MLB Network out of market. Enjoy the game.
Injury Update: Gary Sanchez (groin) will begin a minor league rehab assignment with Triple-A Scranton on Sunday. He's going to play seven innings Sunday, then travel with the team for their road trip to Toledo to continue the rehab assignment. Sounds like Gary will be back right after the All-Star break if all goes well … Jacoby Ellsbury (oblique, hip, foot, back) has not yet resumed baseball activities and there's no timetable for his return. At this point, it seems unlikely he'll be back before rosters expand on September 1st. Wouldn't surprise me at all if Ellsbury is conveniently ready on September 1st.
All-Star Game Update: Aroldis Chapman withdrew from the All-Star Game to rest his achy left knee, he said today. He's been replaced on the All-Star roster and is ineligible to play in the game, though he will be in Washington next week to take part in all the All-Star activities. Chapman is available to pitch this weekend.