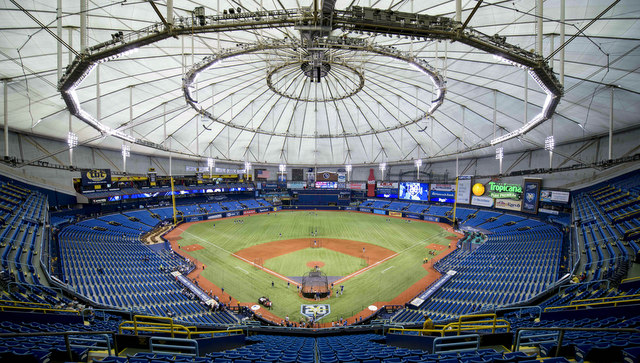 We interrupt this homestand to bring you a quick three-game series in Tampa. As I've been saying, the schedule is very weird this year. The Yankees just played two (supposed to be three) games at home against the Mets, now they're in Tampa for three games against the Rays, then they go back home for four against the Royals and two against the Orioles. What?
Well, whatever. Three games at Tropicana Field are coming up and they we don't have to worry about another rainout after last night. It's always a playable 72-ish degrees inside the gloomy Trop. The Yankees are 0-3 in this building so far this year, though two of those three games were extremely winnable, so it's not like they got blown out. That series doesn't matter now. Go out, win tonight, then move on to the next one. Here are the lineups:
New York Yankees
1. LF Brett Gardner
2. RF Aaron Judge
3. SS Didi Gregorius
4. DH Giancarlo Stanton
5. CF Aaron Hicks
6. C Gary Sanchez
7. 1B Greg Bird
8. 3B Miguel Andujar
9. 2B Neil Walker
RHP Luis Severino
Tampa Bay Rays
1. CF Kevin Kiermaier
2. 3B Matt Duffy
3. 1B Jake Bauers
4. DH Ji-Man Choi
5. LF Joey Wendle
6. 2B Daniel Robertson
7. RF Mallex Smith
8. SS Willy Adames
9. C Jesus Sucre
RHP Hunter Wood
Hot and sticky in St. Petersburg today, so a good day to spend inside an air conditioned dome. Tonight's series opener will begin at 7:10pm ET and YES will have the broadcast. Enjoy the game.
Injury Updates: Clint Frazier does not have another concussion. He has been diagnosed with post-concussion migraines, which are apparently pretty common. Frazier was placed on the MLB disabled list because the migraines started when he was still in the big leagues. Specifically, they started after this play … Gleyber Torres (hip) is on track to return Wednesday … Jacoby Ellsbury (oblique, hip, foot, back) still has not resumed baseball activities. He is still rehabbing his various injuries and does expect to play at some point this season. Gonna be awfully convenient when Ellsbury is ready to be activated off the disabled list on September 1st.