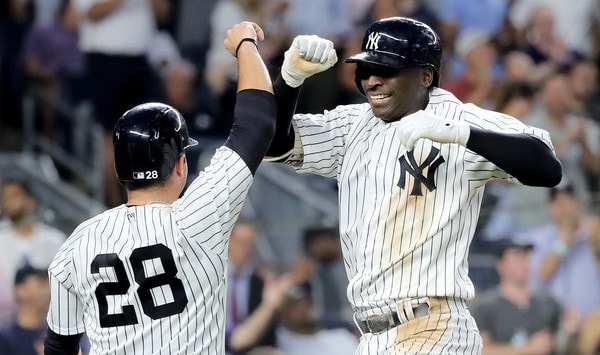 Doubleheaders are a fun baseball novelty, but I'm getting pretty sick of them. Within the last eight weeks the Yankees have had a doubleheader in Detroit, a one-and-a-half-header in Washington, a doubleheader in Baltimore, and now they have a doubleheader against the Royals. And there's another doubleheader in Baltimore on the schedule next month. Plus an off-day that turned into a makeup game against the Mets. Yuck.
Anyway, the schedule is what it is. Can't do anything about it. The Yankees and lowly Royals are playing a split admission doubleheader today and thus far the Yankees are 3-3 in doubleheader games this season, including the suspended game against the Nationals. Winning two games in one day is never easy, but the Royals stink, and the Yankees have already lost enough games against last place teams. One game at a time though. Gotta win the first one before you can think about the sweep. Here are the lineups for Game One of today's doubleheader:
New York Yankees
1. CF Aaron Hicks
2. DH Giancarlo Stanton
3. SS Didi Gregorius
4. 2B Gleyber Torres
5. 1B Greg Bird
6. 3B Neil Walker
7. C Austin Romine
8. LF Tyler Wade
9. RF Shane Robinson
RHP Luis Severino
Kansas City Royals
1. 2B Whit Merrifield
2. DH Rosell Herrera
3. C Salvador Perez
4. 1B Lucas Duda
5. RF Jorge Bonifacio
6. LF Alex Gordon
7. CF Brian Goodwin
8. 3B Alcides Escobar
9. SS Adalberto Mondesi
RHP Brad Keller
It is cloudy, hot, and sticky in New York today, and there's a tiny little bit of rain in the forecast throughout the day. Doesn't look like anything that will delay either game, though they might play through raindrops at times. The first game of today's doubleheader will begin at 1:05pm ET and you can watch on WPIX locally and MLB Network out-of-market. Enjoy the game.
Roster Notes: After yesterday's flight cancellation, J.A. Happ is en route to New York today and is expected to arrive at some point during Game One. Assuming he isn't delayed again and does arrive this afternoon, he'll be the 26th man for the second game of the doubleheader. The Yankees can't just not put him on the roster if he's with the team. That means someone will have to go following tonight's game. Curious to see what the Yankees do here. They already have a three-man bench, so I don't think they're going to demote a position player. Is this is the end for Chasen Shreve? We'll see.
Injury Update: Miguel Andujar is dealing with a nagging something, apparently. He was not in the lineup Friday night, but did come off the bench to replace Aaron Judge. Andujar was in the lineup at DH last night and he's not in the lineup today. Seems like they're trying to give him some time off his feet.
Royals Note: In case you missed it, the Royals traded Mike Moustakas to the Brewers for two prospects late last night, so the Yankees won't see him the rest of the weekend.
Update (6:30pm ET): The Yankees, very annoyingly, dropped the first game of today's doubleheader. Here are the lineups for the second game:
New York Yankees
1. CF Brett Gardner
2. RF Giancarlo Stanton
3. SS Didi Gregorius
4. 3B Miguel Andujar
5. DH Greg Bird
6. 1B Neil Walker
7. C Kyle Higashioka
8. 2B Tyler Wade
9. LF Shane Robinson
LHP CC Sabathia
Kansas City Royals
1. 2B Whit Merrifield
2. RF Rosell Herrera
3. DH Salvador Perez
4. LF Jorge Bonifacio
5. 1B Lucas Duda
6. 3B Hunter Dozier
7. CF Brian Goodwin
8. SS Alcides Escobar
9. C Drew Butera
RHP Heath Fillmyer
No change in the weather from this afternoon. Still hot and sticky with maybe some drizzle mixed in. Tonight's game will begin at 7:05pm ET and you can watch on YES. Try to enjoy.
Roster Move: Happ has arrived and he is indeed on the roster as the 26th man for tonight's game. The Yankees had to activate him. Can't just leave him off the roster as long as it's convenient. The Yankees will have to make a roster move to get down to 25 players after the game. I'm guessing it'll be Shreve, but he's lasted this long, so who knows.