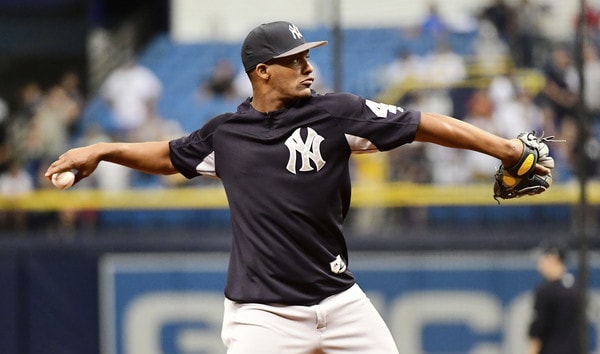 The 2018 non-waiver trade deadline is exactly three weeks away now, and at some point between now and then, the Yankees are going to add a starting pitcher. I'm sure of it. Who will they get? Well that's a much different question. I have no idea. They've been connected to J.A. Happ, but he's stunk recently. Matt Harvey and Tyson Ross are not among their top targets, reportedly.
Thanks to their strong farm system and bevy of young players, the Yankees have plenty of trade chips at their disposal. Brian Cashman can make any kind of trade he wants. Big, small, whatever. The Yankees have the pieces to do anything. Among those pieces: Miguel Andujar. The first year third baseman is hitting .279/.309/.500 (117 wRC+) through 78 games and he's currently 22nd in baseball with 40 extra-base hits. That's among all players too, not only rookies.
The Yankees supposedly made Andujar off-limits during Gerrit Cole trade talks over the winter and, given his performance this year, it stands to reason they don't want to trade him now either. But, to get a true impact starter like a Jacob deGrom (pretty please), they'll probably have to part with a high-end big leaguer. Gleyber Torres is not going anywhere. That leaves Andujar as the more likely trade chip.
Longtime RAB readers know I'm a big Andujar fan. Have been for a while, dating back well before last year's breakout. I don't want the Yankees to trade him. I also recognize the Yankees would be foolish to take Andujar off the table completely. They're a bona fide World Series contender — the rebuild transition is over, it's time to win — in need of another starting pitcher, and if trading Andujar can help them acquire a high-end starter, they have to be open to it.
The reasons to keep Andujar are fairly obvious. He's got above-average bat-to-ball skills (9.3% swing-and-miss rate) and there is thunder in his bat (.221 ISO). It's a great combination, contact and power. And, as he gets older and gains more experience, I expect his contact ability to improve further. Andujar also has a rocket throwing arm at third. An unorthodox throwing motion? Sure, but his arm is strong and accurate. Why trade him then? I see three reasons.
Plate discipline is not a strength
Seventy-eight games into his season Andujar owns a 3.8% walk rate — that's 12 walks in 314 plate appearances — and a 35.9% out-of-zone swing rate. That's not an astronomical chase rate — the MLB average is 30.1% and Andujar is 32nd highest among the 165 players with enough plate appearances to qualify for the batting title — but it is high. To Andujar's credit, his chase rate is coming down: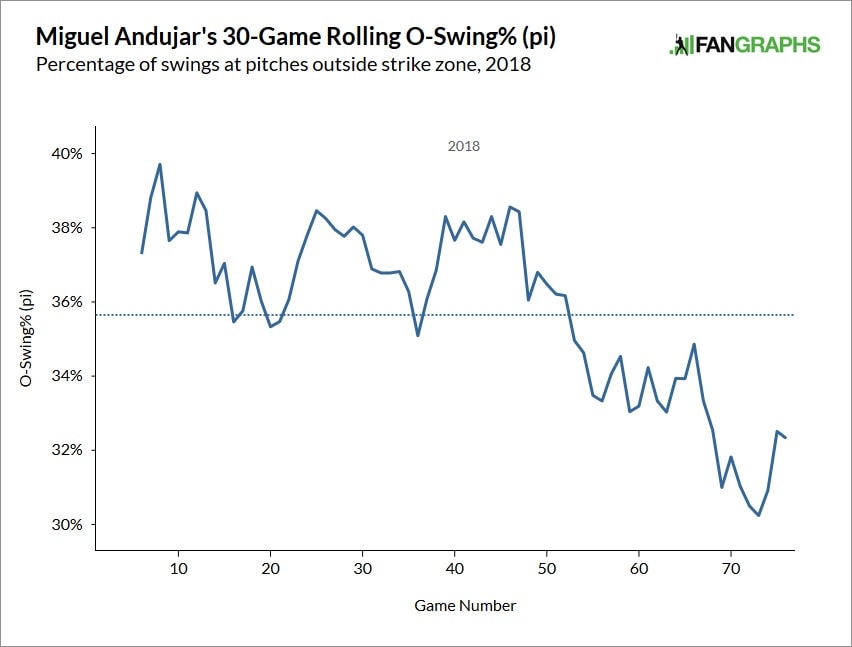 That's good to see, but in all likelihood plate discipline will never be a strength for Andujar. He's up there to swing the bat, first and foremost. Andujar makes enough contact that he has more of a low strikeouts/low walks profile than a high strikeouts/low walks profile, which is good, but his OBP will also be tied heavily to his AVG. That's why, even as good as he's been and with all the hard contact he makes, Andujar is still sitting on a .309 OBP.
Offensively, Andujar's strengths are getting the bat on the ball and hitting it with authority, which are the most important offensive skills as far as I'm concerned. Andujar can do that. His lack of plate discipline could limit his offensive output though, not only by dragging down his OBP, but also potentially turning him into a Starlin Castro-esque hacker who gets himself out more than you'd like, putting a lower than expected ceiling on his offensive potential.
His range is pretty terrible
The way people talked about Andujar's defense coming into the season, you'd have thought he was a total butcher at the hot corner. That is most certainly not the case. His hands are good and his arm is very strong and accurate. Andujar's transfer can be slow, which is something that has to be cleaned up, otherwise the skills are there for a strong defensive third baseman. And yet, among the 21 players with 500+ innings at third base:
DRS: -12 (Maikel Franco is second worst at -9)
UZR: -6.8 (Evan Longoria is next worst at -4.6)
Total Zone: -16 (better than only Colin Moran's -19)
Yikes. The defensive stats hate Andujar. It's a small sample size, of course. Truth be told we need several years of data before defensive numbers become reliable. The early returns are scary though. They rate Andujar as basically the worst defensive third baseman in the game today. He has no trouble fielding the ball and his throws are fine, so what gives? It's his range.
The individual components of UZR say Andujar's arm and ability to avoid errors are basically league average, which matches the eye test, I think. The range component is far below average, however. Inside Edge data says Andujar makes basically nothing but routine plays. Here is the breakdown:
Routine (90-100%): 96.9%
Likely (60-90%): 62.5%
Even (40-60%): 0.0%
Unlikely (10-40%): 0.0%
Remote (1-10%): 0.0%
Impossible (0%): 0.0%
Andujar has had no trouble making "routine" plays, which are batted balls that are turned into outs 90-100% of the time league-wide. His conversion rate is on the low end of the scale for "likely" plays, and he's done nothing below that. Batted balls that are turned into outs 0-60% of the time around the league have been turned into an out 0% of the time by Andujar. Yikes.
That's a long way of saying if you hit the ball at Andujar, he's going to make the play. Hit the ball anything more than a step or two away from him in either direction, and he's probably not going to make the play. Does that mean he won't make those plays forever and ever? No, of course not. Andujar could improve his reads and first step and range. Young players are known to get better, after all. That said, Andujar is something of a defensive liability. His value is tied up heavily in his bat, specifically his power and ability to make contact since he never walks.
The Yankees have Drury
Trading Andujar wouldn't make much sense otherwise. The Yankees have another young big league third baseman in the organization right now. Andujar's emergence has pushed Brandon Drury into an up-and-down utility role now, but he is a third baseman by trade, and the Yankees seem to really like him. He was the third baseman on Opening Day, remember.
In this hypothetical world where the Yankees trade Andujar for a quality starter, the Yankees could plug Drury right in at third base and be more than fine at the position. I don't think Drury is as good as Andujar overall. I think Andujar's bat is more valuable than Drury's all-around game. But the drop off might not be significant, at least not in the short-term, and that drop off could be more than made up by the pitcher who comes in a trade.
What about trading Drury and keeping Andujar? Certainly possible. I don't think the Yankees are getting an impact pitcher for Drury though. We know Drury's trade value. It's two Taylor Widener/Nick Solak level prospects. We know the Pirates wanted Andujar for Gerrit Cole, and reports indicate the Mets will need either Gleyber or Andujar before they even begin to think about a deGrom or Noah Syndergaard trade. Andujar seems to have more trade value. Drury at third plus whatever pitcher the Yankees get for Andujar figures to be better than Andujar at third and whatever pitcher the Yankees get for Drury. (Or the Yankees could trade Andujar and replace him with Manny Machado.)
* * *
In all likelihood, the Yankees are not trading Andujar prior to the deadline. The Mets don't seem motivated to move deGrom or Syndergaard and I'm not sure another pitchers at that level is even out there. Michael Fulmer? I think the Yankees have the pieces to get him without including Andujar. Madison Bumgarner isn't a realistic trade candidate. Perhaps a surprise trade candidate will pop up between now and the deadline that makes dealing Andujar worthwhile. I love the kid. I'm a big fan and hope the Yankees keep him. But, in the right deal, there are definitely reasons to make him available.