Four wins in the first five games of this six-game homestand against the two worst teams in baseball. The Yankees are taking care of business. They won Tuesday's series opener 6-3 over the Orioles and are a season high 31 games over .500 at 68-37.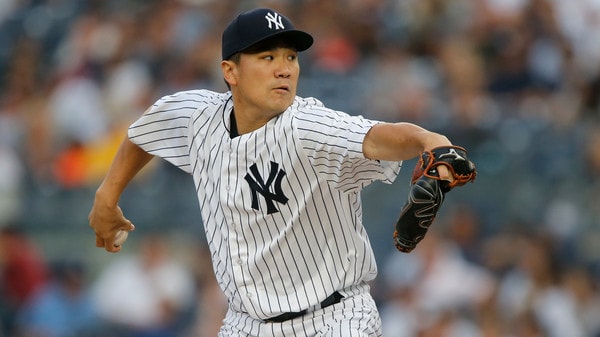 Six Scoreless For Tanaka
Make it 17 consecutive scoreless innings for Masahiro Tanaka, who is now sitting on a 3.84 ERA (4.42 FIP) in 98.1 innings. The numbers are starting to look respectable. Hope this means a big second half is on the way. This was the third straight strong outing for Tanaka, who's looked much better since the dual hamstring injuries than he did before landing on the disabled list.
Things did get dicey in the first inning, however. Jace Peterson took a breaking ball to the foot and Adam Jones walked on four pitches, then Tanaka threw a first pitch ball to Mark Trumbo. Six straight pitches out of the zone. Tanaka was able to rebound to strike out Trumbo and get Chris Davis to roll over on a grounder into the shift. A 31-pitch first inning was not ideal, but it was scoreless, so I'll take it.
Tanaka settled down after that first inning and retired 16 of the final 20 batters he faced. He allowed a leadoff double in the third inning, then struck out the next three batters. He allowed a one-out single in the fifth, then got an inning-ending double play. He allowed a leadoff walk and a one-out single in the sixth, then struck out the next two batters. Tanaka's final line: 6 IP, 3 H, 0 R, 0 ER, 2 BB, 8 K on 105 pitches. Good work, Masahiro.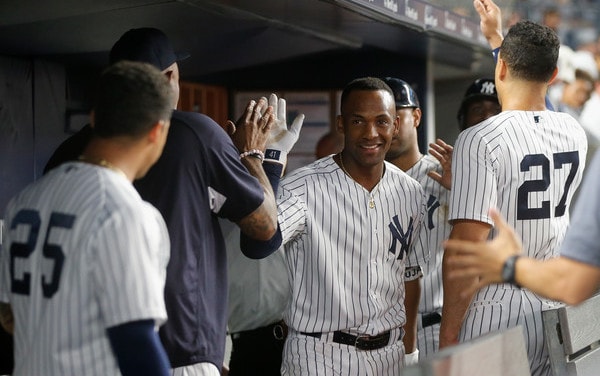 Building The Lead
A leadoff walk, a one-out walk, and a two-run single gave the Yankees a quick 1-0 first inning lead against former Yankees farmhand Yefry Ramirez. The Yankees were in danger of stranding the two runners, but Gleyber Torres came through with the two-out, two-strike single back up the middle to score Brett Gardner from second base. Gleyber has struggled a bit since returning from the disabled list. Fortunately he came through there.
The Yankees added a second run in the third inning on a little flare single to left field by Didi Gregorius. It was more of a bloop than a flare, but whatever. Brett Gardner singled to center, stole second, then distracted shortstop Tim Beckham on Giancarlo Stanton's ground ball and forced an error. Or at least I think he distracted Beckham and forced the error. He had to jump over the ball and it didn't look like Beckham saw it well. Good inning for Gardner either way.
In the fifth inning, the Yankees finally broke the game open. Stanton took a pitch to back, Gregorius pulled a single to left, and Aaron Hicks worked a walk after Ramirez made him look pretty silly in his first two at-bats. Hicks finally picked up the changeup third time around. Anyway, Gleyber popped up the first pitch with the bases loaded and no outs (argh), though Greg Bird picked him up with (what else?) a sacrifice fly. The Bronx Sacrifice Fliers.
The Torres pop-up and Bird sac fly meant the Yankees were dangerously close to turning a bases loaded, no outs situation into just one run. That's been happening a little too often lately. Fortunately, that did not happen. Ramirez left a fastball out over the plate to Miguel Andujar and Andujar drove it into the left field seats for a three-run home run and a 6-0 lead. The kid's hands are lightning fast.
Believe it or not, that was Andujar's first homer since June 29th. His over-the-fence pop disappeared for a while but he continued to hit. In 24 games and 94 plate appearances between that June 29th homer and his three-run homer in this game, Andujar still hit .322/.372/.402 (113 wRC+). The dingers weren't there but everything else was. Love Andujar. Can't wait to see this kid when he reaches his prime years.
Leftovers
Bit of a messy eighth inning for A.J. Cole, who went single, walk, double to the first three batters of the inning to give the Orioles two runs. He was charged with a third run when Kyle Higashioka couldn't handle Dellin Betances' fastball and Andujar couldn't handle Higashioka's throw as the runner tried to advance. Real sloppy play. Higashioka's not going to hit much. The least he could do is catch the ball.
Anyway, Cole struck out two in a scoreless seventh before that messy eighth inning — he allowed three runs in 1.1 innings in this game after allowing two runs in his first 21.2 innings as a Yankee — and Betances struck out two of the three batters he faced to mop up that eighth inning mess. Aroldis Chapman struck out the side in the ninth. He's struck out eight of the eleven batters he's faced since Chasen Shreve had to bail him out against the Mets.
Two hits for Sir Didi and one hit each for Gardner, Torres, Andujar, and Higashioka. Hick drew two walks while Gardner, Gregorius, and Higashioka drew one each. The Yankees went 3-for-10 with runners in scoring position, which is objectively good. Too bad everyone only seems to remember the seven times they didn't get a hit.
And finally, tonight was the the 53rd home game of the season and the 21st sellout. That is the most sellouts in a single season in the ten-year history of the new Yankee Stadium. The previous record was 20 in 2009. Still 28 more home games to go.
Box Score, WPA Graph & Standings
ESPN has the box score, MLB has the video highlights, and ESPN has the updated standings. Here's our Bullpen Workload page and here's the win probability graph:

Source: FanGraphs
Up Next
Assuming the weather cooperates, the Yankees and Orioles will wrap up this two-game Wednesday afternoon. There are showers in the forecast though. Hopefully they clear out between now and then and they can get the game in. I am completely sick of rainouts. The Yankees have met their quota for the season. Sonny Gray and Alex Cobb are the scheduled starting pitchers for the 1pm ET game.