It wasn't easy for the first seven innings, but the Bronx Bombers brought their power-hitting and bullpen forte to take the first game in Cleveland. Luis Severino wasn't at his best but you know what good teams do? They use different strengths to pick up the win. It's their 61st win of the season and they still sit 3.5 games behind the Red Sox, who won their 10th consecutive game tonight.
The back-and-forth battle
The Indians have a very vaunted top three of the lineup. We are talking Francisco Lindor-Michael Brantley-Jose Ramirez here. Lindor and Ramirez have been extremely scary this season. Coming into today, the duo is on pace for 90+ extra base hits each this season.
Anyways, Cleveland jumped on Severino early to start this game. Lindor led off with a double. Brantley followed it up with a grounder to advance him to third. Ramirez hit an RBI single to give the Indians a 1-0 lead. The Yankees got a break when Romine caught Ramirez stealing 2nd base. However, Edwin Encarnacion, who you may remember from his day killing AL East pitchers with Toronto, hit a hanging slider into the left field seats for a solo homer. 2-0 Indians. Sevy has seen better starts in his career.
Did the Yankees tie it up? Boy yes they did. For the first two innings, Corey Kluber seemed locked in. In the third inning, however, Miguel Andujar quickly ended the no-hitter by doubling off the left field wall. That would have been easily out in the Yankee Stadium, but Progressive Field's got that high left field wall, so Andujar settled with a two-bagger. Kluber, in a true Kluber fashion, struck out Austin Romine and Neil Walker to make it two outs. Enter Brett Gardner. The gritty gutty outfielder took a cutter in the inner half of the zone and drove it just over the right field fence to make it a tie game.
The Indians took the lead again in the bottom of the frame. Brantley's single and stolen base put a runner in the scoring position and Yonder Alonso drove him in with an RBI single. We can talk about this later but why not now – Severino was not sharp today. He wasn't really fooling anyone. He struck out only one in five innings pitched and generated seven whiffs in 94 pitches. He gets a bit more than double that amount on normal days. Does that mean we should panic about him? Absolutely not. Pitchers are human and they go through rough stretches. Pitching is a very difficult art to master and it's ridiculous how Severino has kept his ERA in low-2.00's for most of the season.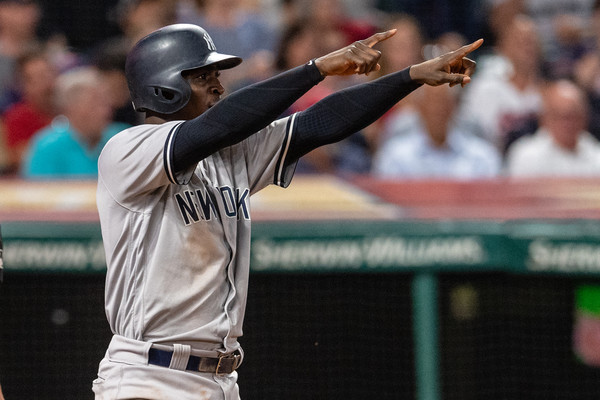 Anyways, back to the game. Guess who took Kluber deep the next inning though? Yep, it was Didi Gregorius again. He took a slider right down the middle and hit a long, 430-feet dinger over the center field fence. Didi isn't someone we think of in terms of raw power but goodness, that was some pop. That home run was a win for the Yankees and the #narrative.
The Yankees weren't done there. Giancarlo Stanton singled to center and Aaron Hicks got on base on a fielder's choice error. He laid down a bunt right in front of the catcher Yan Gomes and the throw to second went way off line, allowing Stanton to advance to third. Greg Bird followed it up with a deep double that missed being a home run by a few inches to make it 4-3 Yankees. With Kluber walking Andujar, the Yankees were poised for a bigger inning by having bases loaded with no out. However, Romine struck out and Walker lined into a double play to end the inning. That was quite anti-climactic.
And welp, the Indians tied it again in the fifth. Jose Ramirez, who is really good at hitting, squared up on a 99 mph Severino fastball for a solo home run. That was his 28th dinger of the year, which ties him for the MLB lead with J.D. Martinez.
The late grind
The Yankees went to the bullpen starting in the bottom of sixth while the lineup was still battling Corey Kluber. The game remained tied 4-4 until the top of the eighth. Gregorius earned a walk to lead off the frame. Two batters later, Aaron Hicks hit a 405-feet double to dead center to drive in the go-ahead run. That ended Kluber's night at 114 pitches and the Indians brought in their LOOGY guy Oliver Perez (who will never not be in the MLB) to face Greg Bird.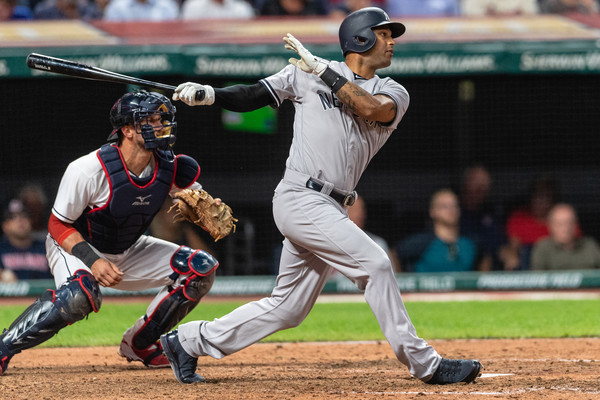 During Bird's at-bat, Hicks stole third on a very close call – so close that the Indians challenged it. That stolen base proved to be huge as Bird's fly out to left became an easy sacrifice fly and padded another run for the Yanks. 6-4 New York. The Bombers added another run in the ninth on the second Gardner homer of the night. He got a Tyler Olson fastball near the inside edge and just turned on it. Result? A big fly that hit the right field foul pole. What's better than a two-run lead? A three-run lead. The Yankees led 7-4 and the score stayed like that for good.
Leftovers
So Severino didn't have his best day. You know who performed well tonight? The bullpen. Adam Warren, David Robertson, Dellin Betances and Aroldis Chapman all threw an inning each and combined for no hits and three strikeouts. That seems to be one huge contrast between the Yankees and Indians. Cleveland has a great rotation and their offense can knock in runs, but good lord their bullpen is terrible. The Yankees fought through the early parts of the game against a great starter and lineup and broke through their weakness to win the game.
Box score, highlights, standings and WPA
Here's tonight's box score, video highlights, updated standings, and WPA.

Source: FanGraphs
The Yankees will be at it again in Cleveland tomorrow for the game two of the four-game set. Domingo German will be on the hill against Shane Bieber.