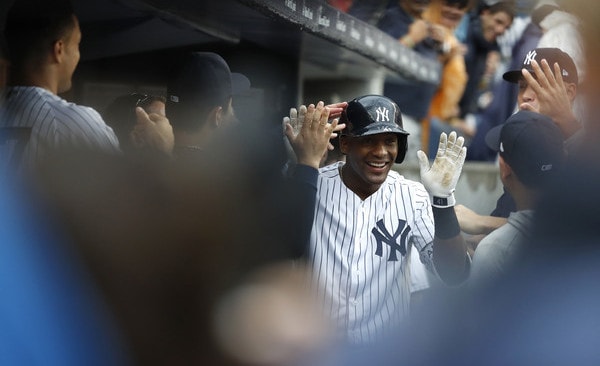 So far, so good. The Yankees are 5-1 in the first six games of this four-week stretch against non-contenders, and today will determine whether they rebound from the four-game sweep in Boston with a 6-1 week or a 5-2 week. Both are good! But man, 6-1 looks sooo much better than 5-2. A win today would be swell.
Actually, let me amend that: A blowout win today would be swell. Score a ton of runs early and let Sonny Gray take it home out of the bullpen. That would be ideal. Could use a laugher after yesterday's back-and-forth affair. Win a game, win the series, then get ready for Jacob deGrom and the Mets. Here are today's lineups:
New York Yankees
1. CF Aaron Hicks
2. DH Giancarlo Stanton
3. 3B Miguel Andujar
4. SS Didi Gregorius
5. 2B Gleyber Torres
6. 1B Luke Voit
7. RF Neil Walker
8. C Austin Romine
9. LF Brett Gardner
LHP CC Sabathia
Texas Rangers
1. RF Shin-Soo Choo
2. 2B Rougned Odor
3. SS Elvis Andrus
4. 3B Adrian Beltre
5. 1B Jurickson Profar
6. DH Robinson Chirinos
7. LF Joey Gallo
8. C Isiah Kiner-Falefa
9. CF Delino DeShields Jr.
LHP Martin Perez
The rain keeps getting pushed back and it now looks like it won't arrive until after the game, thankfully. For a while there it looked like this game might have to start in a long delay. That shouldn't be the case. The skies will be clear for a few hours. First pitch is scheduled for 1:05pm ET and YES will have the broadcast. Enjoy the game.
Injury Update: Stanton (hamstring) won't play the field for at least a few days because he's still experiencing tightness. They're not going to push him and risk another outfield injury. Losing Giancarlo would be a devastating blow … Gary Sanchez (groin) has been hitting, running, and going through defensive drills in Tampa. He's expected to travel to New York today to continue his rehab work. That typically means the player is getting closer to joining Triple-A Scranton or Double-A Trenton for a rehab assignment … Clint Frazier (post-concussion migraines) is hitting and throwing down in Tampa, but he still experiences symptoms throughout the day. He won't ramp up his work until he is symptom free.