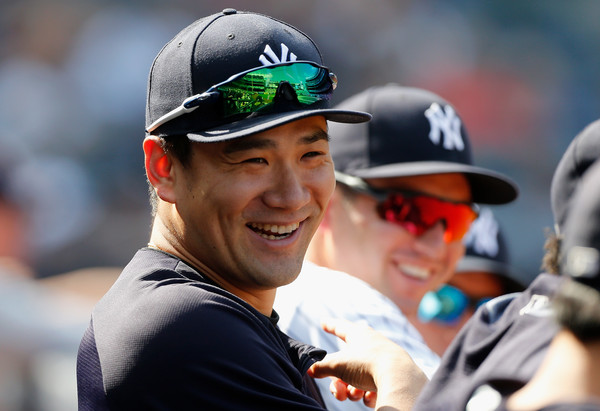 The Yankees lost last night, in one of the more frustrating games in recent memory – though, to be fair, that's largely due to the fact that the Rays are the most annoying team in Major League Baseball. And the edge in the season series is on the line this afternoon, as they've split the first fourteen games thus far. Let's end the series on a high note, gentlemen.
As an aside, this is the Yankees last series against a team with a winning record until they visit Oakland on September 3. Their next five series are against the Blue Jays (55-65), Marlins (48-75), Orioles (36-85), White Sox (44-76), and Tigers (50-71). This is as good an opportunity as they're going to have to put some distance between them and the A's (and maybe even gain ground on the Red Sox) as they'll have the rest of the way. Winning this series would be an ideal start.
Here are the lineups:
New York Yankees
1. Aaron Hicks, CF
2. Giancarlo Stanton, DH
3. Miguel Andujar, 3B
4. Didi Gregorius, SS
5. Gleyber Torres, 2B
6. Neil Walker, RF
7. Greg Bird, 1B
8. Kyle Higashioka, C
9. Shane Robinson, LF
RHP Masahiro Tanaka
Tampa Bay Rays
1. Mallex Smith, RF
2. Joey Wendle, 3B
3. Jake Bauers, 1B
4. Tommy Pham, LF
5. Ji-Man Choi, DH
6. Kevin Kiermaier, CF
7. Willy Adames, SS
8. Brandon Lowe, 2B
9. Michael Perez, C
LHP Blake Snell
It's going to be a hot one in the Bronx today, with temperatures slated to hit the 90s by the early afternoon. Thankfully, there's no rain in the forecast. The first pitch is slated for 1:05 PM EST, and the broadcast will be on YES.
Roster Moves: Luis Cessa was sent back to Scranton following last night's game. Tommy Kahnle was recalled to take his place on the roster.