A fitting end to a disastrous series that exposed the Yankees as inferior to the Red Sox in every single way. Pitching, hitting, defense, baserunning, managing, decision-making, you name it. The Yankees shift better than the Red Sox. That's about it though. A three-run lead with one out in the ninth turned into a 5-4 loss Sunday night and a 9.5-game deficit in the AL East. Can a team 26 games over .500 hit rock bottom? The Yankees sure as hell just did.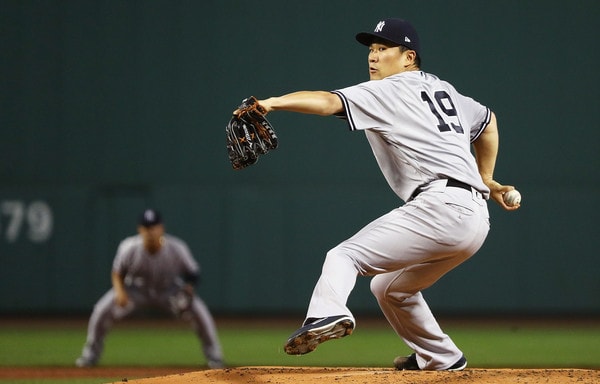 Tanaka Grinds
A good start but neither an easy nor a long start for Masahiro Tanaka, who had his 21-inning scoreless streak snapped when Mookie Betts hit a fifth inning solo home run to open the scoring. The Red Sox had men on base in each of his five innings, including the leadoff man twice, but the solo homer was the only damage. Tanaka struck out nine and those strikeouts helped him limit the damage. Twice he fanned J.D. Martinez with men on base to end an inning.
All those strikeouts as well as a boatload of foul balls — the Red Sox fouled away 20 pitches total against Tanaka, including six in two-strike counts — elevated Tanaka's pitch count. Two outs in the fifth and he was out of the game with 97 pitches. The Red Sox wore him down. On one hand, I'm sure Tanaka had enough gas in the tank to finish that fifth inning. On the other hand, I was totally cool with letting a fresh reliever (David Robertson) go after Martinez with a man on second base rather than let Tanaka face him a third time. (Robertson fanned Martinez.)
Tanaka's final line: 4.2 IP, 6 H, 1 R, 1 ER, 1 BB, 9 K, 1 HR on 97 pitches. Fourteen swings and misses against the team with baseball's third lowest swing-and-miss rate (9.5%). The crazy thing? Tanaka threw a first pitch strike to only six of the 21 batters he faced. He was behind in the count early all night and he still racked up strikeouts and limited the damage to the #obligatoryhomer. Some more length would've been nice, but when it comes to innings, I'll take quality over quantity.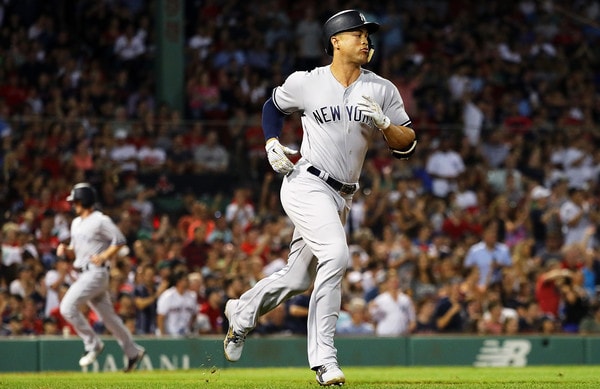 Two Breaks
Things have been going so poorly for the Yankees the last few days that they couldn't even score against David Price on Sunday. In two prior starts against the Yanks this year Price had one more out recorded (13) than runs allowed (12). Then, Sunday night, he chucked six scoreless innings. The Yankees did load the bases in the first inning before Luke Voit, somehow the No. 6 hitter on August 5th, hit a check swing tapper back to Price to end the inning.
Price threw six shutout innings Sunday night. Fortunately for the Yankees, Red Sox manager Alex Cora sent the lefty back out for the seventh. Brett Gardner started the inning with a single to left and Austin Romine worked a walk to put two on with no outs. Great at-bat by Romine. He fell behind in the count 1-2, fouled away a nasty little backdoor cutter, then took three balls to reach base. The Red Sox led 1-0, but the Yankees were in business and Price's night was over.
After Gardner and Romine reached, Shane Robinson did the only thing he could do: He squared around to bunt. He bunted a runner up earlier in the game, though it didn't lead to a run. This at-bat was … eventful. Heath Hembree threw up and in on Robinson, which is what you're supposed to do when a hitter is trying to bunt, but he really threw up and in. Three times Robinson had to duck out of the way to avoid a head shot. He gave Hembree a look after the third. The giants assembled in the dugout as well.
Giancarlo Stanton is not here to mess around pic.twitter.com/t2vtjeBIPs

— Sung Min Kim (@sung_minkim) August 6, 2018
Four pitches and three square-arounds into the at-bat, Robinson was behind in the count 1-2. It seemed the stare down had some affect too, because after that Hembree fed Robinson sliders. Two well out of the zone ran the count full, one fouled away, one above the strike zone to walk the bases loaded. Robinson and the Yankees were giving the Red Sox a a free out. It was there for the taking. Instead, Hembree walked Robinson. What a break.
The Yankees were all set up for a big inning. Bases loaded, no outs, and the top of the order due up. Aaron Hicks, after staring at a fastball down the middle and swinging over top of a hittable slider, sent a little liner back up the middle that looked like a run-scoring 6-6-3 double play. Xander Bogaerts would play the hop, step on second, and throw to first. The Yankees would get a run but the Red Sox would get two outs.
That's what should've happened. Instead, Bogaerts muffed the ball — it looked like he started toward second and took his eye off the ball before actually fielding it — and it trickled into shallow center field, allowing two runs to score. It was the first fielding error of the season for Bogaerts (he has five throwing errors) and it came at a wonderful time. A bad time for him, but a wonderful time for the Yankees. Another big break.
Of course, a 2-1 seventh inning lead is hardly safe in Fenway Park, so the Yankees went to work adding insurance runs. Giancarlo Stanton, who has crushed the Red Sox all year (.408/.455/.735), singled in an insurance run. A wild pitch moved the runners up and Gleyber Torres got another run home with a well-struck sacrifice fly to center. Too many bases loaded, no outs situations have results in zero or one run lately. The Yankees turned this one into four runs and a 4-1 lead. Hooray.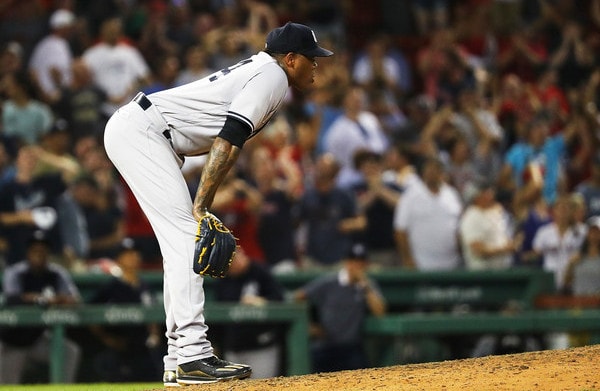 Blown Save
Three-run lead with three innings to go? Exactly the kinda game the Yankees are designed to win. Then Zach Britton walked No. 9 hitter Sandy Leon to lead off the seventh. Sigh. Never easy. Britton did what he does though, and a strikeout and two weak ground balls retired the next three batters. He missed down with the sinker a bunch but did get those three grounders. His stuff is so good — the sinker topped out at 97.4 mph Sunday — that he still gets weak contact even with no command.
After Britton did his thing in the seventh, a well-rested Dellin Betances came in for the eighth, and he went 2-0 on Martinez before hitting him in the shoulder. SIGH. Two innings with a lead, two free leadoff baserunners. Like Britton, Dellin settled down after that, striking out Bogaerts and Mitch Moreland, and getting Eduardo Nunez to ground out to third. Miguel Andujar did a nice job fielding a high hop and throwing a rocket across the diamond for an out. Goofy throwing motion? Yes. Cannon? Also yes.
Aroldis Chapman entered for the bottom of the ninth — the Yankee put two men on base in the top of the ninth but couldn't tack on another run, which turned out to be rather costly — and, like Betances, he can be quite wild when he goes a few days between appearances. Dellin walked the leadoff guy and recovered. Chapman never really recovered. He walked three batters, starting with Leon — literally Sandy Leon — the No. 9 hitter.
The first five batters Chapman faced did not make contact. Strikeout, walk, walk, strikeout, walk. The sixth batter did make contact. Martinez shot a first pitch single up the middle to score two runs. Terrible. But! The Yankees still had a 4-3 lead. Not much longer though. Bogaerts hit a chopper to third base, Andujar threw a short-hop across the diamond, and Greg Bird was unable to make the scoop at first base. Bogaerts was safe and the tying run crossed the plate. The ninth inning blame goes like this:
Chapman for walking three dudes for the second time in five appearances and gift-wrapping the Red Sox a rally. All three walks scored.
Bird for not scooping that throw. Hit him right in the mitt. He just didn't close it in time. (Or closed it too early? Not sure and I'm really interested in watching the replay again.)
Andujar for short-hopping the throw. I just praised you for the throw in the eighth inning, dude.
Chapman threw 39 pitches in that ninth inning, easily his most of the season (26 was his previous high) and his most since Game Five of the 2016 World Series, when he threw 42 pitches in a 2.2-inning save for the Cubs. A three-run lead turned into Chapman's second blown save of the season. In 16 games against the Red Sox as a Yankee, he's allowed 13 runs and 31 baserunners in 15.1 innings.
Anyway, the game predictably ended one inning later, when Leon stroked a two-out single to center against Jonathan Holder. A wild pitch moved him to second, the Yankees intentionally walked Betts to face Andrew Benintendi, and he ended the game with a walk-off ground ball single back up the middle. Once Chapman blew the save, it felt like only a matter of time until the Yankees lost. Holder, who faced seven batters without recording an out two days ago, and Sonny Gray were the only rested guys in the bullpen. (Gray was warming up for the 11th inning that never came.)
Leftovers
Two hits for Stanton, two hits for Gardner, one hit apiece for Andujar and Romine. The Yankees did draw six walks. Torres had two and Hicks, Voit, Romine, and Robinson had one each. Twelve hits and nine walks in 28 offensive innings from Friday through Sunday. Can't blame it all on Aaron Judge and Gary Sanchez getting hurt. They've been hurt, the Yankees knew they would miss weeks rather than days, and the only bat they added at the deadline was Voit. Inexplicable.
Betances called for trainer Steve Donohue in the eighth inning and they looked at his finger. Apparently he cut his ring finger a few weeks ago and every once in a while the cut opens back up when he's on the mound, so they have to repair it on the fly. It doesn't affect his grips or anything. It just bleeds a bit and they have they get it under control. He's fine.
Box Score, WPA Graph & Standings
Head on over to ESPN for the box score and updated standings, and MLB for the video highlights. Here's our Bullpen Workload page and here's the loss probability graph:

Source: FanGraphs
Up Next
This four-game series is over, but the Yankees are not done with the Sox. They're heading to Chicago's south side for a three-game series with the White Sox. Lance Lynn will make his first start — and second appearance — with the Yankees in Monday night's opener. Right-hander Dylan Covey will be on the bump for the Pale Hose.