The Yankees can't win in Tropicana Field and the Rays can't win in Yankee Stadium. Can't explain it, but it's true. The Yankees improved to 6-1 against the Rays in the Bronx this season — and 21-6 since Opening Day 2016 — with a crisp 4-1 win Tuesday night. They should all be this easy.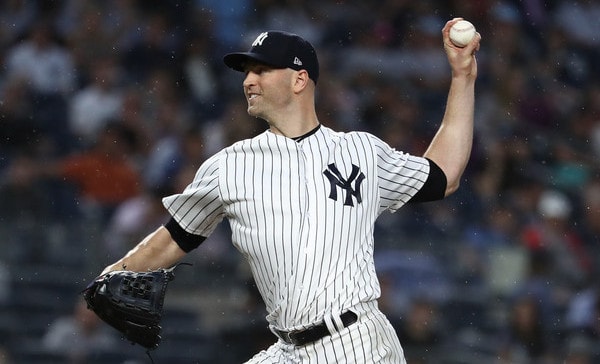 Tip of the Happ
Excellent start for J.A. Happ. Excellent but also kinda weird, because he did walk four of the first dozen he batters he faced, including three leading off an inning. The four walks chewed up 34 (!) pitches too. They were long, grueling at-bats, and Tampa's hitters outlasted Happ. He threw 34 pitches for the four walks and 72 to the other 21 batters he faced. If Happ didn't walk you, you had a quick at-bat Tuesday.
In addition to the walks, Happ held the Rays to one hit and one hit batter. The hit was a bloop single that fell in a few steps short of Brett Gardner in left field, and the hit batter was the second to last batter Happ faced. He retired eleven of the final 12 batters he faced and did not allow much hard contact at all. Average exit velocity allowed: 76.8 mph. Third lowest for a Yankees starter this season. The pitch breakdown:
61 four-seamers
20 two-seamers
19 sliders
6 changeups
Happ remains an anti-anti-fastball pitcher and it works wonderfully. His line: 7 IP, 1 H, 0 R, 4 BB, 4 K on 106 pitches. Rock solid. Happ is basically the left-handed Hiroki Kuroda. A no nonsense give me the ball here's the pitch veteran. Replacing Sonny Gray and Domingo German with Happ and Lance Lynn is working out pretty well. Those two have combined to allow five runs in 35.2 innings in pinstripes. Couldn't have asked them for anything more.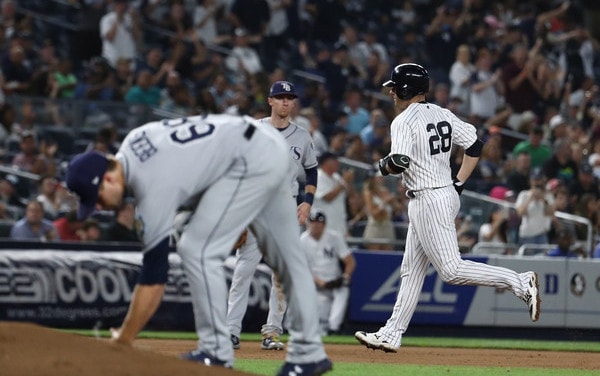 One Run Now, Two Runs Later
The Yankees had a chance to break this game open early. They loaded the bases with two outs in the first inning against opener Hunter Wood, but the struggling Gleyber Torres grounded out to third base, and that was that. The Yankees did manage to score a run earlier in the inning though. Giancarlo Stanton doubled into the right-center field gap and Aaron Hicks brought him home with a single to center, though that doesn't come close to telling the entire story.
Stanton's double was a chip shot. It was a slider down and in, Stanton kinda poked it the other way, and the ball just carried into the gap. I thought it was a little bloop to shallow right off the bat. This dude is amazing. The ball flies off his bat. A few pitches later, catcher Jesus Sucre tried to catch Stanton napping at second, but Willy Adames couldn't handle the pickoff throw. It bounced away and Giancarlo moved to third. Hicksie's single was a bloop into the triangle. Pretty eventful two-batter sequence to score a run.
The long first inning meant Wood couldn't throw a second inning as the opener, so in came rookie southpaw Jalen Beeks, and holy smokes, he carved the Yankees up for three innings. At one point he struck out six straight batters and seven of eight. Beeks threw a fourth inning though, and in that inning Neil Walker worked a walk and Austin Romine sliced a two-run home run inside the right field foul pole for a two-run homer.
Eight homers in 199 plate appearances for Romine this year. He hit seven homers in 611 plate appearances from 2011-17. Dude is up to .269/.318/.467 (111 wRC+) on the season. Not even the biggest Austin Romine fans saw this coming. The two-run homer gave the Yankees a 3-0 lead in the fifth. Beeks the first time through the lineup: 0-for-9 with seven strikeouts. Beeks thereafter: 2-for-8 with a double, a homer, and two walks.
Six Outs To Glory
Aaron Boone does something Joe Girardi did and it annoys me very much. He warms up his seventh inning reliever in the seventh inning, then, when he's not needed, he sits down and the eighth inning reliever warms up and pitches in the eighth. David Robertson warmed up behind Happ in the seventh, then sat down so Dellin Betances could pitch the eighth. Why not just use Robertson in the eighth rather than warming up another reliever? Boone said in Spring Training he envisioned using his setup guys interchangeably, but that hasn't happened. Whatever. Just … whatever.
Anyway, with the 3-0 lead in the eighth, in came Betances. First pitch: Dinger. Didn't see that coming. Adames ambushed a first pitch fastball and hit it into the visitor's bullpen. First run Betances has allowed since July 10th and the first homer Betances has allowed since May 10th. It was the tenth hit he's allowed since May 12th, a span of 34 appearances and 34.1 innings. Good gravy. Betances sat down the next three batters after the homer. I'm not sure he's ever been better than he is right now.
Aroldis Chapman came in for the save and he looked better than he has in a while. He did allow a meaningless two-out single, otherwise Chapman was around the plate and throwing free and easy. The last few outing have been laborious. He was very wild and everything looked forced. Tuesday night, Chapman was just letting the ball fly. Three outs on nine pitches, game over. Nice and easy.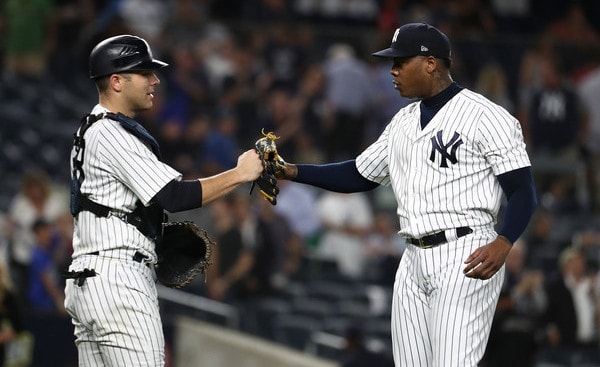 Leftovers
Back-to-back two-out doubles by Miguel Andujar and Greg Bird drove in an insurance run in the eighth inning. Bird drove the ball into the left-center field gap in back-to-back at-bats. The first was caught at the wall. The second went for the insurance run-scoring double. A sign he's starting to come out of it? Man, I hope so. Bird swinging through fastballs and chasing stuff down below the zone is getting old.
Gleyber Torres went 0-for-4 with two strikeouts to continue his slump, though I thought his at-bats were better tonight. He saw 22 pitches in those four at-bats and worked the count full twice, so he was seeing the ball okay. I suspect we're going to start seeing some loud outs (liners at infielders, long fly balls, etc.) soon, then Gleyber's gonna make it rain. He's too talented to slump this hard much longer.
Two doubles for Andujar — one into the left field corner and one into the right-center field gap, so he was spraying the ball around — giving him 33 doubles and 53 extra-base hits. He ranks sixth among all players in doubles and 20th in extra-base hits. He leads all rookies in doubles (by seven) and extra-base hits (by 15). I know he has stone hands, but .294/.327/.516 (126 wRC+) with a 17.7% for a 23-year-old rookie? Awesome.
And finally, Betances set a new franchise record by recording a strikeout in his 29th consecutive relief appearance. The previous record holder? Andrew Miller. Dellin has a ways to go to match the all-time record though. Chapman struck out at least one batter in 49 straight appearances spanning 2013-14. Corey Knebel (46) is the only other reliever to get to 40 straight outings with a strikeout. I think Betances can do it.
Box Score, WPA Graph & Standings
ESPN has the box score and updated standings, MLB has the video highlights, and RAB has the Bullpen Workload page. Here's the win probability graph:

Source: FanGraphs
Up Next
The Yankees and Rays will be back at it with the middle game of this three-game series Wednesday night. Luis Cessa and Jake Faria are the scheduled starting pitchers. Faria returned from the disabled list earlier this month and is stretched out to 3+ innings and 60+ pitches, so he's not necessarily a one-inning-and-done opener.