Good end to a good weekend. The Yankees finished the four-game sweep at Camden Yards with a 5-3 win Sunday night. They are 15-5 in their last 20 games despite a seemingly never-ending barrage of injuries. And, with the Red Sox losing six times in their last eight games, the Yankees are suddenly six games back (five in the loss column) with six head-to-head games remaining. Fun fun fun.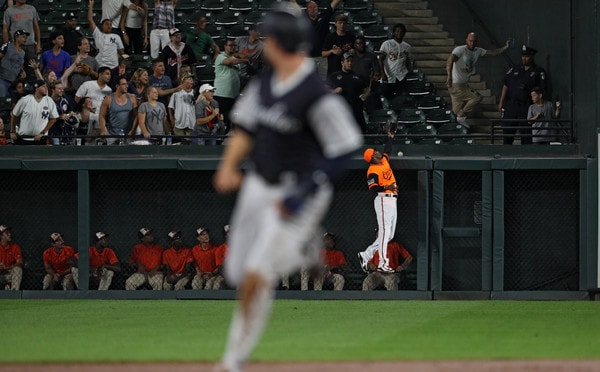 Two Runs Two Times
The Wally Pipping of Greg Bird continues. Luke Voit started for the third time in the last four games Sunday night — all three starts came against right-handed pitchers, I should note — and he socked his third home run as a Yankee and his third home run in the last three days. His two-run shot to right field opened the scoring. Center fielder turned right fielder Adam Jones made a valiant leaping try. The homer sailed a few inches over his glove.
Voit had a big series against the crummy Orioles, no doubt, but this recent hot streak dates back before this weekend. He went 4-for-12 (.333) in his five previous games — granted, they were sporadic plate appearances with a Triple-A stint mixed in — before going 7-for-11 (.636) with three home runs this weekend. Voit is up to .379/.438/.690 in his limited time as a Yankee. With a left-handed starter on tap Monday night, I imagine he'll be back in the starting lineup for the fourth time in five games.
Anyway, Voit's dinger gave the Yankees a 2-0 lead in the second inning. They stretched the lead to 4-0 during a long third inning. Dylan Bundy threw 31 pitches in that third inning but it felt like 131. Shane Robinson dunked a leadoff single to center and Aaron Hicks filleted a two-out single to left, setting up my main man Miguel Andujar for the two-run double. Bundy threw a 93.8 mph fastball here …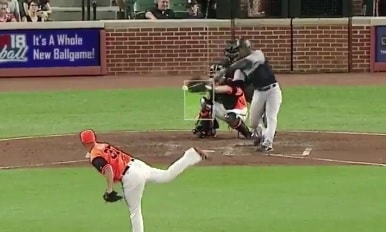 … and Andujar drove it down the right field line for two runs and two bases. The ball stayed fair, yet had so much slice on it that it wound up in that weird right field corner cutout at Camden Yards. Andujar has 60 extra-base hits (37 doubles, 21 homers, two triples) this season, which ties Tony Lazzeri for third most among rookies in franchise history. Only Joe DiMaggio (88) and Aaron Judge (79) had more as first year Yankees. Pretty awesome, eh? Miggy has a chance to catch Judge. The race is on.
Another Grind For Severino
Much like his last eight starts, Luis Severino had to grind it out again Sunday night. He needed 94 pitches to get through five innings against an Orioles lineup that, if we're being generous, included four legitimate Major League hitters. Severino threw 107 pitches and got only eleven swings and misses. He faced 24 batters and went to a three-ball count on seven of them. A more potent lineup does better than three runs (two earned) in 5.2 innings.
The problem was, once again, the slider. That pitch isn't anywhere close to as sharp as it was earlier this season. Severino still has plenty of life on his fastball and he's throwing it by hitters. But the slider is a cement mixer and he's leaving it out over the plate far too often. Sunday night's slider locations: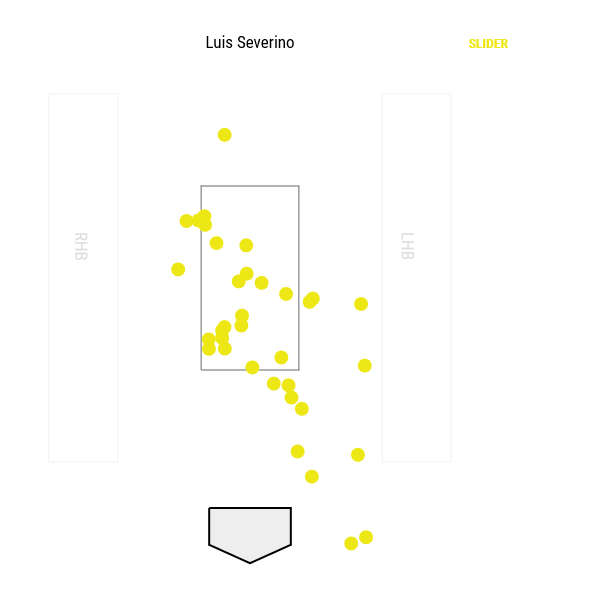 Too many sliders middle-middle and too many sliders way out of the zone. Those are easy takes. Severino threw 35 sliders and got five swings and misses, or 14.3%. It's his fifth lowest slider swing-and-miss rate in his 27 total starts this season. His overall swing-and-miss rate was 10.3% in the game. Again, this is against a pretty terrible Orioles team. An Orioles team that has baseball's third highest swing-and-miss rate (12.1%) since the All-Star break (i.e. since Manny Machado was traded away.)
Severino's final line: 5.2 IP, 4 H, 3 R, 2 ER, 2 BB, 8 K, 1 HR on 107 pitches. Sending him out for the sixth inning seemed completely unnecessary. Severino had to grind through five innings — again, he threw 94 pitches in those first five innings — and the bullpen was in pretty good shape despite Saturday's doubleheader. Aaron Boone did the same thing last time out. Severino battled through five innings, went back out for the sixth, and allowed a run without completing the frame.
On Sunday, Severino went back out for the sixth, gave up a leadoff homer to Trey Mancini, then was charged with another run when Chad Green allowed an inherited runner to score. To be fair, that runner reached on what should've been the third out. Gleyber Torres threw the ball away — that's his fourth error in the last five games — ending Severino's night. Still, sending him out for the sixth seemed unnecessary. Please fix Severino soon, Yankees.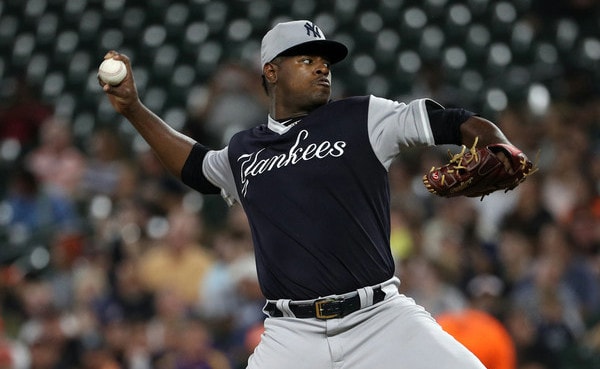 Hand It Over To The Bullpen
You could see what Boone was trying to do when he went Severino back out for the sixth inning. He wanted him to get through the sixth so he could go Green in the seventh, Zach Britton in the eighth, and David Robertson in the ninth. The Torres error fudged that up. Green faced five batters and allowed three singles, which forced Britton into the game with one out in the seventh. He stranded a runner at third in seventh and went 1-2-3 in the eighth.
Britton has allowed 39 balls in play in his brief time as a Yankee. The breakdown:
35 ground balls
2 line drives (one at an infielder for an out, one for a double)
2 fly balls (both home runs)
That's an 89.7% ground ball rate.  Britton faced five batters Sunday night and went strikeout, ground out, ground out, ground out, ground out. That'll work. Also, zero walks in his last 6.2 innings now. That spans 26 batters. Britton walked six in his first 6.1 innings as a Yankee. The control is coming around and the ground balls never went away. He's just about all the way back.
I'm not 100% sure why Boone went to Britton in the seventh and Robertson for the save, but my guess is he didn't want to use Robertson for five outs so soon after that little shoulder issue earlier this week. Britton was the better bet to get five outs, and get five outs he did. Also, I honestly don't think it matters who throws the seventh and who throws the ninth. Britton, Robertson, and Dellin Betances are pretty interchangeable in my eyes. They can all do the job. Robertson pitched around a one-out walk in the ninth for his fourth save.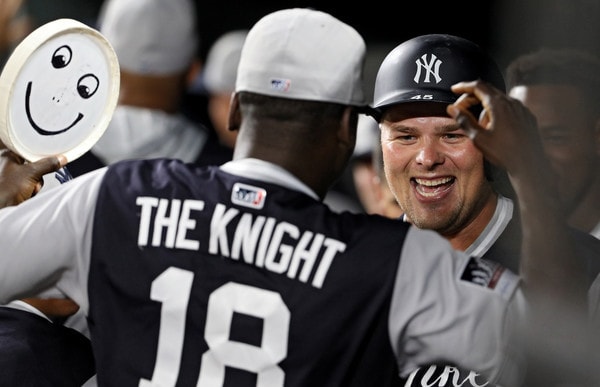 Leftovers
In addition to the two-run home run, Voit also created an insurance run with his legs. He singled to center to start sixth, moved up to second on Austin Romine's walk, went second-to-third on a fly ball to right, then scampered home on a wild pitch. I like Bird. He's a good dude. But there is basically no chance he'll ever create a run with his legs like that. Voit isn't the speediest dude himself, but yeah. Bird's not going second-to-third or scoring on a wild pitch.
Three hits for Andujar (double, two singles) and three hits for Voit (homer, two singles). Those two went 6-for-8 (.750). The rest of the Yankees went 2-for-26 (.077). Rough night for Giancarlo Stanton. Rough weekend, really. He went 0-for-5 with four strikeouts Sunday and 1-for-15 (.067) in the series. Stanton also had his 300th career home run robbed by center fielder Cedric Mullins on Saturday. Ouch.
Stolen base attempts against Gary Sanchez: 31 in 473 innings, or one every 15.3 innings. Stolen base attempts against Austin Romine: 51 in 531.1 innings, or one every 10.4 innings. The O's went into Sunday night with 48 stolen bases on the season, fifth fewest in baseball, then they went 4-for-4 against Romine. Fortunately only one of the four stolen bases led to a run.
And finally, four different relievers got the save in the four games this weekend. I wonder how long it's been since the Yankees did that. I wish I know how to look it up. Britton got the save Friday, Luis Cessa got the save Saturday afternoon (pitch the final three innings and you get a save no matter the score), Betances got the save Saturday night, and Robertson got it Sunday. Going back to the win in Miami on Tuesday, the Yankees have had five different pitchers save their last five wins. Neat. Tommy Kahnle got the save Tuesday, after Aroldis Chapman exited with his injury.
Box Score, WPA Graph & Standings
ESPN has the box score and updated standings while MLB has the video highlights. Here is our Bullpen Workload page and here is the win probability graph:

Source: FanGraphs
Up Next
The six-game road trip is over and the Yankees are heading home for a seven-game homestand. It is their second-to-last homestand of the 2018 regular season, if you can believe that. First up: The White Sox. Masahiro Tanaka and Carlos Rodon are the tentative starting pitchers for Monday night's three-game series opener.