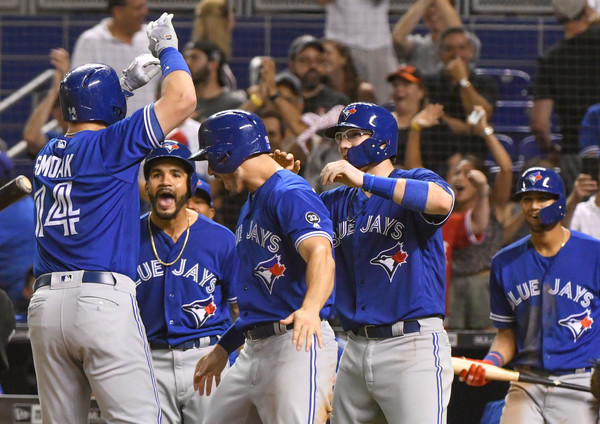 The Yankees have a 1.5 game lead in the race for home field in the Wild Card game with 16 games to play. It's effectively a 2.5 game lead, in fairness, as they do hold the tiebreaker over the Oakland A's. As they enter their last homestand of the season, this series feels rather important – and not just because they went 4-5 on their last road trip. The Yankees are a better team at home, and having that edge in a win or go home game is huge.
The Last Time They Met
The Yankees were rude hosts back in August, sweeping the Blue Jays in a three-game set, and outscoring them 28-13. Some notes from the series:
Game one was a rain-shortened affair, with the Yankees picking up the win due to some timely home runs by Neil Walker and Giancarlo Stanton and strong relief efforts from Chad Green and David Robertson. Due to weird scoring quirks, Robertson actually picked up the save despite not recording the last out of the game (it was called in the bottom of the 7th).
Miguel Andujar had a big series, going 6-for-13 with 2 doubles, a home run, and 8 RBI.
Didi Gregorius suffered his heel injury in the third and final game of the series, but he's back now and that's all that matters … right?
Check out Katie's Yankeemetrics post for more fun facts.
Injury Report
Brandon Drury (hand), Marcus Stroman (blister), and Troy Tulowitzki (feet) are done for the season; Russell Martin is on paternity leave, but is expected back this weekend.
Their Story So Far
The Blue Jays are 65-81 with a -105 run differential, which put them 22nd and 24th in the majors, respectively. Since these teams last played they made headlines for confirming that Vladimir Guerrero Jr. – who hit over .400 at Double-A and .336/.414/.564 in 30 games at Triple-A – would not get the call to the show for a variety of inane reasons; it'll be interesting to see what, if anything, comes of these service time debacles. They also dealt Curtis Granderson to the Brewers, and Josh Donaldson to the Indians for a non-prospect in a trade that has made many teams quite angry.
The Lineup We Might See
Manager John Gibbons has been mixing and matching his lineups quite a bit over the last few weeks, due to both the trade of Granderson and expanded rosters. The most common lineup as of late is something like this:
Billy McKinney, LF – .324/.393/.568, 4 HR, 0 SB, 163 OPS+
Lourdes Gurriel, SS – .284/.317/.436, 11 HR, 2 SB, 107 OPS+
Justin Smoak, 1B – .247/.355/.466, 24 HR, 0 SB, 126 OPS+
Kendrys Morales, DH – .256/.339/.456, 21 HR, 2 SB, 119 OPS+
Randal Grichuk, RF – .245/.302/.481, 21 HR, 3 SB, 113 OPS+
Kevin Pillar, CF – .245/.274/.408, 12 HR, 14 SB, 86 OPS+
Yangervis Solarte, 2B – .234/.287/.394, 17 HR, 1 SB, 87 OPS+
Aledmys Diaz, 3B – .254/.290/.445, 17 HR, 3 SB, 101 OPS+
Danny Jansen, C – .254/.357/.407, 1 HR, 0 SB, 113 OPS+
Rookie and 80-grade name Rowdy Tellez (249 OPS+ in 23 PA) should see time at 1B and/or DH. Russell Martin (87 OPS+), Devon Travis (83 OPS+), and Teoscar Hernandez (110 OPS+) figure to play, as well.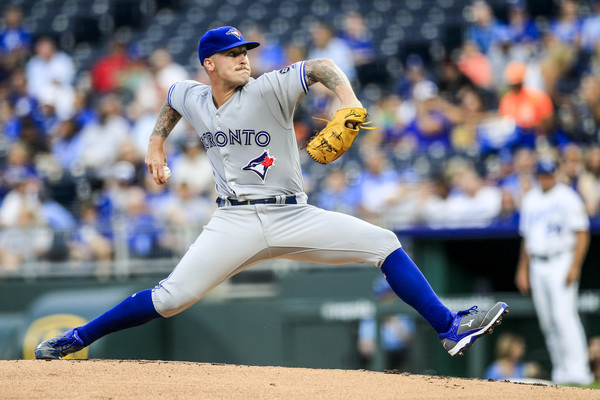 The Starting Pitchers We Will See
Friday (7:05 PM EST): RHP Masahiro Tanaka vs. RHP Marco Estrada
Estrada is wrapping up the worst season of his career. He's currently sitting on a 5.32 ERA (79 ERA+) in 130.1 IP with career-worst home run and strikeout rates. The Yankees have seen Estrada three times this year, scoring 9 runs in 18 innings; though, one of those starts was a one-run, 6 IP effort.
Last Outing (vs. CLE on 9/7) – 6.0 IP, 5 H, 2 R, 2 BB, 5 K
Saturday (4:05 PM EST): LHP CC Sabathia vs. RHP Sean Reid-Foley
This will be the fifth start of Reid-Foley's career, and his second against the Yankees. His first time in the Bronx didn't go too well (for him, at least), as he allowed 8 runs (6 earned) in 4.1 IP. Gregorius, Stanton, and Andujar all took him deep. Reid-Foley did follow that up with a gem against the hapless Marlins, though, pitching to the following line: 7.0 IP, 4 H, 1 R, 1 BB, 10 K.
Last outing (vs. CLE on 9/8) – 4.2 IP, 5 H, 6 R, 5 BB, 3 K
Sunday (1:05 PM EST): RHP Lance Lynn vs. LHP Thomas Pannone
Rare is the occasion when I write-up a post like this and come across a completely unfamiliar name, but here we are. Pannone is a 24-year-old rookie southpaw who debuted back on August 10, and has served as the Blue Jays swingman since then. He actually pitched against the Yankees back on August 19, holding them scoreless for 1.1 innings. Pannone opened this season with an 80-game PED suspension (which he denied – successfully – on a polygraph test, for whatever that's worth), and only made 10 appearances in the minors before being called-up to the show.
Pannone is a three-pitch junkballer, featuring a high-80s four-seamer, a low-80s change-up, and a low-70s curve. From that description, he kind of sounds like a left-handed version of Estrada.
Last outing (vs. CLE on 9/9) – 6.1 IP, 4 H, 2 R, 3 BB, 2 K
The Bullpen
Ken Giles (5.32 ERA) and old friend Tyler Clippard (3.68 ERA) share the closing duties, and Ryan Tepera (3.71 ERA) is also in the high-leverage outs mix. Rookies Jose Fernandez (1.50 ERA in 6.0 IP) and Tim Mayza (3.69 ERA) have seen heavy duty this month, as well. It's not a great bullpen – which is to be expected, considering their trade deadline – but it's not awful.
Who (Or What) To Watch
I'm interested in a longer look at Billy McKinney, and Rowdy Tellez has built-up a small cult-like following in his few weeks in the majors. Beyond that, the Blue Jays aren't a terribly interesting team. Most of the focus on this series will be on the Yankees ability to hold the line.