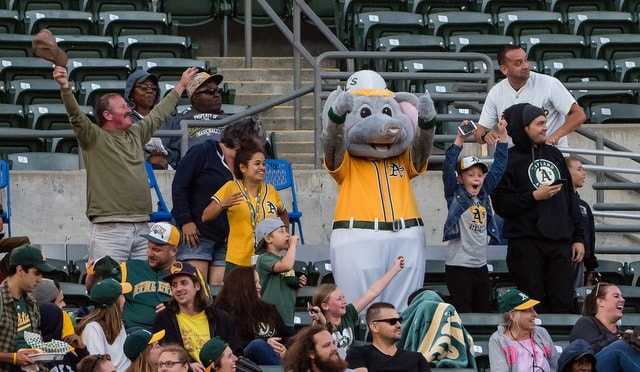 In all likelihood, the Yankees and Athletics will meet in the AL Wild Card Game four weeks from Wednesday. The Yankees have gained some ground on the Red Sox recently but not enough to make the AL East interesting. The Astros have righted the ship after a midseason skid and are starting to separate themselves from the A's in the AL West. Here are the current wild card standings:
Yankees: 86-51
Athletics: 82-56 (4.5 GB)
——————————
Mariners: 76-61 (10 GB)
Rays: 73-63 (12.5 GB)
Last season the Twins won the second wild card spot almost by default. All those second wild card contenders stunk. The A's are a legit threat this year. They'd be in a virtual tie with the Cubs for the best record in the NL. Remember, whatever happens this series tells you everything you need to know about the forthcoming AL Wild Card Game, unless the Yankees win, in which case it's meaningless. Here are today's lineups.
New York Yankees
1. RF Andrew McCutchen
2. DH Giancarlo Stanton
3. CF Aaron Hicks
4. 3B Miguel Andujar
5. C Gary Sanchez
6. 2B Gleyber Torres
7. 1B Luke Voit
8. SS Adeiny Hechavarria
9. LF Brett Gardner
LHP CC Sabathia
Oakland Athletics
1. SS Marcus Semien
2. 3B Matt Chapman
3. 2B Jed Lowrie
4. DH Khris Davis
5. RF Stephen Piscotty
6. 1B Matt Olson
7. LF Chad Pinder
8. CF Mark Canha
9. C Jonathan Lucroy
RHP Trevor Cahill
It is a nice and sunny day in the Bay Area. Seems like a fantastic afternoon to spend at the ballpark. First pitch is scheduled for 4:05pm ET and you can watch on YES locally and ESPN nationally. Enjoy.
Injury Update: Big news: Aaron Judge (wrist) swung a bat today. He took 25 dry swings and 25 off a tee, all at 100% effort, and didn't feel anything other than normal soreness. "It was a good sign … definitely a big step," he said. There's still no firm timetable for his return, but this is a major step forward. Yay.
Roster Moves: Both outfielder Shane Robinson and lefty Ryan Bollinger were outrighted to Triple-A Scranton, the Yankees announced. They remain in the organization as non-40-man roster players and will join the RailRiders for the postseason this week. Robinson and Bollinger were both designated for assignment in recent days.
Roster Note: Sonny Gray is not with the Yankees. He's home with his wife, who is due to give birth to their second child soon. Congrats to them. Sonny will rejoin the team later this week. He threw 62 pitches yesterday and wasn't going to be available for a few days anyway, plus rosters have expanded, so there are plenty of relievers available.
Awards!: For the second time this season, Gleyber Torres has been named the AL Player of the Week. He won the award the week of May 27th as well. The Gley-Hey Kid went 11-for-23 (.478) with three homers last week. Slump's over.