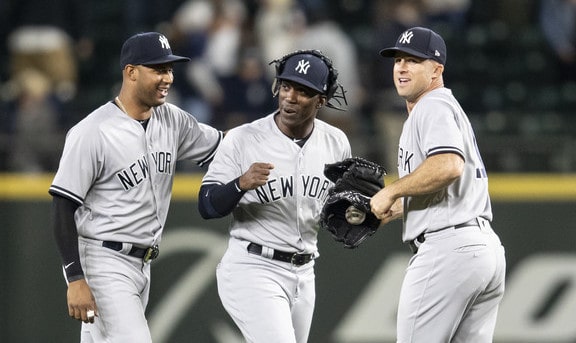 Not that long ago, a matchup with Felix Hernandez would've meant the Yankees were in for a long night. Or a short night, depending how you look at it. Felix was as good as they come during his prime. Father Time remains undefeated though, and coming into tonight, Hernandez has a 5.55 ERA (4.97 FIP) in 147.2 innings. It's a 4.60 ERA (4.85 FIP) in 387.2 innings dating back to Opening Day 2016. Yuck.
The Yankees have their own formerly reliable veteran on the mound tonight in Lance Lynn. Lynn pitched quiet well in his first three outings as a Yankee (one run in 16.1 innings), but his last four starts have been bad (19 runs in 18.2 innings), and I can't help but wonder whether the Yankees would've started Sonny Gray today had Gray not been away from the team for the birth of his second child earlier this week. Hopefully Lynn bounces back tonight. Here are the lineups:
New York Yankees
1. RF Andrew McCutchen
2. DH Giancarlo Stanton
3. CF Aaron Hicks
4. 1B Luke Voit
5. 3B Miguel Andujar
6. SS Didi Gregorius
7. 2B Gleyber Torres
8. C Austin Romine
9. LF Brett Gardner
RHP Lance Lynn
Seattle Mariners
1. CF Mitch Haniger
2. SS Jean Segura
3. 1B Robinson Cano
4. DH Nelson Cruz
5. LF Denard Span
6. 3B Kyle Seager
7. RF Ben Gamel
8. C Mike Zunino
9. 2B Dee Gordon
RHP Felix Hernandez
Another cloudy and cool night in Seattle, though there's no rain in the forecast tonight, so the Safeco Field roof will probably be open. That's good. Baseball outside is better than baseball inside. Tonight's game will begin at 9:10pm ET and you can watch on YES. Enjoy the ballgame.
Injury Updates: Didi Gregorius (heel) is in the starting lineup, as you can see, but he is not expected to play the entire game. The Yankees are treating these as rehab games right now, so it might be a few days before Didi plays a full nine innings … Aaron Judge (wrist) hit in the batting cage today and went through his usual defensive drills as well. He started swinging a bat earlier this week and everything continues to go well … Aroldis Chapman (knee) is throwing on flat ground in Tampa. He's still relatively early in his throwing program though.